If the global community is to be successful in marshalling new resources for humanitarian aid, we must embrace technology as an ally, now more than ever before.

That's one lesson the UN's World Food Programme learned from our November 12 launch of ShareTheMeal. ShareTheMeal is a new, free, mobile app that allows smartphone users worldwide to donate with the tap of a finger to help WFP feed Syrian refugee children in Jordan. The app quickly resonated with users worldwide. More than 230,000 people have so far shared more than 2.5 million meals with children in need.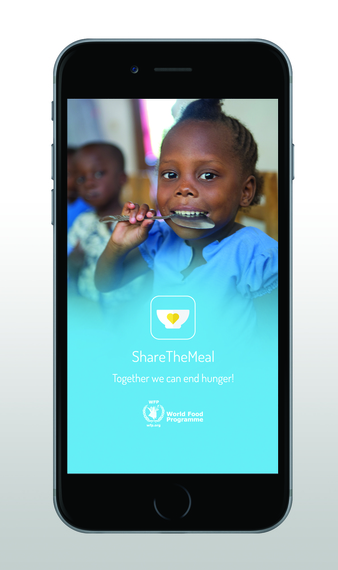 The app, functional in both iOS and Android platforms, makes donating easy. Users can decide the exact amount they wish to contribute and exactly when they wish to make the donation, such as when having a meal themselves. They can use the app to network with friends and follow the progress within the app. See a 1-minute video of how it works here.
Through all of this, users become part of a community of givers - and part of the solution. The math is simple: Worldwide, there are 20 times as many smartphone users as hungry children.

That this pioneering app seems to have caught particular spark with the younger generation is no surprise. Young people in developed countries use mobile devices for myriad transactions with ease; their phones are with them at all times, making transactions routine, easy to understand, and easy to engage in. We understood going into this that ShareTheMeal would be a tool for furthering engaging young people in global anti-hunger activities.

WFP is hosting ShareTheMeal in our in-house Innovation Accelerator, a unit recently created to identify and implement high-impact innovations to achieve Zero Hunger, one of the most achievable of the UN's Sustainable Development Goals. In embarking on this Innovation Accelerator, WFP was making a significant investment in thinking outside the box, in looking for new solutions, and in embracing technology.

ShareTheMeal -- believed to be the first app developed by any UN agency to raise resources -- does not exist in a vacuum. The International Research & Exchanges Board (IREX) recently observed that technology is an essential catalyst for achieving the Global Goals, and humanitarian groups like WFP have increasingly used technology to make our work more efficient -- from using hand-held mobile devices in disaster assessments to distributing electronic vouchers to food recipients.

So if the plight of Syrian refugees inspires you to donate - maybe amidst your own plans during the Thanksgiving holiday in the United States - look no further than your phone. A contribution of as little as 50 U.S. cents through the app can provide one hungry child with vital nutrition for a day -- and help demonstrate that technology can drive humanitarian goals forward.

Download yours here.
Calling all HuffPost superfans!
Sign up for membership to become a founding member and help shape HuffPost's next chapter