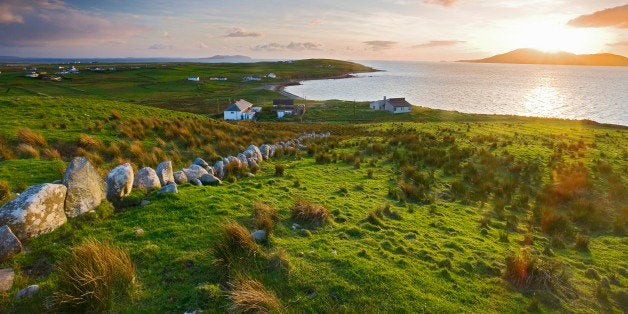 Ireland's historical significance and accessibility make it a perfect destination for American travelers. Given the geographical proximity and fact that 11% of Americans are descendants of Irish immigrants, visiting the motherland is both affordable and culturally rewarding.
Most tourism to Ireland unfortunately misses the best parts. The cities are historical relics, but they can't compare to the natural beauty and splendor of the emerald island. While this is probably true of all countries, if you stick to the main cities and tourist attractions, you're missing out. This is true to a greater extent in Ireland.
Below are five significant destinations in Ireland to visit that only a road trip can fulfill. Afterwards, I'll give you my blueprint to have a successful road trip in Ireland or anywhere else in the world.
A Three Week Irish Adventure
Dunamase - Built in the 12th century, this castle was one of the most important pieces of Irish history. At one point, it was the prized fortification of the island relevant for centuries of war.
Despite the importance, my visit was indicative of how rare visitors are. There was nobody else visiting the castle and despite being only 5 - 10 minutes off the main highway between Dublin and Cork, the entrance is tucked behind the back alley of a modern village. If you question the road your GPS leads you, you're probably in the right spot!
Kinsale - Located on the southern Irish coast, the city of 3000 is only a quick 45 minute drive from Cork city. The city had close ties with Catholic Spain and in 1601 a Spanish invasion was defeated by English troops just outside the city.
In addition to historical significance, the city has brightly colored buildings and shops on an idyllic, lush green coast. It does attract some tourists, but most do not visit without a car.
Schull - The tiny village of Schull is home to only 700 people and is literally on the edge of the world. Luckily, I was invited to a traditional Irish performance at Hackett's bar in the heart of the village. Here, I got to experience traditional music of the native Celtic people, speak to locals and stay on a proper Irish farm.
While I didn't know it at the time, Anthony Bourdain visited this remote village, the same bar, and tried the same world famous cheese that the locals forced me to eat. For the record, the cheese was amazing, the music was incredibly unique, and the people were exceptionally warm.
Donegal (County) - Often neglected as a county, Donegal is on the remote northwestern tip of the island. You can find public transportation into the town, but a car is the easiest route. The county doesn't get as much tourism as other regions, but it is arguably more beautiful.
After getting lost at night, I stumbled on a bar located in a barn and a friendly couple invited me to stay in their tiny home. By getting off the beaten path (even accidentally), somehow I managed to sit around a roaring fire speaking with Irish villagers and experiencing an authentic piece of Ireland.
Slieve League & Silverstrand - Although I wanted to visit the popular Cliffs of Moher tourist destination, hurricane force winds prevented me from doing so. Rather than sulk, I resolved to see some coastal cliffs before my trip was over.
On the west coast of county Donegal are cliffs called slieve league, which are far less traveled and more raw and rugged than the Cliffs of Moher. There was exactly one other tourist (who was actually working) whom I befriended and traversed the cliffs.
Because we were off the main tourist path, we experienced extreme winds without problems from the authorities. Check out this video of Marco while we were on our hike up to the cliffs.
Just down the road from slieve league is a cove and beach with pristine sand, beautiful surf, and it is completely empty. In fact, the only life anywhere near silverstrand were goats and sheep brought near the landmark to keep the grass short!
How to Prepare a Road Trip
Anyone preparing for a road trip knows it can be fun, but when you are alone, basic needs for survival are highest on the priority list.
Shelter - traveling across a country like Ireland can leave you stranded in some pretty awkward situations. While there are plenty of friendly people in the countryside and you always have your car to sleep in, this isn't always the most comfortable situation. In one instance all the hostels and bed-and-breakfasts in Kinsale were closed so I had to sleep in my tent.
Unfortunately, not all tents are made equally. My girlfriend and I spent a rainy night in a temporary tent she purchased from Walmart and that was not enjoyable. Especially for a rainy climate like Ireland, I suggest going with Cotopaxi (whether it is the Inti 2 or the Techo 3).
Food & Water - as great as Ireland is, they are not known for their food. This is true even more so in the villages and countryside. My relatively health-conscious existence in Austin, Texas (home of Whole Foods and many other health brands) was impossible to maintain while I was on the road. To remedy this situation I had a few simple solutions.
For one, I ate primarily rice cakes, dried meat, and bags of leafy greens. My treats were a couple boxes of RX Bars I took on the road with me (any natural food bar will work, but I prefer this one). To make sure the meat stayed fresh I got myself a small cooler as well. Depending on the duration of your road trip I'd recommend a Yeti cooler. Obviously I didn't carry one across the ocean to Ireland, but as a general rule coolers are more useful than you'd think.
As much as I love food, a recent camping trip with my girlfriend reminded me how much more important water is. Luckily the river water was potable, but having enough water to last your journey is important. Typically I use a Hydroflask, but if you are going on a road trip in desert climates you might need something bigger.
Power Source - My work is all remote, which means I can be on a road trip in rural Ireland and still be getting paid if I have access to my computer and an internet connection a few hours of the day. Ireland was pretty reliable, but there are other places I have visited (like Colombia) where energy wasn't as easy to come by.
I've started carrying a solar portable generator (I'd recommend Goal Zero) when I travel on road trips so I can always get my work done no matter what. It's not always necessary, but they aren't too big and don't take up a lot of space.
Go Forth and Travel
My experience in Ireland taught me how fulfilling a road trip off the beaten path could be. As an American driving solo on the opposite side of the road in the dead of the rainy Irish winter, there were plenty of fears, but I made it through alive and so can you.
If you decide to visit Ireland, hopefully the recommendations prove useful. However, by following the suggestions about road trips in general, you can apply these lessons and enjoy wherever you choose to explore.