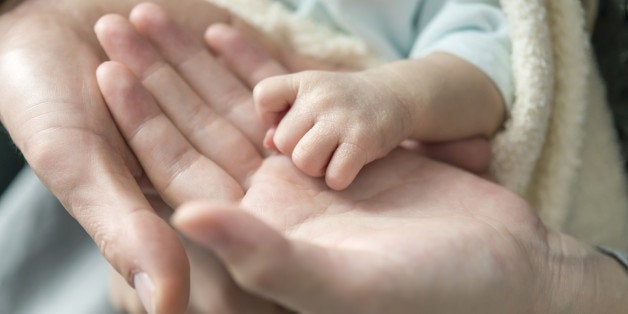 He used to look at me from across a crowded bar or party with eyes that subtly hinted, "Let's get out of here." Now, he looks at me from across the house with eyes that basically scream, "You could use a shower, a glass of wine, or maybe something stronger."
For some obviously-ignorant reason, I thought our lives would be filled with the former kind of magic and the same spontaneous moments that filled our three-month courtship. Yes, three months.
Life before our baby was so full of "the magic." It was the moments that made me realize that the 29 or so years before this person came around were all worth it. Yes, I'll say it again for you: We did get engaged after only three months of dating.
"Enjoy your marriage first," I'd often hear whenever I expressed my desire to start a family shortly after our wedding.
"A baby will change everything -- your marriage will be over," I was even told.
Well, here I am, one whole year post-baby, two years post-wedding, and more blissfully (yet realistically) happy than ever before.
How is that possible, you ask?
It all starts with a little thing called perspective, and using it to get your priorities in order. Add in a bus-load of gratitude and stir gently. Don't forget to throw in a heaping amount of realness to the recipe, and you have yourself exactly the opposite of what you'd expect.
With all of that, my marriage is everything I didn't think it would be since this baby entered our lives.
My courtship with my husband started out extra passionate, incredibly fiery -- and, now that I think back on it, completely unsteady. We gave ourselves three whole months to get to know one another before I said yes to his proposal, and before ever having gotten to know life past the dating stage, we were planning a wedding.
Our first year together was spent in that haze of infatuation, totally clouded by emotions, passion, and sheer shock that we had found each other. It was a whirlwind year of fancy restaurants, parties, long days on the beach followed by longer nights out on the town. I thought we'd live this way forever -- and I could not have been more wrong.
From the moment our daughter entered our world -- the love between us just felt... different.
Although it was no longer about just the two of us, living in our teeny overly-passionate and incredibly-obnoxious love-bubble, the air between us suddenly carried an air of compassion, understanding and respect -- three things we so desperately needed in our marriage.
The pieces fell into place. Out of nowhere, the ground beneath us became much more steady. Safer, even. Ironic, considering we now had another life to be responsible for. That's where perspective came into play.
The late nights out turned into late nights in, giving us a quick learning experience regarding shared responsibility and balance. With each, "You sleep, babe, I'll get up this time," I fell even more in love with the way he loved my soul, and not just the image I had worked so hard to create on the quest for love. The compassion I so longed for in my marriage had finally made its entrance.
Instead of the "let's get out of here" looks from days past, I suddenly began catching my husband looking at me with admiration -- a look that always seemed to say, "Wow, she gave me a child." I was so much more than someone he enjoyed looking at. I was now the mother of his daughter -- and the respect he gained for me could never be replaced by anything from before baby. It just couldn't.
The petty arguments, the ones that led to the best make-ups, were gone now. Life became all about finding a compromise that would work best for our child.
The stress got real -- but so did the commitment. Through lost jobs, times of financial insecurity, ailing family members, and the disagreements that resulted from feeling in-over-our-inexperienced-heads, we were reassured by two simple things: our child, and the fact that no matter how hard life gets, we want to collectively make the world a better place for her.
There was no more "his way" or "my way." It became about US, our new little family, and the weight of that responsibility filled us with so much reward, love, and a kind of passion that you just can't find in those early "perfect" days of dating.
And just like that, my idea of a "perfect" marriage was completely destroyed after baby, and in turn, this marriage became everything I never expected, but everything I always needed.