Disclaimer: This post may contain NSFW images.
The first time I ever saw what my own bare ass looked like in its entirety was more than a decade ago after visiting a men's gay clothing-optional resort in Fort Lauderdale. A friend snapped a pic of me lounging naked on a raft in the pool and I remember being startled when I had the film developed weeks later (remember those days?) and there I was buoying in the buff above a scribbled shimmer of turquoise water -- like a Hockney painting come to life.
In an era where everyone from out gay teenagers to middle-aged men and even seniors are snapping naked selfies for trade on hookup apps like Grindr, Scruff and DaddyHunt, it's almost quaint to look at that picture now. But at the time it was a revelation. I had never before seen a complete view of my backside bare and knew even then the image reflected the spoils of youth.
Shortly thereafter I began entertaining the idea of hiring a photographer to do a professional nude photo shoot for the purposes of putting together a collection of images that would decades later serve as a time capsule of myself as a younger man. A few years went by... then a few more. Last year I turned 40, and it was official: My youth had departed a long time ago.
Aside from the inevitable anxieties about turning 40 placed upon us all by the culture, I greeted the beginning of my fifth decade with relative calm. My 30s had been quite the run and it was at last time for a new chapter. However, one thing I had let society convince me was that opportunities to make romantic connections would dwindle -- and I resigned myself to that. But to the contrary they expanded exponentially. It was as if 40 was a magical number among guys seeking out older men or so called "daddies" and I had just entered the club.
This very much surprised me. When I was 22 and living in San Francisco, it wasn't an aspiration among guys my age to openly seek out older men. The generation that had come before us had been severely scarred and diminished by the AIDS crisis and the drug cocktail that would transform the disease from a death sentence to a chronic condition was still in its nascent stage. In my youth there simply wasn't a plethora of middle-aged men around to serve as role models, thus I felt emboldened at 40 to renew the idea of hiring a shutterbug to photograph me au naturel. After all, even younger gays who seek older men often fear being one themselves and I saw in this venture a symbolic opportunity to give them permission to age triumphantly.
I discovered Marlen Boro while browsing online and connected to his work right away. He's a Minneapolis-based photographer who calls his portraits "Male Boudoir" in that his work concentrates on naturalistic images of guys of every shape, age, size, color and body type captured mostly at home and at their most relaxed, intimate -- and revealing. On his website I discovered hundreds of guys in various states of undress and erotic expression who were piercingly handsome and desirable whether or not they'd ever stepped foot inside a gym. I felt a kinship with this tribe and knew Boro would "get it right." I contacted him right away.
We agreed upon a punishingly hot late July shoot. I've always loved Palm Springs in the summer when visitors to the region are scarce and the vastness of the Coachella Valley is intensely felt. As it happened, I was going to be working and traveling around California at that time anyway so Boro agreed to meet me at a meticulously restored mid-century home we discovered through AirBnB. It was an ideal setting.
But in the days leading up to our encounter a peculiar thing happened -- I panicked. In the months prior to our shoot I had failed to get to the gym as often as I'd wanted. I felt out of shape, undesirable and old. I kept hoping Boro would flake and that I would be able to cancel and get my deposit back. All along I had convinced myself that the shoot was a hero's journey designed to combat ageism and show our community that we're sexy, vital and important at any age. Turns out it wasn't the world that needed reassurance -- it was me. This was about my own insecurities all along.
Of course, all of these worries turned out to be nonsense much like most of the self-destructive shit that rattles around in the human brain. Boro was a pro and put my fears at ease as we staked out spaces both inside and around the swimming pool to take pictures over the course of two unforgettable days. We even had the pleasure of driving out to the Salton Sea -- a largely forgotten wasteland in the southeast corner of the state that barely registers in the sun-drenched minds of most Southern Californians but is nevertheless one of the most beautiful places on earth -- and snap pics alongside the silver Ford Mustang I'd rented for the journey.
I waited with baited breath for the images to be completed and am happy to say that not only are they as sharp and beautiful as I'd hope they'd be, but also as startling and compelling as that first naked pic taken all those many years ago. It's not my bare bum or any other body part that transfixes me this time around but something else entirely. The passing of years reveal in these images the kind of confidence, wisdom and undeniable sex appeal that comes only with the passage of time and for that I'm grateful (although it helps that my ass still looks amazing).
Welcome to 40. Whenever you get there and whoever you are and when you do, don't forget to snap a few pics. This is one of the greatest eras of life and you're going to want to remember it.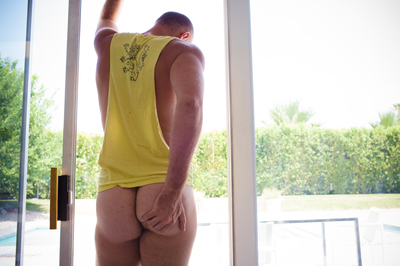 Popular in the Community