What exactly is the definition of innovation and how can large companies leverage the ecosystem of startups to transform their organization? I recently had the opportunity to engage with three experts on startups and corporate innovation to wrestle with this very question. While the word "innovation" means different things to different people, our expert panel agreed that startups can help large corporations develop and offer new products, new processes and ultimately cultivate a more innovative mindset to help organizations become more capable in the way that they solve problems, add value and serve their customers.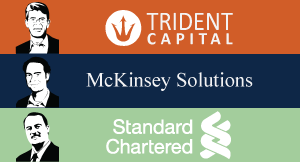 Evangelos Simoudis -- Senior Managing Director,Trident Capital
Philippe Mauchard -- Principal, McKinsey Solutions
Todd Schofield -- Managing Director, Standard Chartered Bank
It is my hope that both startups and large companies will benefit from their guidance on how the two can come together for their mutual success.
6 steps for large companies for leveraging startups to innovate:

1. Proactively engage startups - Venture capitalist, Evangelos Simoudis is seeing three different ways that corporations are interacting with start-ups around their innovation initiatives. He says:
In the last two or three years we are seeing corporations that are actively coming to Silicon Valley and asking for introductions to our portfolio companies around specific areas of interest, particularly big data and analytics, cloud computing and mobility. Another way is for corporations, very much like Standard Chartered, who have started establishing operations in areas, such as the Valley, and either through their incubation programs or direct funding; they are starting to engage very actively with the startup ecosystem. Finally, we as investors, as part of the value that we provide to our portfolio companies, maintain broad networks of executives in corporations. Through the dialogue that we have with these executives, we try to understand what their top-of-the-line problems are and if we have a relevant portfolio company, we bring them together.
2. Strike a balance between agility and quality -- What is the relationship between startups and corporate innovation and how does that work? According to Todd Schofield of Standard Chartered Bank, it's a fine balance that depends on the size and scope of the startup and how well-positioned they are to be able to integrate in a smooth way with the organization and how tolerant the organization is as far as being able to engage a company to come on and do different things. It is really a multi-faceted and multi-factor decision to make and then to move forward with what's going to be to in the best interest of the company.
For Standard Chartered for example, data analytics is very important to us, so recently we brought on a data analytics firm to do work for us around some background information. And that particular firm could do it better than we could do it internally, and better than some of the other smaller startups that we looked at. They were already geared towards being able to bring their equipment and bring their software on-site, and being able to plug it into our systems and be able to provide the analytics that we were after.
Schofield also points out that there are different ways for an organization to provide value to a startup and says that it's not always around them shipping a perfect product that would be perfect for your organization. If they are just starting out, they may want a relationship because they want an investment or to test an idea. Sometimes they simply want your organization as a customer and other times they simply want the input and feedback of your organization.
It needs to be something that's compelling, because you always have the option of working with another startup, or the option of creating that skill set for yourself. As a corporation, you have different options, so it's important to find that startup who is the right fit for you, who can really end up helping your business and at the same time you're helping their business so it really works both ways.
3. Align incremental innovation with the corporate agenda -- To ensure that startups are aligned with their agenda; Philippe Mauchard of McKinsey proactively reaches out to their network of startups with the use cases in which they are interested in looking for a startup to invest if it complements their corporate agenda. He says, "The alignment is going to be very critical with the agenda of our practice."
To make sure that there is an alignment, after having spotted a company that can respond to their use cases, McKinsey performs two or three simple steps. Mauchard tells us that:
The first one would be due diligence, where we have our experts talk to them and see if what they have makes sense and can fit those uses cases. If it does, then we have a pilot and we will find one of our clients where we can test it in the field. If it works out to be something really interesting, then we go into something more formal which can range from a commercial agreement, to a mobile acquisition, to a joint venture, etc.
4. Involve technology and the business -- At Standard Chartered, they like to see startups coming from both their heads of technology and the business. Although it may not necessarily be a quicker path to go through, Schofield recommends bringing both the technology side and the business side together when evaluating a startup. He says that by getting everyone together they can make a quicker decision and can decide whether or not that start-up is an appropriate fit for them to move forward with. In addition, he notes that this approach is more efficient by saving everyone's time and reducing the number of meetings required. Being exposed to the all the different startups, also gives both the technology leader and the business head a much better idea of the kind of caliber of companies that they are dealing with. "Regardless of the company, the fact that you have the conversation with the business head and with the IT head prompts the kinds of questions that you need answered, and is actually a more innovative way to go and look at how you can do on-boarding," says Schofield.
5. Build an innovative corporate culture -- In an effort to help jump start that innovation mentality and culture, Simoudis says that many corporations visit innovation centers such as Silicon Valley where they are looking to startups and to larger companies that became large after being successful start-ups for insight into the cultural characteristics that drove their success. However when they take these observations and inspirations from startups and try to reduce them to practice, many large corporations are lacking the innovative culture internally to make the necessary changes that will enable them to get to that point.
In my opinion, for that change in culture to occur, it all starts at the very top. Decisions have to be made at the top of the corporation so certain norms get established very promptly.

Corporations are also starting to consider creating whole new units where they can build the culture from scratch, and I think a very good example for that is what BMW is doing with the i brand, where they have created a competing division with a completely new set of driving principles in order to foster and expand innovation.
Mauchard agrees that as corporations look to using startups to help drive innovation culture inside a large organization that culture is fundamental to not only create ideas, but especially to make them stick and make the organization transform itself as a result of the good ideas that come from the innovation process. While large corporations can learn and gain inspiration from the agile way that startups work, Mauchard says that, "the fundamental and first most important condition for success is organizing the corporation for the collaboration with the startup to be a successful one."
Schofield looks to align the attitudes of the corporation and the startup and says,
Where we do find things align is when the attitudes tend to be right. We really want startups to align on the traditional things that we think of with regards to our brand culture which is, how is failure viewed, how are mistakes viewed -- are mistakes punished or are mistakes celebrated because of the learning opportunity as opposed to just being something that went bad.
6. Define and measure innovation KPIs -- In his experience of working with several corporations over the past two or three years around innovation, Simoudis has found that corporations often confuse their operational KPI -- how they measure their day-to-day performance -- with their innovation KPI's. And he thinks that it is important for corporations to be establishing two different sets of KPI's in order to measure performance.
Organizations should continue with the operational KPIs, but they really need to define a new set of KPI's to measure innovation. I also think that as part of innovation KPI's, many times corporations use the number of patent applications they compile as a measure of how well they are doing in regards to innovation, and I have found this to be a misleading metric. They really need to work at establishing a new set of metrics for innovation. Companies like Google and 3M are good examples of companies that know how to create innovation KPIs and measure innovation.
Related