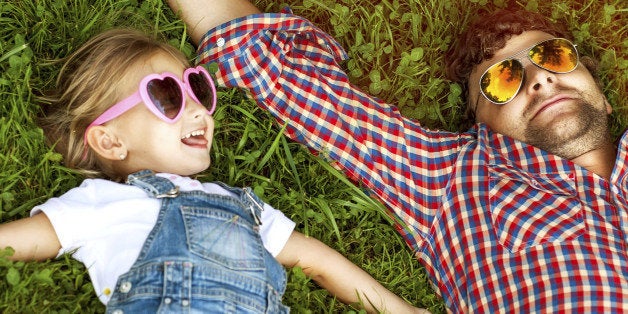 I am the "father" to my nearly-12-year-old bone marrow "daughter." Twelve years ago, I received a bone marrow transplant to treat myelodysplastic syndrome. My bone marrow donor was an anonymous baby girl, whose umbilical cord stem cells had been collected and stored and were then transplanted into me because they closely matched my cells. That baby girl's cells repopulated in my body and I now have her healthy, disease-free and totally female blood. I think of these new cells of mine collectively as my daughter, and I named her Bone Marrow.
Bone Marrow is a young woman now. I knew this day would come. I even tried slowing her white breast cell and other physical developments by taking tamoxifen, so that the boy bone marrows wouldn't get frisky. I stopped that after they caused my erotic dreams with Glenn Beck.
I have now accepted Bone Marrow's womanhood and am proud of how beautiful she has become. My donor would also be proud, wherever and whoever she is. I don't know much about that anonymous girl and have no way of getting in contact. At least that makes it easy for me to blame Bone Marrow's problems on my donor and not on my experimentation with tamoxifen.
Bone Marrow has always been hyper-intelligent and bitchy for her age, and for the past year she has ignored me. I embraced the quiet and even wished she began ignoring me about eight years sooner, before Hello Kitty consumed every nook of my life. But now I am concerned because she unfriended all the other bone marrows and I can no longer stalk their Facebook profiles to monitor Bone Marrow. She's become entirely independent.
I am certain she even hacked my online dating account. What else could explain my low message return rate? Bone Marrow continues demonstrating she has the Oedipus complex. I grew up in the town of John Bobbitt's severed penis so I can't sleep much, obviously.
I always knew Bone Marrow was a prodigy and I supported her cognitive development. After she hacked my account, I enrolled her in advanced hacking class. But lately she has shown no interest in boy or girl bone marrows and even threatens to give them tamoxifen. Bone Marrow is a recluse. I panicked and pulled her out of that class for fear that she would join Anonymous. I may change my mind and even contact Anonymous myself if the group will pay for Bone Marrow's bat mitzvah next year. Kids are expensive.
Besides getting cancer, parenting a tween is pretty much the unhealthiest thing that can happen to you. But one day you will consider your sacrifices and feel grateful for the opportunity to nurture. In the meantime, just don't parent as I have, and try not to let your kid find your oxycodone stash.
My transplant anniversary is April 24. To my anonymous donor, who is now also a young woman: Thank you, and I hope the allergies and anemia that I acquired from you haven't been too bad for you, either.
Related