If you want to have the best experience on Tinder, use it at 9 p.m.
That's when most people use the app, according to new data from Nielsen provided to The Huffington Post. The company also tracked OkCupid and found that it's hottest at the same time.
Perhaps surprising to certain people who use the apps for late-night hookups: Usage, at least in Nielsen's sample, plummets after 10 p.m.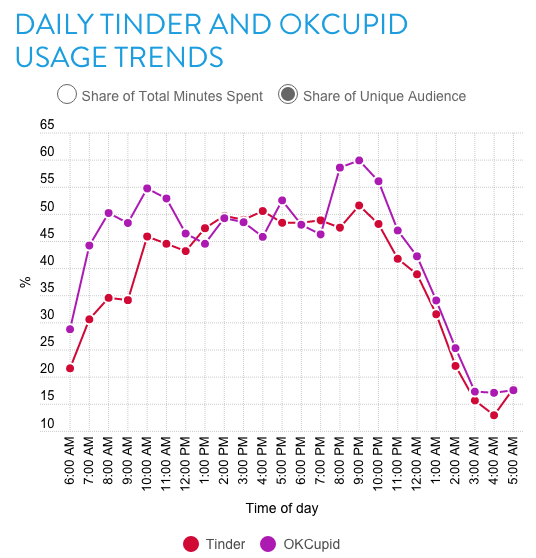 Nielsen -- which you might better associate with TV ratings -- tracks smartphone data from about 9,000 panelists as part of its Electronic Mobile Measurement program. That program is intended to provide representative information about U.S. audiences to companies marketing to mobile users.
In this case, the company is providing a glimpse into how people use dating apps -- just in time for Valentine's Day, too. Since these apps are at their best when you can immediately talk to matches, the findings might actually help you find love (or at least some innocent flirtation). Don't waste your time on Tinder in the wee hours of the morning: Most people spend their time on the app between 6 p.m. and 10 p.m., as you can see below.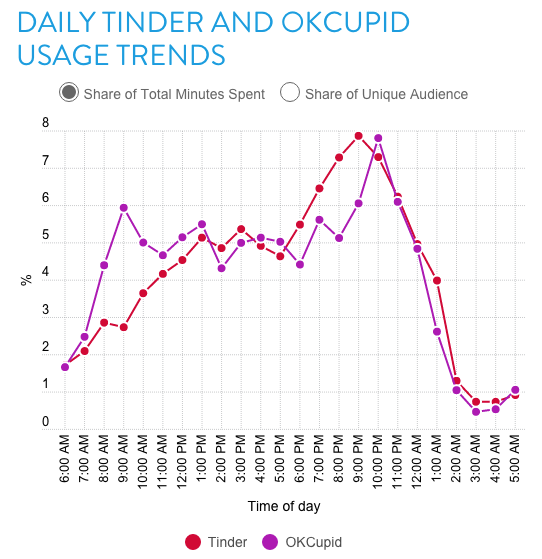 Don't fret if you're an early-to-bed type of person, though -- at least if you're an OkCupid user. OkCupid is apparently more popular between 8 a.m. and 10 a.m. than parts of the afternoon, early evening and late at night.
"When we look at unique audience, we see that a larger percentage of all OKC users sign in both in the morning and night," a Nielsen statement said. "On Tinder, the user's likelihood to check in between noon and midnight is mostly flat at about 40 percent."
Here's what that last part means: If you look at the first graph, a similar percentage of people -- about 40 percent of unique users -- use Tinder at various times between noon and midnight. Still, if you want to be on with the most people possible, 9 p.m. is the peak moment according to Nielsen's data, with 51.64 percent of the audience. Interestingly, 4 p.m. comes in second with 50.61 percent. Are people trying to get lucky during an afternoon slump at work? Perhaps!
So, now you know. Go forth and match.
Related
Popular in the Community