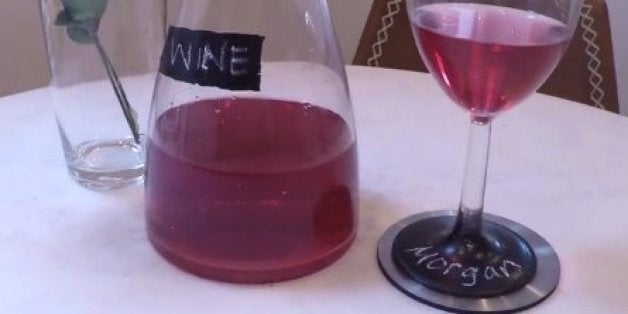 Summer is finally here, and I cannot wait to invite my friends over and sit outside on the back deck with a cold drink.
After a long day at work, I can definitely use a delicious snack, like these adorable "chick" deviled eggs, and a nice glass of white wine. But when my friends come over, its often hard to keep track of whose glass is whose. I'll be the first one to put my glass down somewhere, turn around, and forget which drink was mine.
Now with this creative and easy new DIY trick, I won't lose track of my wine glass again.
In this video, DIY expert Morgan goes through the extremely easy steps for making a chalkboard paint wine glass. This project takes no time at all and I already had everything I needed laying around the house.
And what a fun idea! Now with a piece of chalk, my friends and I can label our wine glasses. I love getting creative, like trying my hand at shower curtain art, so I might even try this method to decorate other things around the house. These chalkboard wine glasses are sure to impress my guests. And when everybody heads home, I can just wash their names right off and I'm all ready for my next get together.
To see how to make your very own chalkboard paint wine glasses, watch the video below and let us know what you think.
Please SHARE with your friends who might like this clever way to decorate their wine glasses.