I was slightly dreading my birthday this year--but not for typical reasons, like getting older; I wish it was that simple. I was dreading my birthday because I knew it would mean facing a friend who always shows up on my birthday ... but lately, I'd never felt farther from her. Like many of us, the past months have revealed sides to people that have surprised us ... offended us ... separated us. On my birthday, I didn't feel like going there. After agonizing over it for many days, l I decided I wouldn't go there. Maybe another day I would, but not on my birthday.
I was completely fine with that decision until the friend just showed up - she showed up like she always does on my birthday. She looked just like I remembered, even though I'd seen a different side to her in recent months.
I invited her in, leading us to the kitchen table where the sunlight was ample. I quickly noticed she had new laugh lines--or maybe they were stress lines ... or sleepless lines ... or worry lines, like mine.
We talked about our work and our kids. We shared concern over aging parents and a friend's fragile health. We did a lot of remembering--like the time we got lost on a road trip and ended up somewhere better. We reminisced about the first conversation we ever had--two young moms with an abundance of questions & chaos and a shortage of energy & patience.
I thought she was about to say she had to be on her way when she confessed it's been a hard time for her family. Not one to reveal her deepest, darkest fears, I was surprised to see them on the surface. They shed some light on a few things she'd said in the past ... on stances she'd taken ... on beliefs to which she clung. I offered my support, and she thanked me with tears. She said I was making a difference. I didn't know if she meant specifically in her life or in general, but either way, I was glad to know.
When it was time to say goodbye, I hugged her tightly--I hugged this friend that for months I wondered if we could still be friends ... considering.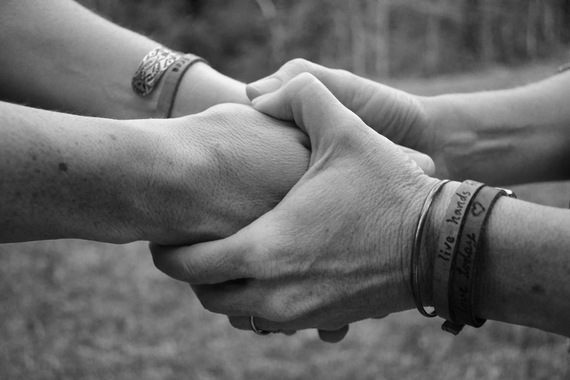 Later that night, my family was surprised when I told them about the visit. My daughters knew my friend and I held very different beliefs on really important issues.
"That must have been hard," my younger daughter said.
"Actually, it was an unexpected gift to sit at the table with her. It gave me hope."
On my first day of another trip around the sun, I was reminded of some truths that will sustain me in what looks like a difficult year ahead. Perhaps one of them will be helpful to you:
Extending love to someone with a different opinion does not mean we are agreeing or forsaking our beliefs - it shows we're committed to working through those differences in order to move forward.
Extending love to someone who revealed an unbecoming side of herself doesn't mean we've forgotten - it shows we're willing to see her story, her scars, and the pain within that response.
Extending love to someone who offended us does not mean we're accepting such treatment - it means we realize we cannot thrive in a place of anger and resentment.
Extending love to someone who expressed ill will towards us does not mean we don't care - it means we refuse to let other people's opinions of us dictate our thoughts or actions.
Sitting down at the table despite our differences shows we're willing to step aside so love can break down barriers and create positive change for future generations.

Today I encourage you to sit at the table with those you thought you could never be in the same room with again. It just might be your chance to acknowledge that despite coming from vastly different places, you both want to proceed in a positive direction. And for one fleeting moment, there will be ample light on the table on which you meet, regardless of the noise and darkness outside.
That moment of unity will be an unexpected gift. No matter what day of the year.
Calling all HuffPost superfans!
Sign up for membership to become a founding member and help shape HuffPost's next chapter