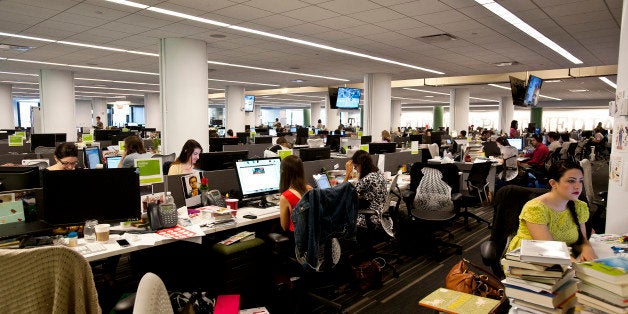 Location: US - New York - New York City
The Huffington Post is looking for nimble Mobile Editors to help curate the creation, packaging and distribution of HuffPost content to ensure the strongest possible mobile news experience. We are looking for leaders and creative thinkers who will experiment relentlessly, and evangelize within the newsroom.
Requirements for Success:
Have rock-solid news judgement. Know when a story matters, when it doesn't — and why. Understand and honor the value of clarity, accuracy and speed.
Guide reporters and editors as they calibrate stories for maximum impact on our app, mobile web, Facebook, Twitter and other social platforms.
Recognize what makes a mobile headline shareable and clickable. Help make sure our images, graphics and interactives create a mobile-friendly user experience.
Weigh in on both daily and long-term project packaging for mobile optimization.
Use analytics tools to spot trends. Create best practices and turn them into pointers for the rest of the newsroom.
Be an advocate and evangelist. Inspire enthusiasm. Be able to execute and teach.
Obsess over emerging platforms and mobile innovations. Investigate new ways to interact with news on an insatiable level. Refine and help develop our site-wide mobile strategy.
Feel comfortable working with our designers, developers and product experts to conceptualize, troubleshoot and test new mobile experiences. Speak their language — and know how to translate that back to the editorial team.
Collaborate with newsroom stakeholders. Teamwork is core to who we are at HuffPost.
Think big, think creative, think outside the box. Understand and embrace why a mobile-first strategy is critical and endlessly exciting.
Interested? Send us an email at careers+mobile@huffingtonpost.com with "Mobile Editor" in the subject field.
Huffington Post Media Group is an AOL company. AOL is an equal opportunity employer and does not discriminate on the basis of age, color, disability, marital status, national origin, race, religion, sex, sexual orientation, veteran status or any other classification prescribed by applicable law.
The Huffington Post is a Pulitzer Prize-winning source of breaking news, commentary, entertainment, features and lifestyle content, as well as a platform for a highly engaged community of opinion and conversation. With nearly 130 million unique visitors each month (comScore), it is the largest news site in the US. The site has more than 85,000 bloggers -- from politicians, students and celebrities to academics, parents and policy experts -- who contribute in real time on the subjects about which they are most passionate. HuffPost is a global publication, with editions in the UK, Canada, France, Spain, Italy, Japan, Maghreb, Germany, Brazil, South Korea, Greece and India and more on the way, including Australia.
Related
Popular in the Community