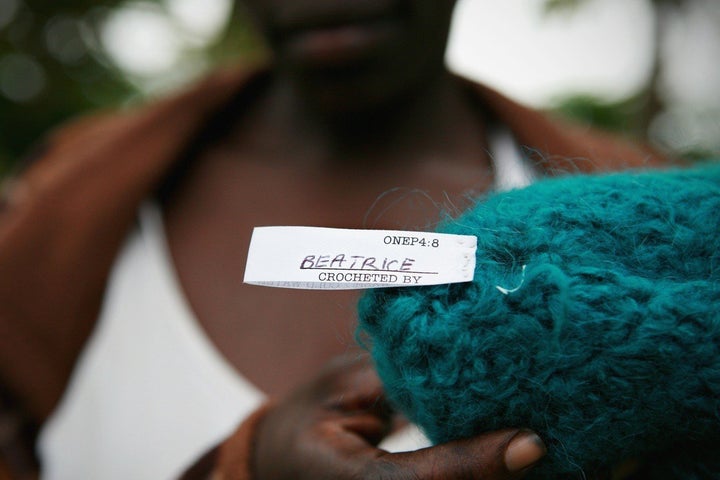 Along with his two best friends, Kohl Crecelius is expanding the boundaries of digital connection, philanthropy and retail with a business rooted in a very personal experience -- and a talent for crocheting.
"This may sound weird," Kohl, 25, told HuffPost from his office in Costa Mesa, Calif., on Monday, "but there was never really a doubt that this would help or that we would be able to accomplish our mission."
Kohl is the CEO of Krochet Kids, a nonprofit he cofounded along with his two childhood best friends, Travis and Stewart. Their mission: to combat poverty and sustain communities worldwide. Their motto: "Buy A Hat. Change a Life."
The whole "crochet thing" started as a lark in high school, when Kohl's older brother taught him how to rock the hook and yarn. "We were big skiers and snowboarders back then and started making beanies and headgear for the slopes," Kohl said, without a hint of irony. "But I really like crocheting. We all did; it was fun."
Setting off an entrepreneurial drive that now seems inherent to his being, Kohl took his hobby further, selling hats to friends and family, and soon a "mini-fad" kicked in around his hometown in Spokane, Wash. A local newspaper dubbed Kohl and his friends the "Crochet Kids," and the trio started to make some money, though they spent most of the cash on a particularly epic senior prom, complete with a hot air balloon ride for them and their dates.
When Kohl and his friends branched off to different colleges across the Northwest, they stayed in touch constantly, traveling around the world, and keeping each other updated on what they were seeing. Kohl worked one summer with Haitian refugees in the Dominican Republic and felt inspired. The three friends wanted to tangibly impact the communities they were coming across, but weren't sure how to do it.
Then someone suggested digging up their old high school hobby.
"This idea of crocheting came up, but I was pretty skeptical," Kohl said. "I didn't think it was something the world needed. I wanted something bigger, something more broad."
But when Stewart returned from a trip to Uganda, he brought with him stories that deeply affected the three best friends. They sat around a campfire and caught up.
"He told us that these people living in government-run camps, completely dependant on other organizations and the government for their every need," Kohl remembered. "One man felt like a baby 'waiting for mother's milk,' you know, he didn't even feel dignified enough to provide for his family or himself."
The more they thought about it, they realized a very basic opportunity they had. So through late night, extracurricular cram sessions on Skype, the three friends, who were midway through college, planted the seeds for Krochet Kids. They began crocheting again, selling hats at night on campus, and they brainstormed comprehensive business plans.
"We used school to our advantage," Kohl said. "We'd turn in projects for our business, marketing or anthropology classes surrounding Krochet Kids. We turned to our teachers and asked for real feedback. We said, 'We're really doing this. Can you help?'"
In the summer of 2007, the three friends took their first trip to Uganda. They sat in a small hut and taught 10 local women to crochet. "We brought over all the yarn, the scissors, everything we needed," Kohl said. "They were receptive because we had a good product, but we were also providing a real job."
After a year, that initial group of 10 women expanded to 80, and today stands at over 100. "This is a model of empowerment for communities," Kohl said. "They earn a fair, consistent income, which provides all their immediate needs -- they send their kids to school, get them medicine and eat healthy meals."
The crew also makes a point to walk their employees through an "education cycle," teaching them about finance and budgeting. For many of their employees, this is their first real job; Kohl and Krochet Kids help them look toward the future and inspire genuine self-reliance.
"Our employees have saved up and started community stores, they've bought their own cattle," Kohl said. "One woman started a goat-rearing business."
And the hats are great, too. Kohl thinks this is the prime ingredient; this isn't just some philanthropic "donation" they're providing. Rather, Krochet Kids is able to provide a solid product that fits nicely in with the retail cycle and industry "fashion standards." Today, they sell their hats at Nordstrom, as well as their other products (crochet laptop case, anyone?) online.
Plus, every hat is signed by the crochet-artist who made it. You can even head to the Krochet Kids website and meet your seamstress. This is key, Kohl said, because this way you know your hat is made by a real person with a unique story. People who buy the hats often send personal thank-you notes.
Krochet Kids is planning to expand to Peru, and they hope to bring their model of sustainable local production to other countries in the coming years. For now, Kohl is genuinely excited about what he's accomplished with his two best friends.
"I work 3 feet away from a guy I've known since pre-school," Kohl said. "We feel pretty lucky that this is the realization of our friendship."

Related
Popular in the Community