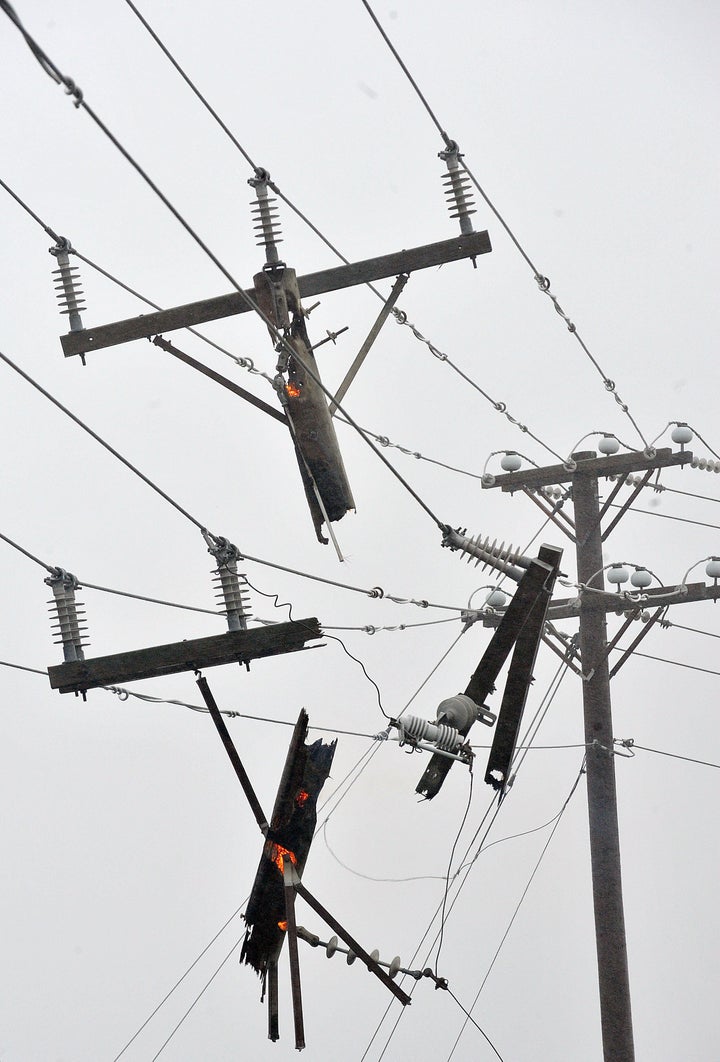 Hurricane Irene has already left nearly 1 million East Coast electricity customers without power -- long before the storm is due to hit some of the most densely populated areas in New Jersey and New York.
Progress Energy, which serves much of coastal North Carolina, is reporting power outages approaching 300,000 customers.
With the storm still active, the company said it can offer no estimates on when restoration efforts will commence in full or how long those efforts will take.
Meanwhile, the number of customers without power in areas served by Dominion, mostly in the upper reaches of North Carolina and neighboring Virginia, continued to mount as Irene made its slow charge up the coast. As of roughly 4 p.m., the company was reporting over half a million customers without power.
Dominion said that it had crews in the field responding, where conditions permitted.
SNL Energy, a division of the market research firm SNL Financial, has pulled together a comprehensive analysis of power plants of various sorts that are most at risk from the ravages of Irene as the storm progesses.
According to the firm, 199 plants -- including facilities that use coal, gas, oil and nuclear energy -- are in the path of the hurricane. "Among these facilities," wrote SNL analyst Jesse Gilbert, "are five nuclear plants, 14 coal-fired plants, 36 gas-fired combined-cycle facilities and 144 smaller plants of various fuel types."
SNL estimated that the storm had the potential to impact 50 million people -- including millions of electricity customers.
See which power plants could be affected by Hurricane Irene in your region: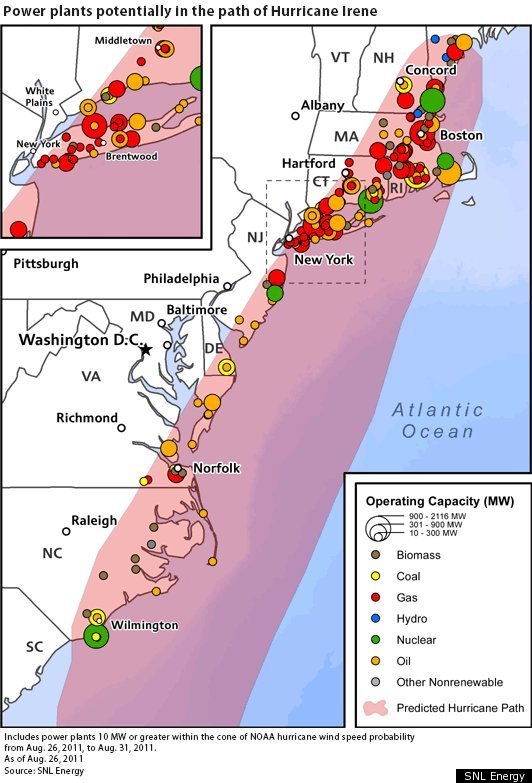 "Irene's strong winds and heavy rain threaten to deliver long-lasting power outages to millions of East Coast customers, according to utility officials and forecasters," Gilbert wrote. "Rarely does a storm come along that poses a threat to power infrastructure in so many service territories."
Outages for Pepco customers in the greater Washington area were also mounting on Saturday, approaching 10,000 by mid-afternoon, while Baltimore Gas & Electric, which said in a statement yesterday that it was planning for as many as 500,000 customers losing power in the storm, was reporting just over 6,000 outages as of 4 p.m.
Delmarva Power, which serves Delaware, Maryland, Virgina and parts of southern New Jersey, had tallied 3,600 customers without power.
"While our electric system has been recognized as the most reliable in the nation, we expect significant damage from the extraordinary wind and rain expected to pummel New Jersey this weekend."
Full restoration, the company added, "could take between one and three weeks."

Calling all HuffPost superfans!
Sign up for membership to become a founding member and help shape HuffPost's next chapter