 As Hurricane Isaac continues to drench the Gulf Coast, the flooding that has occurred so far in Louisiana has been concentrated in an area south of New Orleans that is not protected by the federal levee system that was upgraded after Hurricane Katrina.
About 75 people have been rescued from flooding in the Braithwaite area of Plaquemines Parish, a rural stretch of citrus farms and subdivisions that was devastated by Katrina in 2005.
According to local authorities, storm surges have overtopped the levees protecting Braithwaite, flooding homes and forcing residents to scramble to rooftops and attics.
In the years after Hurricane Katrina, Congress approved more than $14 billion worth of upgrades to the federal levee system surrounding the New Orleans area, including one of the largest storm surge barriers in the world. But certain outlying areas, including much of Plaquemines Parish, were not part of the new system.
The levees that were overtopped in the Braithwaite area are about 8 to 12 feet high, compared to nearby federal levees that are more than 25 feet high. That leaves those areas outside the federal levee system much more susceptible to flooding during hurricanes.
Louisiana Gov. Bobby Jindal said authorities may intentionally breach the levee in Braithwaite to relieve pressure from the storm surges. Isaac has now been downgraded from a hurricane to a tropical storm, according to the National Weather Service.
BELOW: The federal levee system surrounding New Orleans is outlined in green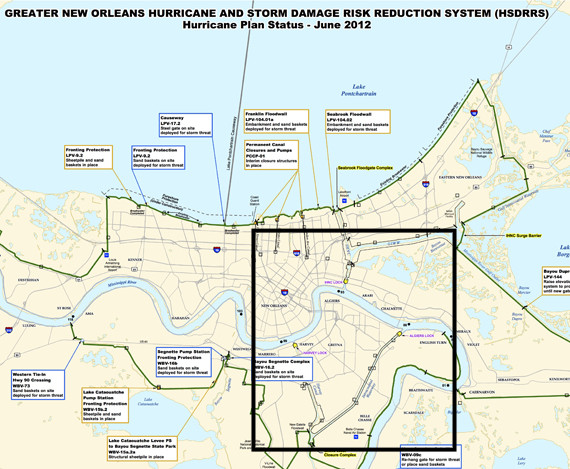 CLOSER LOOK: Levees overtopped in Plaquemines Parish were outside of the federal hurricane protection system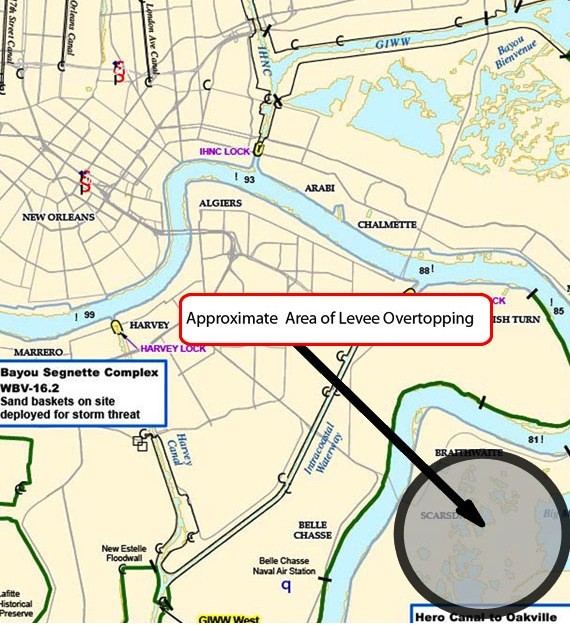 Related
Popular in the Community