Hurricane Irene is coming, and many of us on the east coast may find ourselves without power and tired of eating crackers, chips and other no-cook items. With a couple fresh ingredients you can create a great fresh pesto salad, electricity be damned. I'm listing substitutions as well, remember, stay safe indoors... no trips to the store for this recipe. You may want to write this one down with good old paper and pen in case your power goes out, like mine probably will.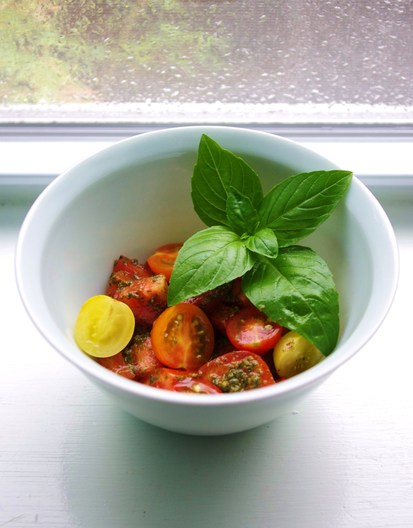 Ingredients
Fresh Tomatoes (Substitutions: Corn or even defrosted Frozen Corn, Bell Peppers or any vegetable you enjoy raw)
Extra Virgin Olive Oil
Large Bunch of Fresh Basil (Substitutions: Parsley, Arugula or a combination of any of these)
¼ Cup Pine Nuts (Substitutions: Pecans, Pumpkin Seeds, Macadamia Nuts or Almonds)
Salt
1 Large Clove Garlic
Optional, 2 Tablespoons Ground Parmesan Cheese (Substitutions: Any hard salty cheese or even that familiar green plastic canister in a pinch)
Cut your tomatoes or other vegetables into bite sized pieces, place in a bowl and set aside.
Normally to make pesto I would break out my food processor at this point, but this is a no-electricity scenario, so a regular cutting board and sharp knife are in order. Finely chop your basil, pine nuts and garlic. If you have a large mortar and pestle place them in it, if you don't break out a medium to large zip lock bag and place the chopped basil, nuts and garlic into the bag. Add a pinch of salt and two tablespoons of olive oil to the mixture. Mix and grind by hand in your mortar and pestle or seal the mixture in the zip lock bag and crush the mixture together with the bottom of a drinking glass. Taste the mixture, adding additional olive oil to taste. Continue mixing until the consistency and flavor is to your liking. Add the pesto to your tomatoes, sprinkle with cheese if you like and gently mix to combine.
This fresh vegetable pesto is great by itself or with some crusty bread. Stay safe out there, east coast!
Calling all HuffPost superfans!
Sign up for membership to become a founding member and help shape HuffPost's next chapter