 ABSECON, N.J. -- Off in the distance, under a threatening sky, stood the casino and hotel towers of Atlantic City. Lenora Brown, 29, was ready to walk there if necessary, even as the night grew cold. But the cop in the patrol cruiser blocking the highway told her to turn back.
No one was getting into the city tonight, he said. It was the same answer Brown had heard all day. She was evacuated from her home on Tuesday morning and intended to return with help for her sister and niece, who were watching over Brown's two infant daughters. But now she could not get back.
"There's no light and there's no heat, and my babies are sitting out there in the cold," Brown said. "Why aren't they letting us back in?"
A day after being battered by Hurricane Sandy, the toll in New Jersey mounted. At least six people were killed. Major flooding and massive power outages put big North Jersey cities, including Newark, Jersey City and Hoboken, out of business. Chunks of Seaside Heights' historic boardwalk washed away. Boats that had been moored in marinas in beach towns up and down the coast were thrown onto roadways and into backyards. Vacation homes were lifted from their foundations and swept away.
Those killed included a couple in Mendham Township who were hit by a falling tree when they got out of their pickup truck, as their children, ages 11 and 14, watched, authorities said.
It's "like nothing we've ever seen," Christie said. "There are no words to describe what so many New Jersey residents experienced over the last 24 hours and what we will have to contend with over the coming days, weeks and months."
Hours later, after touring battered coastal towns, Christie remarked, "I just never thought I would see what I saw today."
Atlantic City and other South Jersey barrier island communities remained without power and cut off from the outside world as night fell Tuesday. Police cruisers were stationed at access roads, allowing cars to trickle out, but none to return.
"The water is down," said Lt. Dan Mitchell, of the Northfield Police Department, a suburb just outside Atlantic City. "We see people still coming off the island, but no one is getting back on."
The highways up and down the coast were largely clear, although debris from the storm was widely evident on the roadside.
"We came through this thing relatively unscathed," Atlantic City Mayor Lorenzo Langford said at a press conference on Tuesday. "I expect within a month from now Sandy will just be a memory."
President Barack Obama signed federal emergency declarations for New Jersey and nine other states and the District of Columbia, allowing state officials to expedite requests for federal assistance. The president was scheduled to visit New Jersey on Wednesday to tour damaged areas.
The barrier islands and the southern coast where Sandy made landfall were hit the hardest.
In Seaside Heights, the popular boardwalk amusement park was torn asunder, with sections of the boardwalk warped and crumbling. Its famed Jet Star rollercoaster dangled precariously into the ocean like bait for a sea monster.
In Atlantic City, the shore's neon gem where some 33,000 people evacuated their homes, floodwater peaked on Monday night at eight feet in some parts, leaving block after block awash in sand and detritus. Officials said that by early Tuesday morning, 70 percent to 80 percent of the city was underwater.
Winds on Monday reached 85 mph in Atlantic City, clawing at rooftops and toppling trees that completely blocked some streets.
"The city is under siege," Thomas Foley, the Atlantic City chief of emergency management, told The New York Times.
High winds chipped at one of the most recognizable Atlantic City landmarks: the J in the Trump Taj Mahal sign was apparently ripped away during the storm. It remains missing, according to the Press of Atlantic City.
Damage to the city's dozen casinos was limited, with much more pain to the casino's coffers. After being officially shuttered on Sunday at 4 p.m., the casinos are estimated to lose about $5 million each day they remain closed.
By nightfall on Tuesday, desolation on the major highways gave way to a frenetic scramble for gas and supplies. Huge lines of at least 100 cars long were piled up at service stations along the Garden State Parkway, with some lining up on foot to fill plastic cans with gasoline.
Rescue and recovery efforts continued well into Tuesday, even in towns that had expected little flooding.
In Moonachie, in Bergen County, authorities said floodwater rose five feet within 45 minutes, forcing the evacuation of the local police and fire station, leaving folks stranded in nearby homes and in vulnerable mobile home parks. Officials said residents in three Moonachie trailer parks were still awaiting rescue late Tuesday afternoon.
Four feet of water engulfed neighboring Little Ferry, a town of about 10,000 that sits along the Hackensack River and a major creek.
''I looked out and the next thing you know, the water just came up through the grates," Leo Quigley, a Little Ferry resident, told the Associated Press. "It came up so quickly you couldn't do anything about it."
Gov. Christie said his tour was an emotionally charged one, as he stopped along beaches and towns that he'd spent much of his life visiting. From Bellmawr to Sea Isle City and Seaside Heights, Christie described sections of boardwalk torn up, homes wilted and businesses destroyed.
"It was an overwhelming afternoon for me emotionally, as a kid who was born and raised in this state and who spent a lot of time over my life, both my childhood and my adult life, at the Jersey shore," Christie said. "We'll rebuild it, no question in my mind. We'll rebuild it. But for people my age, it won't be the same.
"Its gone," he said, "it's not there."
Scroll down for live blog updates.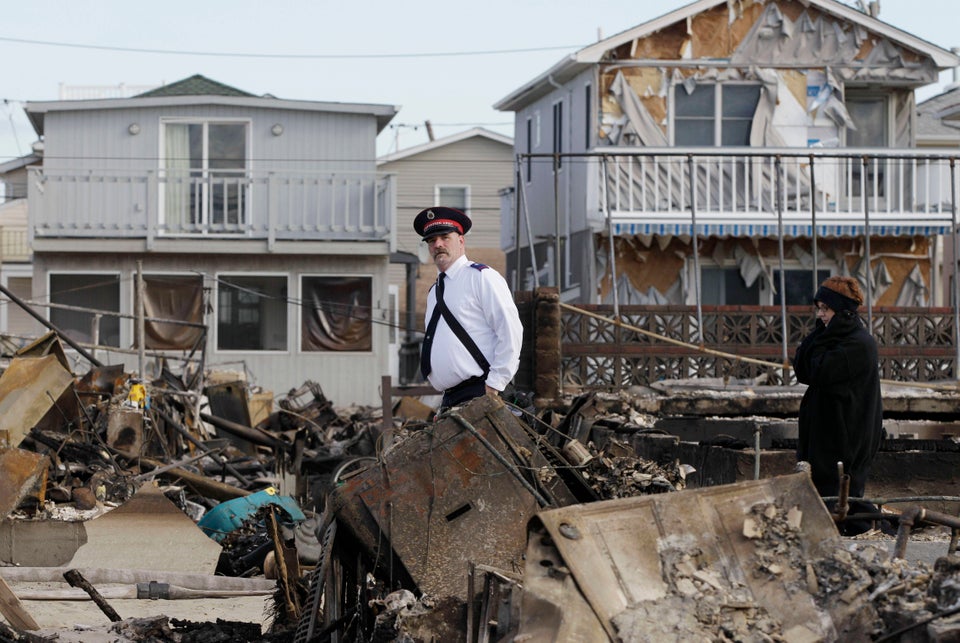 Hurricane Sandy
Popular in the Community