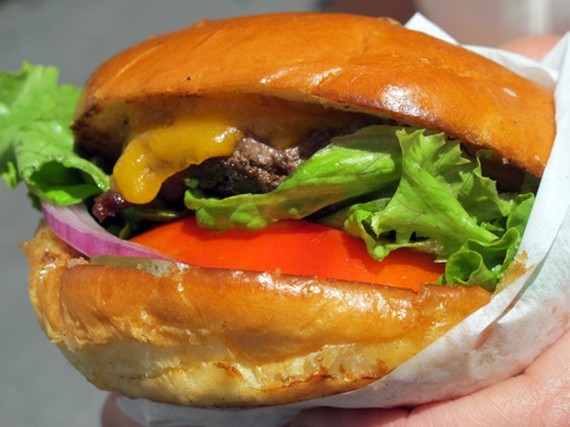 The northern Indian city of Delhi (New and Old) has many reputations, and one of them has to do with foreign visitors' stomachs. The definition of the Delhi Belly is an informal term for the common intestinal infection suffered by tourists unaccustomed to the local bacterial contamination of food and drink.
It's not a legend, it's a fact. Many people get very very sick from the food they eat there, but a few precautions easily taken can prevent this - it worked for me.
The problem is in the water. DO NOT EVER drink water that is not in a sealed mineral bottle. Usually, your hotel will provide them freely and abundantly. My room had two one-liter bottles on the table, my bathroom had two more bottles, my mini-bar had another two, and each time I walked by the front desk, I was given two more bottles and as many as needed were given for the asking.
Outside, plenty of stores have full one-liter bottles for 20 Rupees ($0.30), and the street vendors even have refrigerated carts with water for sale. Mind you, this "cold" water is not really cold by American standards; let's just say it's not hot. Even the mini-fridge in my room did not seem to be on when I checked the water temperature.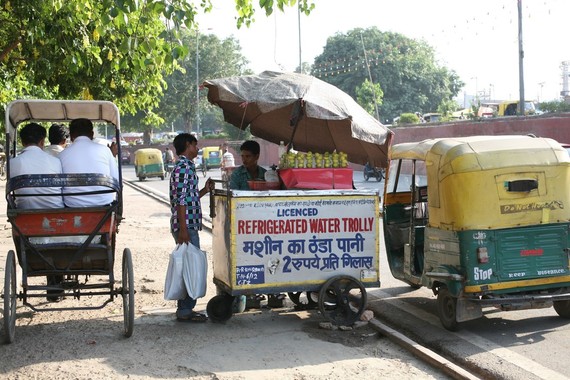 Of course, never use/never ask for ice in any form or shape. If you must eat fruits, wash them with the mineral water. Brush your teeth with the mineral water. Close your mouth in the shower, and when you splash water on your face, always finish with..... mineral water.
If your hotel has a pool, make sure no water enters your mouth and rinse right after. Do not eat anything with tomatoes or salad, or anything uncooked. And forget those delicious looking ice creams and pops sold everywhere, they are made of WATER.
My hotel had a wonderful breakfast buffet and the fruits served there were certified rinsed with mineral water, so the pineapple, mango, jackfruit, and papaya were certainly safe for international intestines.
The coffee was also made with mineral water, hotel management don't want to have sick customers, that's not good practice, and they want repeat clients so they do everything to keep people safe. I know I will return to my hotel in a heartbeat, eat the fruits, drink the coffee and swim in the pool.
A nice way to see the city's many touristic attractions is to spend the day in a Hop-on Hop-off bus. When I was in Delhi last week, it was 117 degrees, so coming out of my glacial hotel room was a challenge. Yet I wanted to see a few more things. This bus tour takes all day and visits eight major landmarks, for 1,500 Rupees. You can choose to stay in the cold bus or you can hop out and hop back into the next one coming. This was a savior for me.

Despite the brutal temperature, I visited the bazaar, walking distance from my hotel at Connaught Place, but the heat was unbearable and I was dripping so much sweat, my vision was impaired. My Wal-Mart baby wipes were put to good use that day, as I was wiping away my face and arms all along my walk.
A little respite from the temperature happened at (drum roll) a Starbucks, where the beautiful location, in a majestic columned building, was the largest franchise I have seen anywhere, and while it was serving the exact same menu as in the States, the feel was very different.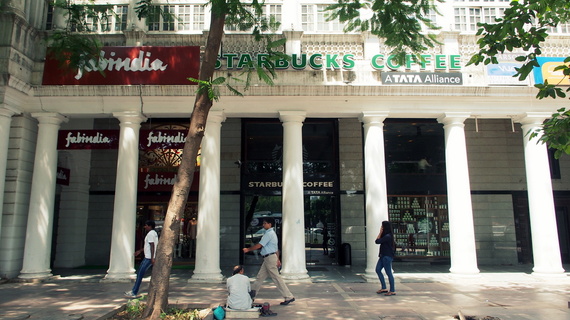 The US coffee chain has a 50/50 joint venture with the Indian Tata Global Beverages Company (also a builder of cars), under the canopy name of Starbucks Coffee - A Tata Alliance, and sources coffee beans from Tata 's many large plantations.

Food trucks were possibly invented by the ancient Romans, or at least by Indians, as there is as much food outside on the streets as inside restaurants in New Delhi. Across the street from my hotel was a massive bus stop where 35 different bus routes and numbers were listed as stopping there - can you imagine a city bus stop with 35 buses coming?
Tons of street vendors were spread over the area, with food carts, rolling boxes, some hot-dog carts like in New York. Some with just a basket filled with food of some sort. One guy had the best-looking hamburgers I have seen, and our witty conversation went like this:
"Namaste, is this hamburger made with meat?
"Yes Madam, it's a real hamburger"
"Ok, but is it beef?"
"Real hamburger Madam"
The guy in line behind me (not that there was a line, more like an interested cloud of gathered people), tired of the length of our dialog told me these were veggie burgers.
"So there is no beef, right? No meat? Just veggies?" (I am vegetarian)
"Yes Madam, veggies, veggies, hot, very good, cheap. Do you want catsup?"
Without bargaining the price (100 Rupees), back to my room, I removed the lettuce and tomato slice and enjoy the most delicious veggie burger I ever had! I knew I was taking a risk with street food, as one of the rules against Delhi belly is never to eat street food. But the bun was roasted and the patty very well cooked, so I decided to take a chance and was right.
I liked New Delhi, the real India, 24/7 busy, febrile, friendly, and safe once you know a few things to navigate wisely. A lot of Indians in the service industry seem to never want to say no to you. When I asked at the front desk of my hotel if the spa was located in the first floor lobby, I was told, yes Madam, it's on the second floor.