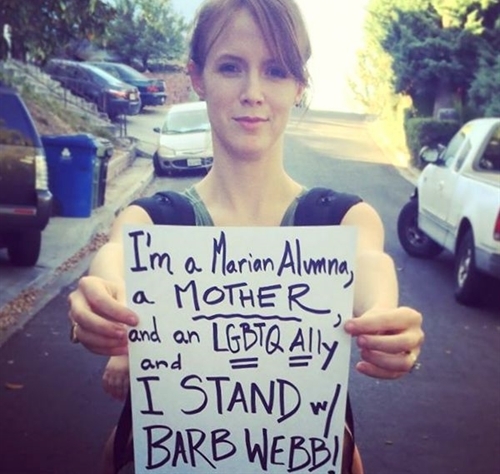 Rachel Chapman Kopera, founder of the "I Stand with Barb Webb" Facebook group and campaign
As an alumna of Marian High School and advocate of social justice, I stand with Barb Webb. Barbara, a former chemistry teacher at Marian High School, was fired before the beginning of the semester for her "nontraditional pregnancy." Marian High School, an all-girls Catholic School in Bloomfield Hills, requires teachers to sign a morality clause that mandates the adherence to the teachings of the Roman Catholic Church both in job performance and in public life. Barbara Webb, 33, is married to Kristen Lasecki, 33, but believes her termination was due to the visible nature of her pregnancy. Marian students and alumni have been organizing to show their dissent in regards to the administration's decision and their support to Barb and her family.
Rachel Chapman Kopera ('01) started the campaign and launched the Facebook group "I Stand with Barb Webb," which now has over 3,000 members. She is encouraging Marian students and alumni to write letters and post photos of support for Barb. Rachel says,
I still wear my Marian High School ring because I'm proud to be a part of a school that stands up for social justice and diversity. Let that be Marian's legacy. Join the movement and post a photo that states you stand for Barb Webb.
Hilary Levey Friedman ('98) published the article "Catholic Schools are Brazenly Firing Pregnant Lesbian Teachers" in The New Republic and Amanda Ruud McVety ('02) organized a peaceful demonstration in front of Marian High School that happened on Sunday, September 7th. Verity Flecknell, Kopera's friend, started a petition on Change.org that has over 600 signatures. The movement is gaining momentum; the list of organizers, activists, and supporters continues to grow.
During my senior year at Marian, I took a class entitled Social Justice, which was required for graduation. According to the National Association of Social Workers, social justice is the belief that everyone deserves equal economic, political and social rights and opportunities regardless of one's race, ethnicity, class, gender identity/expression, sexual orientation, ability and other axes of identity. The decision made by Marian's administration is in conflict with with the very idea of social justice. It has denied Barbara Webb equal access to employment and job security because of her sexual orientation. The termination of Barbara's employment at Marian during the time of her pregnancy has potential economic implications for a woman and her partner who are getting ready to bring a new life into this world. A pro-life agenda must include decisions that foster long-lasting economic security and stability and provide ongoing access to affordable healthcare for pregnant women and their families.
Removing Barbara from the Marian community undermines social justice by facilitating a shaming culture that "otherizes" students or faculty members who don't hold the social identities privileged by the school's administration. Neisen (1993) states in the Journal of Gay and Lesbian Psychotherapy, "LGBT people unquestionably experience long-term stress related to their sexual orientation or gender identity. They often internalize the negative messages about being different. These messages become beliefs that can fester and develop into two struggles: shame about who they are and what they feel, and guilt about what they do." Firing Barbara Webb reinforces heteronormativity and may adversely impact the mental health and emotional ability of students who do not identify as heterosexual. The decision made by Marian's administration teaches young women it is acceptable to ostracize those who don't fit in.
When I was a student at Marian, many of my classmates identified as belonging to the LGBTQIA (lesbian, gay, bisexual, transgender, questioning, intersex, asexual) community. Students who are sent to Catholic schools by their parents/guardians but who do not hold a sexual orientation or gender identity that is favored by the Catholic Church do have the right to feel safe and develop a positive self-identity. According to the Centers for Disease Control and Prevention, a 2009 survey of more than 7,000 LGBT middle and high school students revealed that LGBQ youth were more likely to report high levels of bullying and substance abuse than their heterosexual counterparts. Students who were questioning their orientation reported more bullying, homophobic victimization, unexcused absences from school, drug use, depression, and suicidal ideation than their heterosexual counterparts. The CDC states that schools can promote a positive school climate by encouraging respect for all students and identifying "safe spaces" such as counselors' offices, students organizations, or classrooms where LGBT youth can receive support from administrators , teachers, and other school staff. There needs to be adult role models at Marian who identify in similar ways and can serve as mentors to students of the LGBTQIA community. How is Marian's administration creating a safe space and meeting the needs of their diverse student body with decisions such as this one?
Verity Flecknell got involved in this campaign because she is a lesbian, feminist, and activist who is concerned about the implications this decision will have on current Marian students. Verity says,
I am concerned about how LGBT students are feeling right now seeing the story unfold. If anything, I hope they get courage and see a great example in the alumnae that are standing up for Barb Webb and upholding Marian's reputation of nurturing strong women with a great sense of social justice.
Social justice is just as much a process as it is an outcome. It is a process that challenges the roots of oppression and injustice, empowers all people to exercise self-determination and realize their full potential, and builds social solidarity and community capacity for collaborative action (http://socialwelfare.berkeley.edu/social-justice-symposium-about). Marian students, faculty, alumni, parents/families, and LGBTQIA community members and allies who have organized, joined the "I Stand with Barb Webb" Facebook group, posted photos and letters of support, demonstrated, spoke out, and participated in this movement in any way are showing the world what social justice looks like. We will not be silent. We will not be passive observers in the wake of discrimination. We stand and will continue to stand in solidarity with Barb, her family, and the LGBTQIA community to fight for a more just and inclusive world.
Popular in the Community