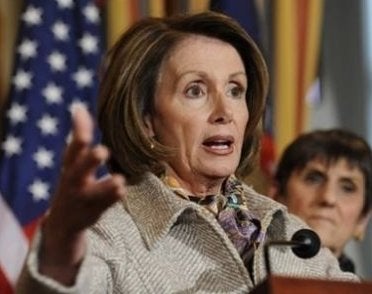 Everytime I see "the chair" I am instantly drawn to it.
Regardless of how intently I am listening to what United States Speaker of the House, Nancy Pelosi, is saying, once I see the enormous chair she sits in while conducting House business, my mind turns into a cavernous cavern, focusing only on "the chair".
Personally, there is something so appealing about having a chair 2-3 times larger than my body. What does that say about me?
Maybe I'm power tripping at the moment but when I see "the chair" I am able to successfully block out all the depressing political chatter relating to budget, the decrepit economy and rising unemployment. I have no problem just pining away for the chair. Shallow but true.
So what does "the chair" have to do with this dessert? Nothing, other than this is Nancy Pelosi's Chocolate Mousse. If I can't have her chair, I'll take the mousse. It makes me feel closer to the chair for whatever reason.
This mousse also intrigued me because Nancy Pelosi and Senator Dick Durbin entered this recipe into a March of Dimes dessert contest and won. I'm a sucker for trying contest winning recipes. I had no choice. I had to make it.
What I like is the simplicity and elegance this dessert offers during a time when back to basics cooking has become very "en vogue". Chocolate mousse is one of those great recipes that hits the spot after a large meal. It's light but very satisfying.
This recipe is great, I love it. And remember to serve it in cute little dishes... presentation is EVERYTHING!

Nancy Pelosi's Chocolate Mousse
12 oz. good-quality dark chocolate, broken into pieces
4 Tablespoons unsalted butter, cut up
8 large egg whites (preferably pasteurized)
4 Tablespoons granulated sugar
1/2 cup heavy cream, whipped
Coarse sugar, optional
Place chocolate in a medium metal bowl. Set bowl over saucepan of simmering water; stir until melted and smooth. Stir in butter until melted. Set aside.
In another large bowl, with the mixer on high speed, beat egg whites and sugar until soft peaks form.
Gently fold whites into chocolate mixture. Next, fold whipped cream into whites-chocolate mixture until fully incorporated. Spoon into 8 dessert cups. Refrigerate at least two hours before serving.
Sprinkle with coarse sugar to give texture to the smooth mousse.
Related