I have been on all ends of the summer camping experience. A camper at Girl Scout camps growing up, a camp counselor at two YMCA camps during college, and now a parent sending my own sons off to camp.
There are many aspects of camp that make it a worthwhile experience. Making new friends, learning new skills, and building confidence are interlaced with the benefits of leaving the "real world" behind and being free to be yourself.
Camp gets you away from the hustle and bustle of daily life, and lets you explore your talents and interests. It also offers a new way to appreciate each day, whether it's being part of the color guard raising the flag at sunrise, or sitting around the campfire singing songs and acting out skits at sunset.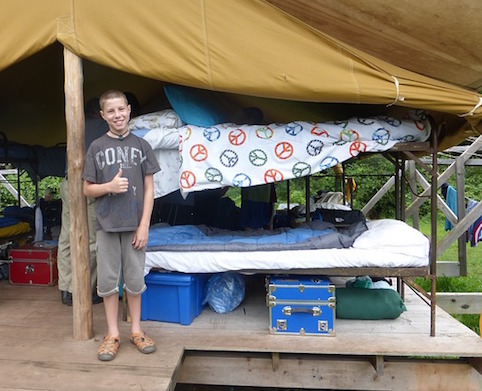 I thought watching the 2006 documentary Summercamp! (yes, they spell it as one word) would be a great way to relive those experiences, and I was right.
Right down to the good, the bad, and the ugly.
The documentary looks at camp life at Swift Nature Camp in Minong, Wisconsin, from both the camper perspective and the camp counselor perspective. It's the perfect primer for a parent sending a child off to an overnight camp or anyone getting ready to work at a camp. I wish I had seen this before being a camp counselor because it's incredibly accurate.
The film is good about showing a broad spectrum of different types of campers. From the child who is the funny, goofy, goes-along-with-anything kid that you love to have in your cabin, to the camper who has trouble adjusting socially, to the camper who is so homesick he cries himself to sleep every night, to the girl who is everyone's best friend.
In addition, the film takes an honest look at the many issues that kids bring with them to camp.
Campers don't just bring stuffed animals to camp, they bring their troubles from home, they bring their medical conditions like ADHD, they bring their social problems, and camp counselors must help them navigate the new world of summer camp. From my own experience I know that it's a job that can be very hard at times, but also very rewarding, and they show that in this documentary.
I'm not alone in believing that going to camp is a right of passage for children, and that a great amount of personal growth can happen at camp. Whether it's a sports camp, science camp, or special needs camp, there are many types of camps that can be the right fit for your child and I encourage you to check them out. Go to Gocamps.com for a good place to start your search. Some camps may still have spots open for this summer, and many offer scholarships for families in need of financial assistance.
As I write this post my two boys are off at summer camp. It's the same camp where I worked and met my husband. And boy am I jealous! I know how much fun they are having. I also know that it will be hard for them to leave camp when we pick them up, just like it is for some of the campers in the film.
If you enjoy documentaries and want to see an insider's perspective of summer camp, then I recommend you check out the movie Summercamp!
Shannon Wrzesinski is a Southern California native mis-planted in the Midwest. Two kids later, this mom is reconnecting with the touchstone of her SoCal life, movies. She is a movie fan who shares stories about how movies intertwine with her life. Sign up for her MySisterLovesMovies.com blog here.