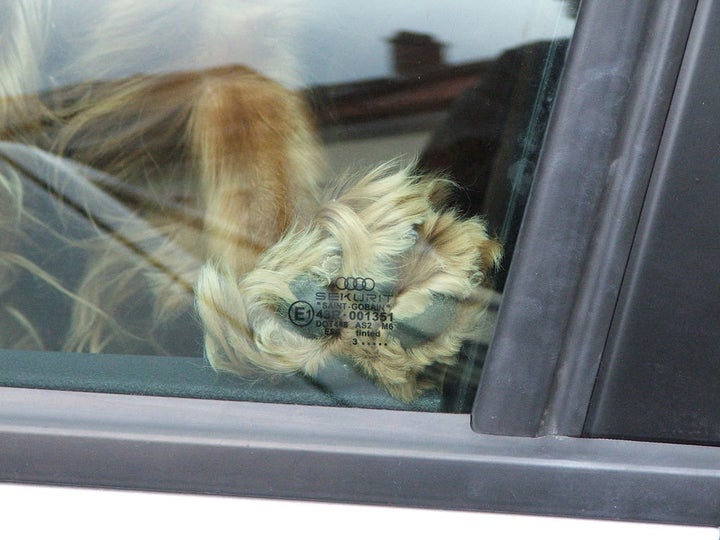 Two police dogs were found dead on Sunday after being locked inside an unventilated car on a hot day in London. An investigation has now been launched to determine how the dogs died.
An officer (reportedly named Sergeant Ian Craven) is said to have forgotten about the Belgian Malanois and German Shepherd, and left them in the car parked outside a suburban London training center. According to Reuters, the temperature was close to 86 degrees Fahrenheit. The Toronto Star reports that once officers were aware of the two dogs in the vehicle, they smashed the windows, pulled out the animals and doused them with water. Although they were rushed to an emergency vet, they both died.
Commander Bob Broadhurst stated, "Two dogs have died that shouldn't have, the tragic circumstances of which will be fully and thoroughly investigated."
The Toronto Star alleges that when Sergeant Ian Craven learned the two dogs had died, he was devastated and attempted suicide by cutting his wrists, but the police have not confirmed this claim. A Scotland Yard spokesman told Sky News that a police officer left his duty posting, and was treated as a missing person. When he was found, he had a hand injury and was taken to a hospital. The Star reports that that in 2004, Craven, a 30-year veteran of the force, allegedly left a spaniel in a car, which also died.
A spokeswoman from Dogs Trust, the U.K.'s largest dog welfare charity, said, "Whilst the cause of death is still to be determined, the charity would like to remind dog owners and police dog handlers that leaving your dog in a car can prove rapidly fatal, particularly during a heatwave."
The suspected cause of death for these police dogs is sadly common. Reuters reports that just last year, a Nottinghamshire police officer was given a six-month conditional discharge and fined after two German shepherds died in his car.
According to a Stanford study, a 72-degree Fahrenheit day can become a sweltering 116 degrees inside a car within an hour. United Animal Nations offers this chart demonstrating how in-car temperatures are affected by the weather over time. If a dog is exposed to heat for a prolonged period, they can reportedly suffer from nerve damage, heart problems, liver issues and death.
If you see a dog in a parked car on a hot day, consider searching for the owner, alerting a nearby store, or calling local authorities. Some estimates suggest a dog can die of heatstroke in just 15 minutes -- every second counts.
The best advice for pet owners is to quite simply never leave a dog parked in a car. But Janet Tobiassen, a doctor of veterinary medicine, also offers the following advice: If you do need to run an errand, park in the shade and have a passenger remain in the car with the windows open. If you are alone, use drive-ins and pet-friendly stores. If those aren't options? Leave your dog at home. Better home than dead.