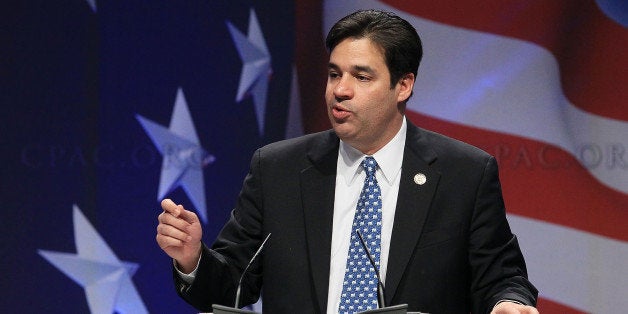 The Idaho Republican running for House majority leader had to adjourn the state GOP convention on Saturday without accomplishing much of anything, after infighting brought the meeting to a total standstill.
Idaho Republicans met for a three-day convention starting on Thursday, with the goal of passing several amendments to the party's platform and electing a new party chair. But the event became a battle between the tea party and its foes, as the far right aimed to make up for the beating they took in the state's May 20 primary election by removing contentiously elected delegates. Those delegates accused tea partiers of attempting to work the system to ensure a tea partier became the new state GOP chair.
By Saturday, all 15 delegates from Bannock County were successfully unseated, while attempts to unseat delegates from Ada and Twin Falls counties were in the works. Rep. Raul Labrador (R-Idaho), the convention chairman, ended up bringing the meeting to an end before delegates could elect a new state party chair or vote on any party platform amendments, as they had set out to do.
"This is as low as the party can go," said Labrador, according to the AP. "We have hit bottom. I think the party has no choice but to go up from here."
The turmoil doesn't bode well for Labrador, who announced his intent to run for House majority leader last week.
House Majority Leader Eric Cantor (R-Va.) suffered a stunning primary loss and will step down from the leadership role. Labrador on Friday joined the race to succeed Cantor, saying he hopes to create "a leadership team that can bring the Republican conference together" as majority leader.
Labrador has billed himself as the candidate who can facilitate unity between House leaders and the tea party, but he faces long odds against House Majority Whip Kevin McCarthy (R-Calif.), who started rounding up support among republicans last Wednesday.
"There's always been disagreement on platforms and things like that, but to go to the level they went to this time to disqualify people," state Sen. Chuck Winder said of the Idaho state Republican convention, according to The Spokesman-Review. "People that have been around a long time don't remember anything like this."
CORRECTION: Cantor was originally misidentified as a representative from South Carolina. He represents Virginia.
REAL LIFE. REAL NEWS. REAL VOICES.
Help us tell more of the stories that matter from voices that too often remain unheard.
BEFORE YOU GO
PHOTO GALLERY
Conservatives Pointing Fingers