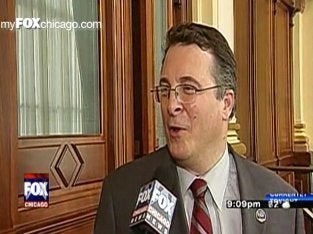 Illinois lawmakers argued late into the night Tuesday as they tried passing (or blocking) many big pieces of legislation before the midnight session deadline. Though there were vocal opponents of the massive gambling expansion bill that ultimately passed, a less exciting topic sent two Illinois senators over the edge: electric utility rate hike legislation.
Following a heated debate on the floor, Sen. Kyle McCarter (R-Lebanon) told reporters that Democrat Sen. Mike Jacobs punched him in the chest. Though video of the alleged incident has yet to surface, Sen. Jacobs did not hide his feelings for McCarter in an interview with Fox Chicago.
"I would say that the senator is full of shit," Jacobs said. "The one thing I will not allow to happen, is to let anyone question my integrity. Especially someone who couldn't even really polish my shoes." (Scroll down for video)
Jacobs, the chairman of the Senate Energy Committee, sponsored the legislation that would allow Commonwealth Edison to raise electricity rates by 2.5 percent in order to modernize its power grid. While expressing his opposition to the rate hike, McCarter mentioned that Jacobs' father is a registered ComEd lobbyist.
"I know it's just the way we do things, and it's just the way Illinois politics is," McCarter said. "The sponsor's father is a registered lobbyist, lobbying for, who else, but ComEd."
The Chicago Sun-Times reports that after McCarter made those comments, the two men got into a physical altercation on the Senate floor and had to be separated.
"He stood in front of my desk while I was completing a bill…then he proceeded to verbally just curse at me, then he punched me in the chest with his fist," McCarter told the Sun-Times. "It's totally inexcusable. I think the citizens expect more."
Jacobs said McCarter "came at" him and ripped the Republican for making the rate hike issue personal.
"If he wanted to say something about me, that's one thing. For him to attack my family members, that's out of bounds," Jacobs told the Sun-Times. "In effect, what he's saying is I'm a 50-year-old man that does whatever my father tells me, which is a bunch of crap."
McCarter filed a complaint with capitol police, but video of the incident may not surface. The Capitol Fax blog reports that Senate President Cullerton was holding a press conference when the alleged punch occurred.
Though Jacobs' rate hike increase ultimately passed 31-24, Gov. Pat Quinn said he plans to veto it.
WATCH Jacobs' harsh comments about McCarter here. He starts around the 3:40 mark.

WATCH Sen. McCarter's comments about Jacobs' lobbyist father here: