It seemed obvious to the prison staffers at the time: Housing 1,000 asylum-seeking immigrants in federal prison facilities shared with convicted inmates is a recipe for disaster.
Throw in zero training for prison staff, little explanation to the detainees about what's happening to them, and language and cultural barriers, and you have a picture of how the Federal Correctional Complex in Victorville, California, has been operating since June 8.
Eight U.S. representatives toured the Mojave Desert facility on Wednesday afternoon, including Rep. Mark Takano (D-Calif.), who had also visited the prison complex in early July with Sen. Dianne Feinstein (D-Calif.). 
Takano told HuffPost the conditions are "marginally better" now than they were last month, and a Bureau of Prisons Public Information Officer said the immigrant population is now down to 460 (though that fluctuates daily). Takano said a large percentage of the immigrants he met Wednesday are Sikh or Hindu and were initially being served sandwiches containing lunch meat. Many of these immigrants are practicing vegetarians, so they were effectively subsisting almost entirely on bread.
The food has since improved, as have other religious sensitivities like permitting detainees to wear traditional Sikh head coverings. Yet Takano said that no level of improvement can change the fact that a "prison is just an inappropriate place to detain immigrants."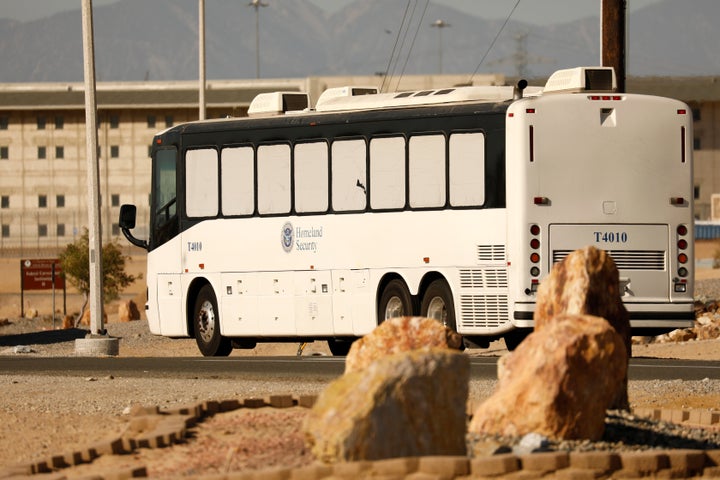 A BOP spokesperson confirmed it has a contract with ICE to house up to 1,672 immigrants across five prisons, but it declined to say why that was the case. In an emailed statement, ICE spokeswoman Lori Haley noted the Department of Justice's zero tolerance policy has indeed created demand for "additional immigrant detention space." 
That much is clear to Takano.
"They're coming from places along the Texas border, California, and the Southwest, from ICE facilities that are full, from Customs and Border Patrol facilities that are full," he said Wednesday while visiting the facility. "And why are they full? Because of the zero tolerance policy of not allowing anybody really to have any kind of parole. So they have to come to a federal prison, which was not designed to accommodate immigrant detainees."
John Kostelnik, president of the American Federation of Government Employees Local 3969 and a union representative for prison employees, shares Takano's concerns.
"Since day one, it's been chaotic," Kostelnik told HuffPost. "The chaos has not stopped. It's a mess. We still have no procedures in place. We got four days notice [of the detainees' arrival]."
This isn't an exaggeration: Immigrants received jumpsuits shortly after their arrival on June 8. They then wore the same clothing, including underwear, for 40 days straight because the prison mistakenly ordered only 1,000 sets of the garments, apparently not realizing they'd need to be taken off and washed regularly.
After Takano first toured the facility in early July and detainees alerted his staff to the condition of their clothes, the prison finally ordered more jumpsuits.
So far, two immigrants have attempted suicide and another is on suicide watch, Kostelnik said. An outbreak of chickenpox and scabies ― the result of severely understaffed medical personnel forced to rush through intake screenings ― keeps growing, with 11 new chickenpox cases in recent weeks.
Federal Bureau of Prisons policy requires one physician, three physician assistants or nurse practitioners, a registered nurse, one or two medical assistants, two health technicians, and a person focused on medical clerical work for every 1,000 inmates. When the detainees arrived, two physicians and six nurse practitioners or physicians assistants attended to Victorville's population of 4,500 ― far, far less than what's required.
The chaos has not stopped. It's a mess. We still have no procedures in place.

John Kostelnik, president of the American Federation of Government Employees Local 3969
Any time a new case of chickenpox crops up, the prison has to put the entire unit on quarantine for 21 straight days.
That's "21 days they sit in their cells, basically locked and confined into their cells all day long. They're fed in their cells," Kostelnik said. "One of the guys [who attempted suicide] had literally been quarantined three times." 
Unlike inmates who are more accustomed to the confinement, "these detainees are new to the system," he said. "It's really easy to break these guys. That's what's happening."
The detainees' presence has proven problematic for guards, too, as they struggle to interact with immigrants who don't know the rules. Reacting appropriately could be a matter of life and death.
"We're a prison, not a detention center," Kostelnik added. "As far as I understand, [the detainees] are not criminals. But we have to treat everybody the same in here, so if they're in here, they're going to be treated like criminals." 
"Guards will either go too rough on the detainees or too soft on the inmates and get themselves killed."
Ultimately, Takano says the blame for all this lies with the Trump administration's zero tolerance policy on immigration. He said it's why more appropriate ICE holding facilities along the southwestern U.S. border are at capacity, forcing asylum-seekers to sit in prison while they wait for their cases to be heard. 
And given the U.S. Immigration Court's current backlog of more than 733,000 cases ― 138,000 in California alone ― they could be there a while, and at a huge cost to taxpayers.
"Seems to me an unnecessary expenditure of taxpayer funds to be detaining people who really aren't posing a threat to the safety of our national security or communities," Takano said.
"What needs to happen is more efficient processing," he added. "Many of the claims of these immigrants who crossed the border are probably not going to meet muster. But they deserve a much quicker, efficient processing. And if this administration doesn't want to approve more immigration judges, they really should find alternatives ― less restrictive ways to hold people accountable."
This story has been updated with comment from ICE.
Calling all HuffPost superfans!
Sign up for membership to become a founding member and help shape HuffPost's next chapter