The issue of immigration reform remains front and center in the national political debate, and already it has become a crucial part of this campaign season. Regrettably, however, candidates vying for positions of power in America have chosen to rely on baseless claims, hatred, and misinformation when discussing the role of immigration and immigrants to American society. At Immigrants' List (IL), we know it is important to highlight those individuals who choose to stand firm in their belief that America is a nation that thrives on immigration. The American people want to fix our broken immigration system, and this year's Annual Heroes agree with them.
Immigrants' List, a bipartisan political action committee, just unveiled the inaugural members of its "Annual Heroes" list. These ten individuals -- whose duties range from community organizer to United States Senator, and who come from both sides of the political aisle -- have borne the standard of common sense on the issue of immigration reform. These men and women have embraced common sense solutions instead of obstructionism, compassion instead of hatred, and facts instead of misinformation. What makes these honorees stand out is their conviction to do what is right rather than what might be politically expedient.
The 2012 Immigrants' List Annual Heroes come from across the country, and work to positively impact policies on immigration. We are grateful for their work and excited to honor their achievements.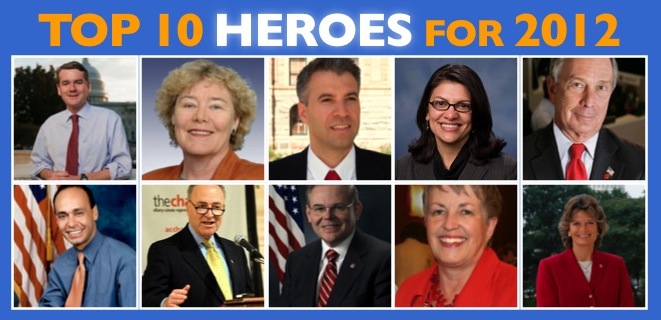 Annual Heroes - 2012 Honorees

Senator Michael Bennet (D-CO)
For some, it takes years in office before they're willing to take a stand on issues that matter. But that's exactly what Michael Bennet has done since joining the Senate. In his freshman term, Senator Bennet has been a leader for immigration reform. Just months after being appointed, he cosponsored the DREAM Act. Now, he's the lead sponsor of the new STEM Visa Act, which would overhaul the outdated visa program, make it easier for international students who are educated in America to stay here and contribute to the economy after graduating, and create more 21st century jobs across our country. Senator Bennet has done all of this in his first two years in office, meaning that we can look forward to his leadership for years to come.
Mayor Michael Bloomberg
Simply put, Michael Bloomberg is America's single most prominent advocate for immigration and its ability to jump-start our economy. As Mayor of New York City, Bloomberg has fought for a more inclusive, tolerant society -- and has been unafraid to take on any foe that uses fear or misinformation to divide us. As co-founder of the bipartisan Partnership for a New American Economy, he has started building a broad coalition of leaders from the political and business world to push for common-sense immigration reform that will renew America's promise, create jobs, and expand the middle class. His strong leadership and outspoken advocacy help to set the agenda for the entire nation. We're lucky to have him and his vision.
Senator Charles Schumer (D-NY)
Senator Charles Schumer has long been a leader for immigration reform, bringing aboard a broad coalition of supporters along the way. You may remember a few years back, how he worked to get Republican Senator Lindsey Graham to call for immigration reform. In 2011, in that same spirit of bipartisanship, he convinced conservative Sen. Mike Lee to support immigration reforms that would boost the economy. In an effort to help the struggling US economy, Schumer proposed a measure to expedite priority visa applications and provide a three-year visa to those who will invest a certain amount in a home in America. Doing this will not only attract more immigrant entrepreneurs, it will give a huge boost to the housing market. With so many homes for sale, Schumer realizes the enormous potential to solve the housing crisis without costing the government a penny. Senator Schumer's innovative thinking would lift the US economy and ensure that we're again a land of opportunity for all.
Representative Luis Gutierrez (D-IL)
There's a reason that Frank Sharry of America's Voice said that Gutierrez is "as close as the Latino community has to a Martin Luther King figure." Like King, Gutierrez is a drum major for justice, leading people wherever he is needed -- wherever justice is threatened. Just look at what he's done in 2011. Among the dozens of cities he visited, he travelled Birmingham, Alabama, shining the national spotlight on that state's shameful, discriminatory new immigration laws. And in Washington, DC, he has held leaders -- regardless of political party -- accountable for not doing more to reform immigration and provide more opportunity to immigrant children. He is a "drum major for justice" in our own times.
Representative Zoe Lofgren (D-CA)
Given that she started her career as an immigration lawyer, it should come as no surprise that Zoe Lofgren has been a champion for reform. As the ranking member of the House Judiciary Subcommittee on Immigration, Zoe Lofgren fights for immigration reform every day -- and on that committee, it's almost always an uphill battle. But Congresswoman Lofgren's support has been steadfast; in 2011, she was one of the House's leaders in favor of the DREAM Act, and was instrumental in bringing sides together to forge a compromise with a chance of passing. But Lofgren isn't afraid to draw a line in the sand, either: she's been relentless in pushing back against Lamar Smith, the House Judiciary Chairman, when he distorts the facts about immigration reform to his colleagues.
Senator Lisa Murkowski (R-AK)
At a time when so many Republicans are trying to switch their positions to appeal to extremists, Lisa Murkowski has been a reliable, strong leader that harkens back the roots of the Republican Party by standing up for greater opportunity for all. You may recall the last time the DREAM Act came up for a vote in the Senate; many GOP supporters with long records of supporting the DREAM Act jumped ship. Senator Murkowski stayed strong. She was aware that her position would be challenged in future Republican primaries. But to SenatorMurkowski, her conscience and doing what is right for our economy and families is more important than elections. We are thankful for her courage and leadership, and hopeful that more senators will follow her lead.
Senator Bob Menendez (D-NJ)
Menendez, the 2011 winner of the Immigrants' List Maggio Award, has lived the American Dream. The son of immigrants, he grew up in a tenement building, and through hard work and dedication, rose to become a member of the US Senate. But he has never forgotten who he is or where he came from. He's been a key leader on immigration reform and the DREAM Act, was instrumental in passing a bill to protect immigrant widows and orphans, and introduced the Comprehensive Immigration Reform Act of 2010 and 2011.
State Senator Nan Orrock (D-GA) (Local Hero)
Georgia State Senator Nan Orrock got her start in politics by joining the 1963 March on Washington and working for SNCC. She carries that same passion into the civil rights causes of our day. Earlier this year, when Georgia proposed an immigration law modeled after SB 1070, Nan lead the opposition. Nan said that we need policies "based on the real world, not based on political rhetoric," and that anti-immigration types "crafted a bill that insists on demonizing people of brown skin and with Spanish accents." She knew that the anti-immigration proposal would hurt Georgia's economy (she was right). Of course, since the copycat law was passed, Georgia farmers have been decimated, and are estimated to lose $250 million this year alone -- that's jobs lost, the economy hurt, and consumers paying more at the store. Nan Orrock stood up for Georgia's working families by fighting against this anti-immigrant legislation.
Randy Parraz (Local Hero)
"Russell Pearce" is a name you probably know: he was the anti-immigrant ringleader of the Arizona State Senate (his anti-immigration proposals, from SB 1070 to schemes that would prevent undocumented immigrants from being treated in hospitals earned him a spot on 2011's Local Hall of Shame). "Randy Parraz" is a name you should know, but probably don't: he was the architect of the successful effort to recall Russell Pearce in November 2011's elections. As co-founder and President of Citizens for a Better Arizona, Parraz spearheaded the movement to oust Pearce, citing the "extreme politics that use fear and hate and anger to divide people and to blame immigrants for problems instead of focusing on education or jobs and the economy, [politicians who push this ideology] are no longer going to be embraced or endorsed." Pearce ended up losing, and Parraz delivered a huge victory for immigration reform advocates.
State Rep. Rashida Tlaib (D-MI) (Local Hero)
You may think that immigration isn't a big issue if you're a State Representative in Michigan (representing a district that is literally north of Canada). But for Rashida Tlaib, it is. Her district, which has a large Latino population, has become a ground zero for abuse by federal immigration agents. Last Spring, ICE agents raided an elementary school -- that's right, an elementary school -- in Rashida's district, surrounding the adjacent playground and church with their tinted-glass SUVs. Even after massive public outcry, ICE said they did nothing wrong. But Rashida Tlaib demanded accountability: "The federal government should focus their limited resources on actual criminals, not terrorizing the parents of 7 year-old children." Though justice has yet to come, Rashida remains dogged in her determination to protect immigrants' rights -- whether parents with kids in school, undocumented workers injured on the job, or fellow Muslims seeking a life free from hysteria about their religious beliefs.
Popular in the Community