A book that comes emblazoned with so many glowing comparisons to Joseph Conrad's Heart of Darkness is necessarily suspect to many modern readers. A literary masterpiece, Heart of Darkness has also been convincingly argued, by no less than Chinua Achebe, to be a colonialist, ultimately racist piece of writing about Africa and indigenous peoples who are little understood by the author.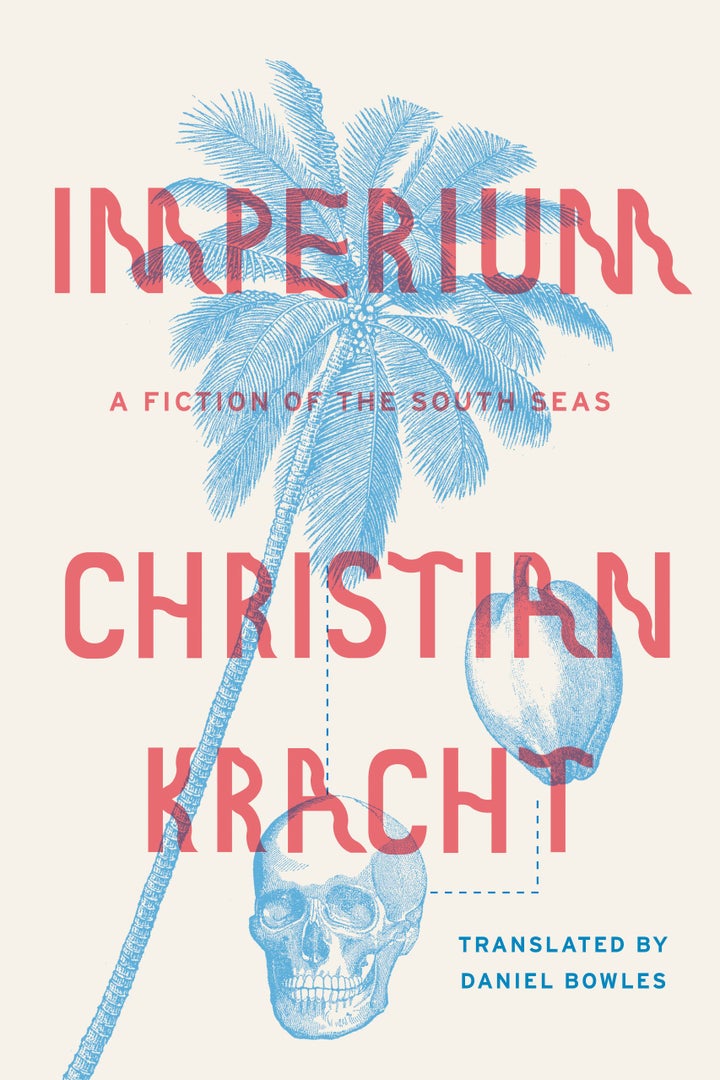 Indeed, Christian Kracht's novel, Imperium, drew both favorable parallels to Conrad and accusatory ones when it debuted in Germany in 2012. One critic, Georg Diez, argued that Kracht's narrative was essentially right-wing and bigoted; other critics vehemently disagreed. 
The basic outlines of this book invite these musings. Based on the life of August Engelhardt, a turn-of-the-century German nudist and sun-worshiper, Imperium colors well outside the lines of Engelhardt's life in crafting a lively, tongue-in-cheek South Seas horror tale. In Kracht's novel, the idealistic young Engelhardt journeys alone to German New Guinea to become a cocovore, convinced as he is that the coconut is the only pure and godly fruit. As the years pass, and his health mysteriously dwindles, the increasingly skeletal Engelhardt becomes paranoid, driving away potential disciples and the Melanesian islanders who've generously allowed him to invade their island and even aided him in his coconut operations.
The seeming equation of tropical climes with savagery is magnified by Kracht's choice to eschew dialogue in favor of pervasive free indirect discourse. Nearly every sentence either describes a character's words or vocalizes his sentiments, without clearly demarcating this with quotes -- the casually racist and anti-semitic sentiments of many characters included. 
Sometimes, however, it's more effective to let people hang themselves with their own rope. Pompous yet silly, verbose yet logically unsound, the musings of Engelhardt and his occasional followers and adversaries invite criticism, and even mockery. A discourse on why eating a coconut is equivalent to eating the head of God is more comical than stirring; it's hard to take these characters seriously as a threat to democratic society.
Of course, Kracht reminds us to do so, with something less than subtlety, by occasionally pointing out the similarities between Engelhardt and another vegetarian idealist who failed in an artistic career. (Yes, that would be Hitler.) Engelhardt's sadder, more isolated trajectory allows us to mock his ridiculous theories of purity while retaining a small morsel of sympathy for his agonizing decline.
The title of Kracht's novel, Imperium, broadly conveys the power of the state over the individual, or the power vested by the state in an individual. This sounds ominous, but the juxtaposition of the extreme isolationist Engelhardt with the extreme fascist Hitler actually cautions against extreme reactions for or against authority. By abandoning society and renouncing capitalism and government, Engelhardt appears less dangerous but no less misguided than his ideological counterpart, the dictator. His work is self-destructive, and ultimately self-devouring; it's solipsistic to the point of total absurdity.
Kracht, via a wry and engaging translation by Daniel Bowles, has contrived a screed against extremism that is as funny as it is foreboding.
Creepy, unsettling and morbidly funny, Imperium takes the unlikely subjects of South Seas adventure and coconut eating to weave a satirical spin on ideological extremism.
What other reviewers think:
Flavorwire: "A strange, Mephistophelian novel, Kracht's book is also, by several units of some arcane nautical measurement, one of the slyest and most original works of the last several years."
Publishers Weekly: "Alternately languid and feverish, the narrative is as nutty as Engelhardt's prized foodstuff."
Swiss writer Christian Kracht has written four novels, in addition to a career as a journalist and nonfiction writer. His latest novel, Imperium, was published in Germany in 2012 and won the prestigious Wilhelm Raabe Literature Prize.
Lovers of historical adventure and dark satire.
"Beneath the long white clouds, beneath the resplendent sun, beneath the pale firmament could be heard, first, a prolonged tooting; then the ship's bell emphatically sounded the midday hour, and a Malaysian boy strode, gentle-footed and quiet, the length of the upper deck so as to wake with a circumspect squeeze of the shoulder those passengers who had drifted off to sleep again just after their lavish breakfast."
"After having adjudged all other foodstuffs unclean by process of elimination, Engelhardt had abruptly stumbled upon the fruit of the coconut palm. No other possibility existed; Cocos nucifera was, as Engelhardt had realized on his own, the proverbial crown of creation; it was the fruit of Yggdrasil, world-tree. It grew at the highest point of the palm, facing the sun and our luminous lord God; it gave us water, milk, coconut oil, and nutritious pulp; unique in nature, it provided humankind with the element selenium; from its fibers one wove mats, roofs, and ropes; from its trunk one built furniture and entire houses; from its pit one produced oil to drive away the darkness and to anoint the skin; even the hollowed-out, empty shell made an excellent vessel from which one could manufacture bowls, spoons, tankards, indeed even buttons; burning the empty shell, finally, was not only far superior to burning traditional firewood, but was also an excellent means of keeping away mosquitoes and flies with its smoke; in short, the coconut was perfect. Whosoever subsisted solely on it would become godly, would become immortal. August Engelhardt's most fervent wish, his destiny in fact, was to establish a colony of cocovores."
by Christian Kracht, translated from the German by Daniel Bowles
Farrar, Straus and Giroux, $26.00
The Bottom Line is a weekly review combining plot description and analysis with fun tidbits about the book.
PHOTO GALLERY
Books That Grab You From The First Page
Calling all HuffPost superfans!
Sign up for membership to become a founding member and help shape HuffPost's next chapter