Blowin' in the Wind. Where Have all the Flowers Gone? If I had a Hammer. Puff the Magic Dragon. Are you singing along? Do you have a glorious picture in your mind of Peter Paul and Mary singing at the March on Washington? On Jack Benny? At countless rallies for social justice? Using music to call us all to a better version of humanity?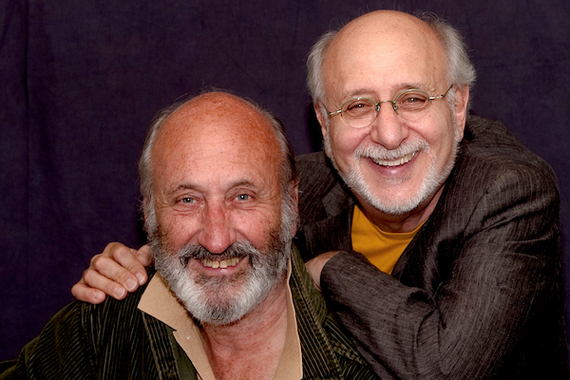 Our dear friend Peter Yarrow and the equally wonderful and committed
Noel Paul Stookey. Photo: Operation Respect.
There are times I watch the news, read social media, see the headlines in the newspaper and I wonder who will be the Peter Paul and Mary of this time.
Thankfully, I don't have to wonder for long because our dear friend Peter Yarrow and the equally wonderful and committed Noel Paul Stookey are still at it. Individually, and together in very special ways, Peter and Noel Paul "carry on" the legacy of the trio with songs of hope, peace, and justice.
On September 29th, and for the first time in six years, Peter and Noel Paul will perform for a very worthy cause -- and to honor the esteemed composer-conductor, Robert De Cormier, the trio's Music Director for 25 years. Arranged and conducted by De Cormier, The Songs of Peter, Paul & Mary is a gala benefit for Operation Respect, a not-for-profit educational organization dedicated to eradicating bullying among children.
The concert will feature members of the New York Choral Society and a special New York Chamber Ensemble of students and graduates from Peter's alma mater, LaGuardia High School/The High School of Music & Art.
Proceeds from the concert will benefit Operation Respect, the anti-bullying non-profit that Peter Yarrow co-founded with Dr. Charlotte K. Frank in 1999. From New York City to Charlotte, North Carolina, and Clark County, Nevada, from Canada to Israel, Palestine, Hong Kong, Japan, and Ukraine, thousands of schools around the world now implement "Don't Laugh at Me," the organization's cornerstone social and emotional learning curriculum, to ensure that children learn in safe, compassionate, bully-free environments.
"Educating the next generation of children in such a way that they care about each other, love one another, and treat each other with kindness will create a heart-connected world," Peter believes. "This is the most valuable gift we can give future generations to meet the challenges ahead."
The Songs of
Peter, Paul & Mary

Peter Jay Sharp Theatre at Symphony Space
Broadway at 95th Street

Tickets, ranging in price from $68 to $95, and are available online
or by phone at 212-864-5400

Tickets can also be purchased at the Symphony Space box office,
open Tuesday through Saturday, 1:00 to 6:00 pm, located at 2537
Related
Popular in the Community