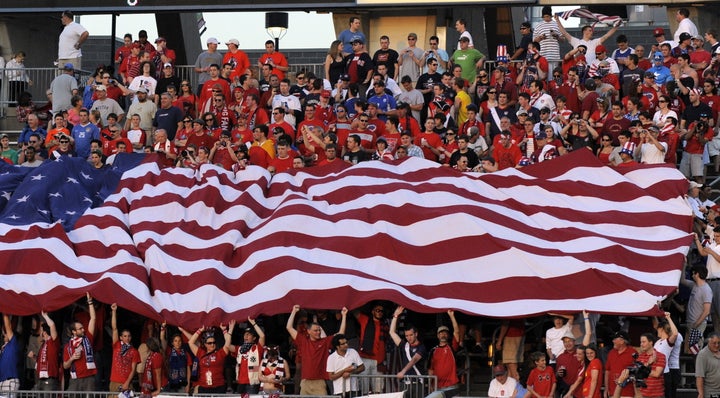 On June 12, Americans -- more of them than the rest of the world may realize -- will gather in the hopes that their national team will beat England.
On the other 364 days of the year, many American fans wish instead that their country could be England.
U.S. fans and promoters have tried to push aside the Anglophilia at the heart of this sport's support in this country, looking instead to Latin America and the immigrants flocking to the USA from parts south. Claudio Reyna, an accomplished American player with more Latin American than European influence, has been charged with reshaping youth development. David Beckham notwithstanding, Major League Soccer is hardly a retirement home for Premier League veterans, relying far more on home-grown talent and imports from the Caribbean and Central America.
But the English influence is simply too hard to shake.
ESPN, devoting unprecedented resources to cover and hype the World Cup, will use four play-by-play commentators in its coverage. Two are ESPN regulars -- Scottish-born Derek Rae and English-born Adrian Healey. The other two are familiar English announcers -- Martin Tyler and Ian Darke. No American accents in the bunch, with well-regarded announcer JP Dellacamera left out of the mix.
The American airwaves are already full of English voices on Premier League broadcasts. U.S. viewers can often see 6-8 live Premier League matches each weekend, with the others typically shown later. The Bundesliga, La Liga and Serie A all have a couple of broadcasts each week, but the Premier League rules over all (in English, anyway -- Mexican soccer is a staple of Spanish-language networks), with big games drawing better ratings than Major League Soccer broadcasts.
English clubs often cash in, participating in the annual summer whirlwind of international clubs touring through the country. Some have even set up ambitious affiliations with American clubs. North Carolina's Capital Area Soccer League offers scarves with the league's logo alongside Chelsea's. Crystal Palace, of all clubs, lends its name and support to a second-division team in Baltimore.
"Second division," you may ask? Could it be promoted? Well, no. Reality must intrude somewhere, and the fact that Major League Soccer has spent 15 years getting roughly two-thirds of its teams in viable facilities puts a damper on any notion of Crystal Palace Baltimore, currently playing at a college stadium that seats 3,800 people, displacing the Philadelphia Union from MLS. The top league has attracted many new investors over the years, but as their hardline stance in recent labor talks shows, they bought into a business plan that isn't likely to change any time soon. Soccer is already a risky business in this country, and investors aren't lining up to drop $40 million and political capital on a club that might drop down a level.
Not that all fans have given up the concept of promotion and relegation. Some are so convinced the USA should adopt promotion and relegation post-haste that they think anyone who disagrees with them must not be realists but members of some sort of conspiracy. One has set up a web site to take donations - "owner" level is $500 - to promote a plan for a pyramid of 160 teams. The site doesn't specify the source of the billions of dollars needed to give those teams proper facilities and personnel, nor does it suggest a way past political roadblocks such as the ones that have kept D.C. United, a four-time MLS champion, playing in a crumbling, oversized, expensive multipurpose stadium in Washington.
Most of the people driving the USA toward traditional English ways are not English expats. They're American. Non-Americans can be surprisingly open-minded.
Consider the great documentary Once in a Lifetime, the story of the New York Cosmos' late-1970s heyday, in which talk turns inevitably to an Americanization of the game -- the North American Soccer League's "shootout" tiebreaker, in which players take turns dribbling toward the goal and shooting.
Comments from former NASL players:
Rodney Marsh : "I loved it."
Johan Cruyff: "I thought it was fantastic."
Carlos Alberto: "It makes the game more emotional."
Cruyff again: "I still think in Europe, they should try it."
You won't hear those comments from Americans. MLS tried a shootout for the first four years of its existence, but when commissioner Don Garber arrived from the NFL in 1999, he quickly dispensed with it.
Americans have even found themselves self-conscious about the name of the game. Soccer is, of course, a word invented by the English to distinguish the game from rugby. The word wasn't conjured up by some New York or Los Angeles marketing geniuses.
And yet American usage is drifting toward "football," though as in Australia and Ireland, there's another domestic sport with a strong claim to the word. Soccer clubs in search of more traditional names are taking up the "FC" tag. Fox Soccer Channel hosts Fox Football Fone-In. An exhibition tournament this summer drew a pointed defense of "soccer" from Soccer America columnist Paul Gardner:
"Why do they find it necessary to bow down, to kow-tow, grovel even, to British usage? The New York Red Bulls recently announced a four-team tournament, which they have named the New York Football Challenge. Why? Who knows -- but I can guarantee that the basis of their thinking is the inverted snobbery of not wanting to upset the Brits."
Typical American talk? No. Gardner's English. Little wonder he was once a TV commentator.
Related
Popular in the Community