Creativity is an enchanting word; in the arts you could even say that it's a glamorous word. With its dreamlike promise of uncompromised originality, it conjures an alluring collage of romantic images, images that depict the drama of an individual's struggle to discover, and then construct from nothingness, something that has never been real before.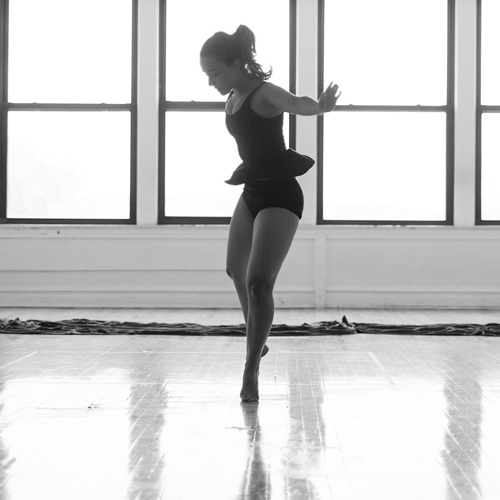 Melissa Bloch of The Leopold Group in "The Near Future"Choreography by Lizzie Leopold (Photo by Arn Klein)
That's the movie version; in real life, real creativity is a lot more complicated than that. It's not less enchanting, not even less glamorous, but it's certainly a lot more complicated. Most of the time, creativity is more collaborative than it is individual and, to the gaping horror of working critics everywhere, true creativity is usually at least as derivative as it is original. Inspiration and creativity are so elusively interwoven that the most compelling and important new art is always a collaboration, perhaps unrecognized, with whatever past accomplishment made the present what it is. It's certainly that way in the art of dance, and especially in contemporary dance, because it's difficult to imagine how different the present might be if it had never been shaped by the creative accomplishments of Martha Graham.
On Friday, September 27th and Saturday September 28th, two of the modern dance community's really creative artistic directors, Lizzie Leopold of The Leopold Group and Winifred Haun of Winifred Haun & Dancers, will present a multifaceted study of the complex process of creativity, although that's not really the way they would describe it. They've constructed an evening of dance entitled Vision, Faith & Desire: Dancemakers Inspired by Martha Graham, with works by five choreographers who each present an original and individual vision that, like so much of contemporary movement design, inevitably either reflects or resonates something of Martha Graham's ideas about dance.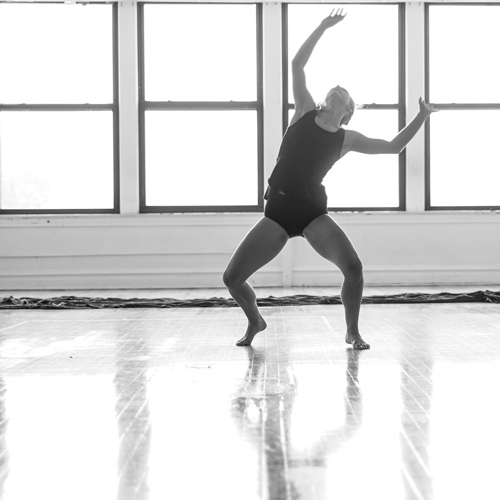 Amanda Dye of The Leopold Group in "The Near Future"Choreography by Lizzie Leopold (Photo by Arn Klein)
The idea for Vision, Faith & Desire comes from Haun and Leopold's interest in the legacy of the legendary choreographer and dancer, and of the enormous impact that her work had on the world of dance. It's an impact that would be as difficult to measure as it would be to exaggerate, but Vision, Faith & Desire doesn't attempt to do either; it's not a retrospective in any way. Featuring six new works by five choreographers, each in some way inspired by Graham's innovation and accomplishment, its very construction promises a multidimensional insight into how one artist's creativity can be reflected in the creativity of others.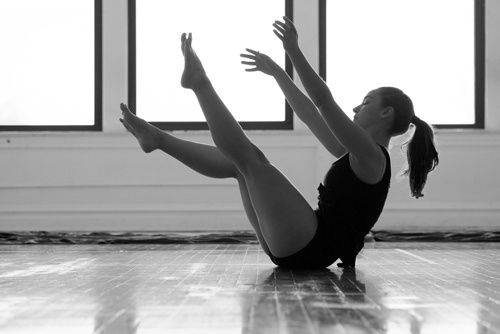 Melissa Bloch of The Leopold Group in "The Near Future"Choreography by Lizzie Leopold (Photo by Arn Klein)
Two of the choreographers whose works are featured in Vision, Faith & Desire actually danced for Graham. Former Graham Company dancer Lisa Thurrell, now the co-artistic director of Kanopy Dance, will present a group work entitled The Maw, and former Graham soloist Peter Sparling, who also worked with Graham as her choreographic assistant, performs in the video-dance Patient Spider. Leopold writes that one of the ideas of the program is "to highlight the ephemeral connectivity of a modern dance family tree", and an intriguing aspect of that idea is that all three of the other choreographers are connected to Graham through teachers; Leopold and Ayako Kato, who presents a solo work in Vision, Faith & Desire, both studied with Sparling, as Haun did with Graham master teacher Harriet Ross.
When Graham created and performed her signature solo work Lamentation in 1930, concert dance in the western world was already a centuries old tradition, and was still very visibly the product of a formalism defined by strict ideas of movement design. More than eighty years later, as Leopold observes, "it would be nearly impossible to find a dancemaker untouched by Graham's groundbreaking innovations in modernist aesthetics." All the same, the uncountable moments of insight and original vision that have been the making of modern dance have never completely abandoned the context of their creation. For all of her innovation, even Graham's own work still has more in common with the traditions she defied than it has with essentially separate creative worlds, such as the ancient dance traditions of Asia and Africa.
That suggests that an evening like the one Haun and Leopold have designed is likely to be a living, breathing study of the endless conversation between inspiration and creativity. In Don't Linger Too Long, for example, Haun explores what she describes as "the interpersonal relationships innate to any movement construction", but imagines it in a broader creative context. Vision, Faith & Desire's program describes Don't Linger Too Long as a work "that traverses the expanses between Graham's abstract narrative brand of modernism and the postmodern legacy of her most famous defector, Merce Cunningham."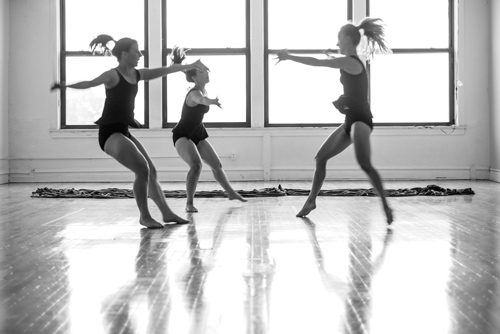 Laura Vinci de Vanegas, Amanda Dye and Melissa Bloch of The Leopold Group in "The Near Future". Choreography by Lizzie Leopold (Photo by Arn Klein)
Leopold herself has two pieces in the program, Lamentation Variation and an exciting new work for three dancers entitled The Near Future. She sets the work to Ravel's Bolero, with Leopold Group dancers Amanda Dye, Laura Vinci de Vanegas and Melissa Bloch presenting a compellingly balanced moving picture of motion, design and music.
Vision, Faith & Desire is at The Ruth Page Center for the Arts in Chicago on September 27th and 28th. It's an inspired idea for a dance concert, to ask five very original choreographers to let an audience see how one of Dance's most influential artists has influenced them. In some ways, though, the idea actually goes beyond its initial design, as real creativity so often does, because it includes a much broader awareness of how the originality of others inspires the process of every individual's discovery and originality. That's why it's likely to be such a showcase for the brightly refracted light show that we call creativity.
REAL LIFE. REAL NEWS. REAL VOICES.
Help us tell more of the stories that matter from voices that too often remain unheard.