Aparna Nancherla is one of my favorite stand up comedians, and also one of the kindest, coolest people I know. She was one of the 2013 New Faces at Just for Laughs and has been on WTF with Marc Maron. She started comedy in Washington DC and currently lives in New York where she writes and performs on Totally Biased with W. Kamau Bell. She's whimsical, absurdist, smart, and super funny. She's a strong stand up comic with a personable unique writing voice. She's also super funny on Vine and Twitter. Also, I believe by the time this gets published she has performed stand up on Conan. (Time travel?)
Aparna will be performing at the All Jane No Dick Comedy Festival http://www.alljanenodick.com/ in Portland Oregon, October 17-20. She kindly agreed to let me interview her!
Who are your favorite comedians?
I have so many favorites because there are so many awesome and talented goofs out there in the world. I am learning about new ones every single (and ready to mingle) day! Some of my core strength comes from the likes of Maria Bamford, Paul F. Tompkins, Brent Weinbach, Jake Weisman, Hampton Yount, Kate Berlant, Dwayne Kennedy, Kyle Dunnigan, Naomi Ekperigin, Hannibal Buress, Emily Heller, and Rory Scovel. But I'm leaving out a lot of people, and honestly, if they feel the need to kill me in my sleep over it, I totally get that.
Why do you love stand up?
It's a little window into a big world. I'm a psych major so I like learning people's brains. And stand up is a good "access point" for that. I learned the term access point from a network executive, and frankly, I'm sorry I used it. Yet we must soldier forth.
What are your dreams/goals in comedy?
I just like being around people who make me laugh and I like creating things with my friends. I wish I had a more TED Talk response, but here is a picture of a bunny to distract you.
Your style is uniquely fantastical and whimsical and genuine. Where do you get your comedic inspiration from?
The world around me! Muppets! Playlists! Gchats! Waiting in line for the bathroom. Hard to say where and when it comes, but it's there, tugging at my pinky finger, when I least expect it and even when I do.
You come across as a very kind person on stage. How do you think being a good person relates to being an artist?
This is the biggest misconception about me. I'm actually a huge troll who is forcing baby lemurs to type out this interview for me, and after they're done, it's back to the grist mill for their sorry lumps!
I am not sure if I am a good person. Showbiz is good at making you doubt that because it can be a cruel and arbitrary industry. But when people are kind to you, you rarely forget that.
Do you have any advice for new comics?
Don't write what you know, write WHO you know. Networking, networking, networking. It's like the real estate of comedy. I'm just kidding, but what if I wasn't?
But seriously, forks, take risks, explore, find out comedy is for you, find out it isn't, there is so much in this great, wide world. Don't let comedy run your life. Have a life and find comedy in it.
Aparna will be at the All Jane No Dick Comedy Festival in Portland Oregon at Curious Comedy Theater. Buy your tickets now!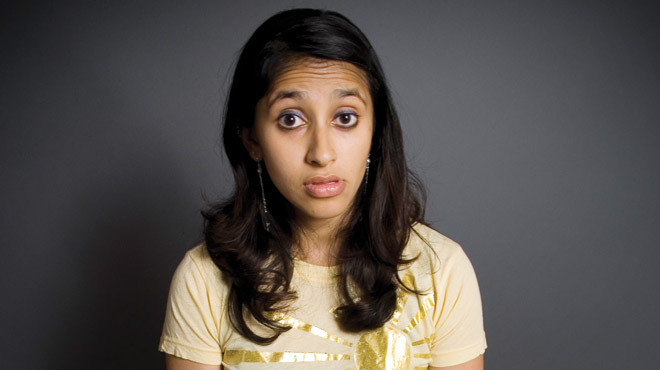 Related
Popular in the Community