From the producers of "Hatfields & McCoys," "Dead of Winter: The Donner Party" is a 2-hour television event that retells the story of one of the most infamous manifest destiny journeys. The film premiered at the Boston Film Festival as the closing night selection.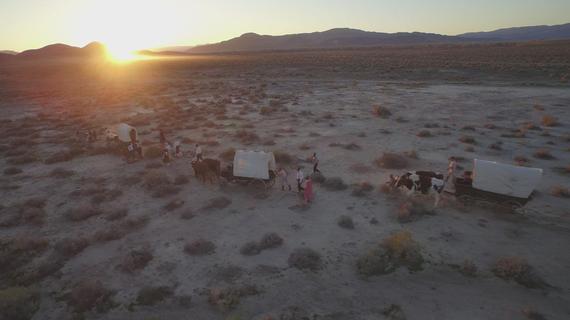 Sam: Can you tell me a little bit about how this project got started in the first place?
Lauren: Well here at the Weather Channel, we are always trying to do stories that are really focused on man versus nature. We were looking for one of those central, dramatic themes that we deal with every day. So we were looking back at stories that had that theme, and we felt like we wanted to tell an emotional and very human story as well. Donner Party came up in our development room, and so we reached out to Think Factory Media, because we knew about their success with Hatfields and McCoys. We felt like it was the same kind of a dramatic story, and all of the sudden it just came together.
Sam: So the Weather Channel got Think Factory on board once you saw their previous work?
John: Yeah, I also work at the Weather Channel and I have a personal connection to the story and the film because I grew up near Donner Summit. I used to travel over it, and I actually probably hiked and skied near where the Donner Party went out. My dad used to tell me, when I was a young kid, that you had to really respect the mountains. You have to respect what they are, and he would always kind of say that. And I went off into film and when this came back around, I just thought it was an amazing story. I'm a little newer to the Weather Channel than Lauren, and I knew Raymond. And I knew that Raymond was an incredible documentary filmmaker, so we knew this was a bigger than life project. It was going to be one of our flagship projects at the Weather Channel. So I wanted to get a flagship director/producer, and that's how we got Raymond. And he was gracious enough to accept.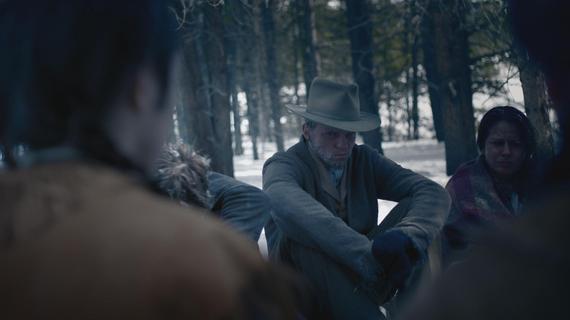 Sam (to Raymond): Now what did you think of the project when you first heard about it?
Raymond: Oh, I thought it was a great project. I knew the story and I especially liked the idea that its a story that's been told before, but its never been told from this perspective before. So the combination of being able to make a historical documentary from a different perspective with the weather sort of being one of the overriding concerns, was really exciting.
Sam: And now you guys are doing the festival circuit, is this documentary also going to air on the Weather Channel?
Lauren: Yes it is! Thanksgiving weekend!
John: It'll be a Donner Party weekend. Friday night, Saturday night, and Sunday night!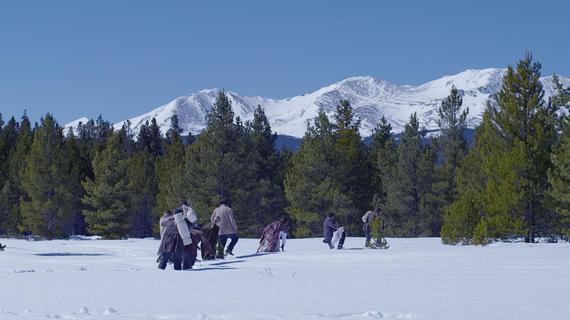 Sam: Alright, cool! As you mentioned, the weather channel tells stories about man versus nature, or about the beauty of nature, etc. What kind of messages do you want audiences to take away from this documentary?
Lauren: Our tag line is "It's amazing out there" and I think that can mean lots of things. As you said, it could be about the visuals, it could be about the power of the weather or the destruction of the weather. And I think to me this story is truly an amazing one. What those people were able to to overcome and what they did to save their family, I think you can really put yourself in their shoes. When you hear the word "cannibalism", you immediately feel that taboo and think how horrible it is that they had to resort to that. But when you watch the movie, you can really put yourself in their shoes and understand what they went through.
Robert: The thing that's really incredible about the story, as with all stories, is the people who are involved in it. It's their will to survive something that they had no idea was coming, and for us I think the lesson learned is that you can't take anything for granted. As John said, be careful with the mountains.
Sam: I think that aspect of respecting nature will really hit home. My father used to tell me to respect the ocean when I was little, because if you don't you're either going to get dragged in or knocked down.
John: It's also the human spirit, and how people react to adverse conditions. There's a great scene in the film where Tamson Donner would get up every morning and brush her daughter's hair, and make her feel like it was a normal day. It's the little moments, because its such a huge story involving thirty or forty people, and we had to condense that down to two hours. Raymond also found some amazing letters and diaries, so we took a lot of diaries and accounts, just to hear what people were going through in their own words.
Sam: Thank you so much for your time!
Raymond: Thank you! I'd also like to mention Think Factory Media and thank them for provided great resources and huge support.
The television premiere of "The Donner Party" is slated for Friday, November 27 at 9pm ET on The Weather Channel.
Calling all HuffPost superfans!
Sign up for membership to become a founding member and help shape HuffPost's next chapter