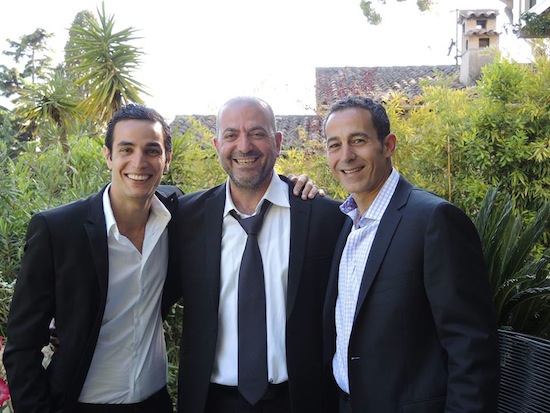 From left: Adam Bakri, Hany Abu-Assad and Waleed Zuaiter, photographed by Joana Zuaiter
"Transform the way people see the world through film." This inspiring quote can be found above the desk of Cameron Bailey, Artistic Director of the Toronto International Film Festival, and has become the mission statement for TIFF 2013.
So it's only natural that this year's thrilling TIFF line-up should include one film which manages to do just that, more powerfully and unavoidably than any other: Hany Abu-Assad's Omar.
Omar is a film filled with truths, heart and a talented ensemble cast led by Adam Bakri in the title role and Waleed Zuaiter as agent Rami. It screens as a Special Presentation at TIFF.
I first got to interview the much sought-after Palestinian filmmaker in Cannes, where his cinematic masterpiece won the "Un Certain Regard" jury prize this past May. Omar shattered me emotionally, I needed to go back to my room and take the rest of the day off after viewing it, because it destroyed my sense of what is right and what is wrong and how sure I was that I knew the difference. But since then, the film has also left me feeling strangely hopeful for solutions, for the magic of human intervention. It is what Abu-Assad does best, it turns out, make his audience "believe the unbelievable," that the imperfect abilities of humanity can perhaps one day help fix this world, away from politicians, conventions and hidden agendas. But first we'll have to be confronted by the difficult truth.
In person, Abu-Assad is a man bigger than life. Tall, with a hoarse, sultry voice, a soft hint of a hard-to-place accent, he's both boyishly vulnerable and magnetically strong. Perhaps too inconceivably insecure for a filmmaker of his status. Yet while he talks, looking you straight in the eyes with his own captivating set, everyone else in the room disappears, even if that "room" happens to be a noisy beachside lounge on La Croisette, filled with media from all over the world.
What remained obvious to me from that interview was that I wanted to find out more and since he had extended a casual but hospitable invitation to "come see my Nazareth" so I embarked on a journey that would take me through Jordan, from Amman up to the Sheikh Hussein border crossing and into the Israeli-controlled, indisputably Arab city of Nazareth.
Arriving to Abu-Assad's city using the Arab route turned out to be the most challenging journey I've ever undertaken. Crowded planes, long taxi rides with daredevil drivers, hot asphalt, buses that would stop and start and take hours to travel just meters across the border, unpleasant customs formalities, waiting, waiting and more waiting. But it was all worth it, for Nazareth and Hany Abu-Assad, its most brilliant son.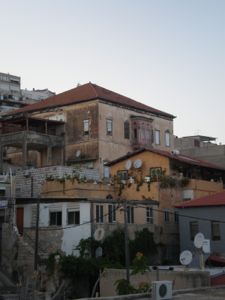 Nazareth is infectious. From the moment I set foot in town, I knew why the filmmaker had moved back to "the ghetto," as Abu-Assad affectionately calls it -- to his family's building, where he's now surrounded by uncles, aunts and his amazing mother who lives just upstairs.
The city itself is full of contradictions, which all conspire to make it the most creative place on earth. A town made up of more than 70 percent Muslims where everything closes on Sunday, the typically Christian day of rest. An undeniably Arab capital in the middle of Israel, where you won't hear anyone speak to each other in Hebrew. A place where even in the settlements of Nazareth Illit, the Palestinians have managed to repurchase their own land and now live in plush villas next to Jewish settlers -- blue and white flags waving in the wind, while the proud green, white, black and red ones are probably displayed inside homes just next door. And it's the town where you can eat hands-down the best falafel street sandwich, but also enjoy a magnificent sit-down gourmet meal, complete with salmon ceviche and Japanese inspired greens at Olga's.
This is the Nazareth that inspires Abu-Assad. His films, his passion, his "artistic resistance" -- a phrase now identified with both him and his work -- all make sense here. Armed with a map the filmmaker had hand-drawn for me in my notebook, I walked from my guesthouse through the city and noticed all the landmarks of Nazareth 2000, another great Abu-Assad film. One which would be useful viewing to anyone who yearns to know more about the world of "the Other", that obscure place we in the West call "The Middle East."
He also personally showed me around Nazareth, a lot of the locations used in Omar, from the empty building on the outskirts of town which his talented art department, headed by Nael Kanj, turned into a jail, to the street and the exact rock where, he stated "the soldier humiliates Omar." From the impressive view atop the Mount Precipice, Abu-Assad narrated the legend of Jesus' jump and left me speechless by my own Catholic ignorance.
During our talk in Cannes he called our politicians of today "failures" and once again I am left to wonder why someone who gets it all so well, who can bridge cultures so easily isn't someone we turn to for answers, during these times of crisis.
Abu-Assad's views are ever fair, explaining the struggle, not celebrating the fight, though perhaps his use of sensitive subject matters, like suicide bombers in his Golden Globes winner, Academy Awards nominated Paradise Now and now collaborators and the tactics Israeli police use in Omar may at first misdirect the critics and, as a result, the movie-going audiences who listen to them. Looking beyond the headlines and the catch phrases, Omar turned out to be another great lesson in human nature, and as I initially felt, made me go on to try to be a better person, one who judges less and listens more.
Omar is a project almost entirely financed by Palestinians, with additional post-production support from Enjaaz, the funding program of the Dubai International Film Festival.
In the next installment, I hand it over to Hany Abu-Assad and shine the light on the many wisdoms I was privy to, while interviewing him in Nazareth. In "Omar in Toronto: Love in the Time of Conflict" the filmmaker gives his POV on why great love is so often tragic, what makes a good film and why his Omar will indisputably be disliked by some.
All images used with permission
Calling all HuffPost superfans!
Sign up for membership to become a founding member and help shape HuffPost's next chapter