At a party with loud music booming, young girls — in heavy makeup, carefully styled hair and too-short miniskirts — mingle with young men. I witness homemade alcohol (a strong aniseed liqueur) and some risqué images on the wall that would fall foul of the morality police. A reasonable scene most anywhere in the West, but far less so in Tehran, the heart of the Islamic Republic of Iran, where all of the above is forbidden, demonized and criminalized.
It's no secret that there's a subculture in Iran and in much of the Middle East. Modern, young people are living life increasingly on their own terms — if only in private. What's new here? The place is packed with tourists.
Getting into Iran for a casual vacation jaunt is difficult, to say the least. But there's one way in for bold backpackers — Couchsurfing, a popular social network that allows people around the globe free places to sleep in strangers' homes, like a poor man's Airbnb. It can be a casual arrangement, but often, hosts and guests bond, hang out and go out together. Despite Iran's difficult tourist laws, Iranians are allowed to have guests visit from other countries. The government is none too pleased, but the practice continues relatively unabated. It's difficult to say how many Iranians participate in Couchsurfing, but the company estimates 50,000 Iranians are signed up.
All of this might be a sign of the times under the more moderate — compared with his predecessor — President Hassan Rouhani. Though Facebook is banned in the country, apps are aplenty, and Rouhani is on Twitter. Sure, there's a risk for companies like Couchsurfing, which sends travelers into traditionally closed countries like Iran or China, but there's also a chance for "high reward," says Arvind Malhotra, professor of strategy and entrepreneurship at the University of North Carolina.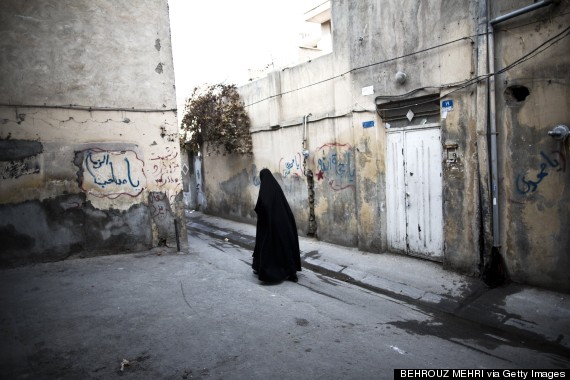 An Iranian woman walks in an old neighborhood in downtown Tehran on December 30, 2014. AFP PHOTO/BEHROUZ MEHRI (BEHROUZ MEHRI/AFP/Getty Images)
Of course, the fun could stop soon. If it pisses off the moral police too much, "it'll be shut down faster than you can say couch surfing," Malhotra says. Or, Couchsurfing itself might back out because of liability issues — what of a potential kidnapping?! — says Matthew Mitchell, senior research fellow at the Mercatus Center at George Mason University. (The company wouldn't comment on liability issues.) Others still tell travelers to just stay away: "I would capital N-O-T push the laws there," says Malia Everette, CEO of Altruvistas, a travel agency that leads trips to Iran. Not to mention the worries that come with being female or gay, says Dave Ways, a travel writer at The Longest Way Home, who's couch surfed in Iran. Some hosts may have "other expectations" for female guests, he advises — which, sure, can happen anywhere. It's no secret that Couchsurfing's site has previously been used for dating and, ahem, more.
Soon after meeting my host's two female friends, Yara and Leyan, we were at the party, which was taking place at their home (names of partying Iranians have been changed to protect them). Both women wear the mandatory headscarf, which on them is more like a fashion accessory than a police-approved uniform; it's draped loosely over their heads, hair flowing out. Omid, my actual host, makes it to the party later. The slim student says he's happy to meet other German visitors like myself. He's never been to Germany himself, but he is a big fan of the soccer team Bayern Munich since he can catch Bundesliga games in Iran.
For the Iranians themselves, traveling is far from straightforward. The men have to complete military service before getting a passport. Women are only allowed to leave the country with the consent of husbands or fathers. Which means Couchsurfing, for many, is as close to travel as they get. Omid dreams of traveling to Europe, but he can't afford it. Spending time with Europeans gives him "a slight feel for Europe." You can see the sensibilities imbued by the travelers everywhere: At the party, the décor is European rather than traditional. There are no "Oriental" trinkets, not even a Persian carpet.
Couchsurfing has even penetrated past the capital, to Shiraz, in the south. This city with 1.5 million inhabitants, which is famous for its green spaces, is also known as the Garden of Iran. It's where Marjaan likes to have female couch surfers to stay. She spends much of her days hunched over her desk … drawing nudes. The 23-year-old aspiring artist enjoys reading banned literature, listens to prohibited music, and enjoys slightly revealing clothes. She also still lives with her parents, who adhere to Islamic traditions. That makes male couch surfers taboo, but from time to time she's allowed to have female travelers to stay. Her room lacks both a bed and a couch because she needs room for her art. Marjaan hides money in her room, along with her secret passport and her dreams of going to Europe.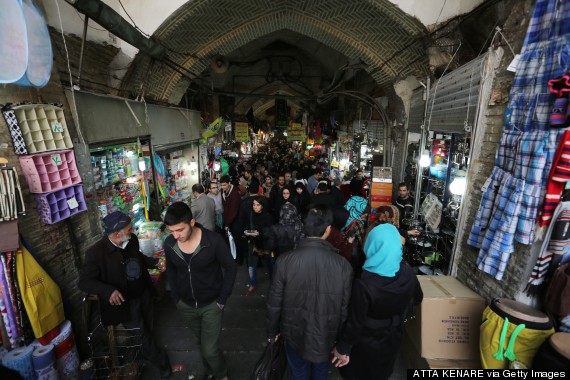 Iranians shop at the main bazaar in Tehran on December 18, 2014.(ATTA KENARE/AFP/Getty Images)
Nathan Siegel contributed reporting.
Related
Popular in the Community