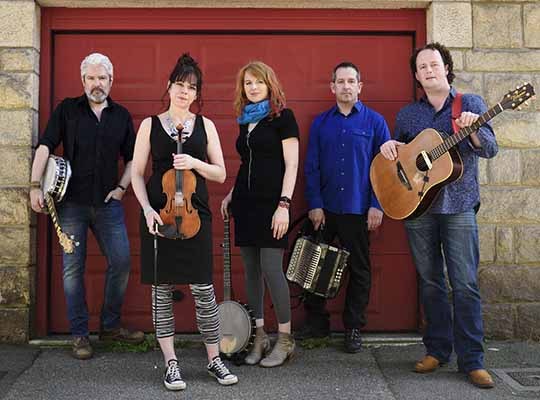 Solas. Used by Permission of Hearth Music.
St. Patrick's Day is almost here, and I bet you're looking for some new Irish music to celebrate the season. Have no fear, I have a few fine albums to recommend. Let's begin with an Irish traditional band holding its twentieth anniversary with a reunion concert and tour: Solas, the group that came together around Seamus Egan, Winifred Horan, John Doyle, and several others in the 1990s. I was recently reminded of the band's origin by a Facebook post; it was one of those "do you remember where you were" posts, asking about the great snowstorm of 1996, which dumped 30 inches of snow on my then-hometown of Philadelphia. I did remember where I was: the day after the blizzard I had an appointment to interview Egan for Dirty Linen Magazine, at Sigma Sound in Philadelphia. After determining that they would be open and Seamus would be there, I pulled on my snow boots and trudged the two miles or so to the studio, where he was ensconced with the brand-new Solas, recording their debut album. At the helm was producer Johnny Cunningham, whose sense of humor had been triggered by the panicky coverage of the blizzard on TV. All day he kept exclaiming in his thick Scottish accent: "The Blizzard of Ninety-Six!"
I had watched Solas come together over the previous few years, taking note of John Doyle when he played with Susan McKeown as The Chanting House, and watching as that band grew to include Egan, Eileen Ivers, and others; in a way, that lineup was an incubator for the future Solas sound. I had also heard about singer Karan Casey through the Irish music grapevine. So I knew what to expect, but the new band was still impressively different, and I knew right there I was witnessing something special: the birth of a classic album and a classic band. So I interviewed Seamus and Johnny and wrote the article (which you can read here). Then, like everyone else who follows Irish music, I watched as Solas blossomed, grew, and changed. I watched Solas members go off to do new things, and witnessed new players and singers succeeding them in the lineup. With some I kept in touch, with others not so much--and, of course, I mourned when Johnny died. And, somehow, imperceptibly, time slipped away until we were all twenty years older.
And then I got this album in the mail, appropriately titled All These Years. It features the group's current lineup: Seamus Egan, Winifred Horan, Eamon McElholm, Mick McAuley and Moira Smiley. They're joined by all the group's past members and regular guests. The depth of this talent pool is quite evident in the final product, which is a gem: a generous set of traditional and original songs and tunes, expertly played, deeply felt, and thoughtfully arranged. Among them, this group plays most of the instruments you find in modern Irish music, including fiddle, flute, tenor banjo, mandolin, guitar, bouzouki, whistle, button accordion, and piano, along with 5-string banjo, bass, ukulele, percussion, and more. Musically, Irish tradition is the most significant point of reference for them, with jigs, reels, and traditional songs making up a lot of the selections, but there's also a healthy dose of American roots music here, with songs by the Youngbloods and Patty Griffin, a nice arrangement of the Kentucky ballad "Willie Moore," and a beautifully gentle rendition of Martha Scanlan's celebrated "Little Bird of Heaven." Some of the tunes, including the Egan-penned opener "Roarie Bummlers," have a similarly bluegrassy feel. On the other hand, there are more exotic influences: Win Horan's original tune, "Lost in Quimper" is a brilliant evocation of both the diatonic accordion waltzes of Brittany and the feeling of wandering through a maze of streets, while Egan's "The Quiet Pint" plays with both rhythm and melody to achieve a feel that's part jazz and part Balkan. There's also a sweet selection of Irish songs, most of which have a wistful feeling. Irish songwriters represented include Johnny Moynihan ("Standing on the Shore"), William Butler Yeats ("Wandering Aengus"), and Ger Wolfe ("Lay Me Down"), while traditional ballads include Deirdre Scanlan's tragic rebel song "Padraig Og Mo Chroi," Moira Smiley's bittersweet "As I Went Out Walking," and Karan Casey's "Sixteen Come Next Sunday," in essence an homage to the Bothy Band's classic version. Speaking of homages, Solas's take on "Standing on the Shore," which Johnny Moynihan wrote for Sweeney's Men in the 1960s, uses a great song to evoke the album's overall theme with its observations on the passage of time. Check it out in the video above!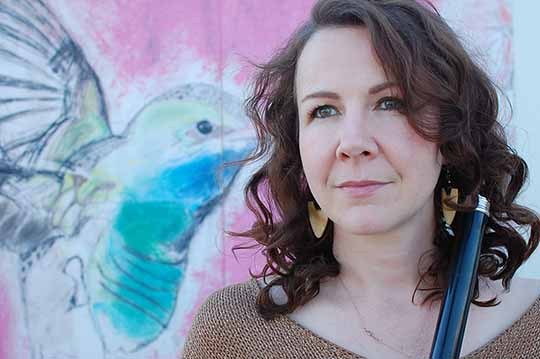 Nuala Kennedy. Used by Permission of Nuala Kennedy.
I've had cause to praise Nuala Kennedy's work with The Alt before. Now I'm enjoying her solo album Behave the Bravest. The three pillars of a fine traditional album are skillful singing and playing, a tasteful selection of uncommon traditional songs and tunes, and an imaginative approach to arranging them. Kennedy has built Behave the Bravest on all three, making it an outstanding work of modern Irish folk music. Kennedy sings and plays flute and whistles, and she's joined by a small ensemble including Shona Mooney (fiddle), Michael Bryan (guitar), and Donald Hay (percussion), as well as Alt bandmate Eamon O'Leary (guitar, bouzouki, vocals) and a few others--all terrific musicians who make their parts shine. She picked a whole set of spectacular songs and tunes to interpret. These include the spellbinding story-songs "Fair Annie of the Loch Royanne" (a cousin to "The Clyde Water" in which a meddling mother splits up a young couple and tragedy ensues), "The Lion's Den" (in which a proud woman makes men compete for her affection by literally throwing them to the lions), and "Death and the Lady" (a classic girl-meets-grim-reaper tale). Two Gaelic love songs, one from Scotland and the other from Ulster, and the Scots classic "His Bonnet so Blue," round out the vocal selections. The tunes are similarly uncommon and lovingly chosen: compositions by Breton guitarist Gilles le Bigot and Asturian piper Xuacu Amieva rub shoulders with little-known jigs and reels such as "The Glen Where the Deer Is" and "The Broken Lantern." Kennedy also crafted creative arrangements for each piece, so that tasteful licks, unexpected colors, and surprising harmonies greet you at every turn. Behave the Bravest is a joy to listen to, St. Patrick's Day or not! Hear the album's opener, the lovely emigration song "Lovely Armoy," in the video:
Finally, if you like a little acoustic pop with your Irish folk, you might try the self-titled album from The Jeremiahs, a quartet of young Irishmen making urban folk music on fiddle, whistle, flute, guitar, bouzouki, and voice. Most of their songs are contemporary (or at least modern), including the effective original emigration song "Forgotten Sons," the sweet love song "Mary" by Adam Hughes, and Ewan MacColl's oil industry ballad "The North Sea Holes." The outstanding modern song here, though, is "The King of Rome," written by Dave Sudbury; it tells the true story of a racing pigeon's triumph against the odds in 1913. They round out the songs with a nice version of the sea shanty "Hogeye Man." Instrumental tunes include some corking traditional tunes and many originals, with clever titles like "The Luggites," "Injee" (for a tune in the key of G) and "25 O'Clock" (which is not the Dukes of Stratosphear song of the same name). My favorite here is the album's closer, "The Midnight Muse," which is a set of brisk traditional tunes perfect for staying up late. They're accomplished players and singers and have nice harmonic ideas backing up their abilities. It all adds up to an album that's fun and very Irish, without being your usual traditional fare. As they say in the liner notes, "there are few things sweeter than using age old ingredients with a pinch of modern to mix it up." Hear for yourself in the video:
I hope you enjoy these albums and make them part of your own St. Patrick's Day celebrations. Let me know in the comments!
Related
Popular in the Community