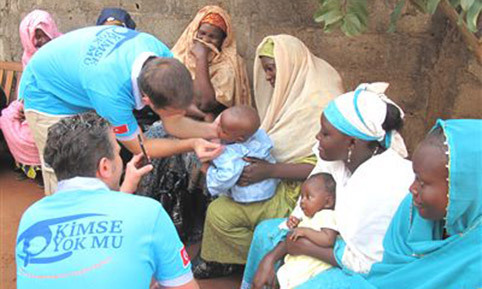 It's unfortunate when an organization tasked with providing help to the needy must ask for help itself. It's even more unfortunate when the help it seeks is rooted in deliberate and systematic suppression. In Turkey today, relief organization Kimse Yokmu, affiliated with the Fethullah Gulen inspired Hizmet movement has become the target of repeated attacks by Turkey's political neo-tyrants, the most prominent of whom is President Recep Tayyip Erdogan.
The frustration associated with government sponsored degradation became common to members of Hizmet movement. And now, these same frustrations are being felt by charitable organizations affiliated with the movement, including Kimse Yokmu, which loosely translates to, "Is anybody out there?" These words -- originally uttered by those trapped under the rubble of hundreds of apartments and homes after the horrific 1999 earthquake in Turkey -- became the signature phrase of a charity telethon to raise funds for the disaster and eventually became the name of the fully fledged relief organization. Since then, the charity group has grown into Turkey's largest NGO based relief organization, active across six continents with projects in more than 100 countries.
Since an investigation implicated the sons of Turkey's highest-ranking officials, Erdogan has set about to destroy not only the movement itself, but all organizations with any degree of affiliation. The President has shown little reserve in his tactics, repeatedly resorting to slander and hate speech when speaking about Mr. Gulen and the movement during speeches at political rallies and interviews for television.
Some may question the veracity of the word "tyrant." An outside observer might wonder whether a popularly-elected leader could, over the course of 12 years, be capable of tyranny. Plato and Aristotle define a tyrant as, "one who rules without law, looks to his own advantage rather than that of his subjects, and uses extreme and cruel tactics -- against his own people as well as others."
By using the power of his office to overthrow a civilian organization committed to the values of education, philanthropy and interfaith dialogue, Erdogan has certainly earned the title of tyrant. Focused on the promotion of unfounded and outrageous accusations, Erdogan has turned Turkey into an illiberal democracy, sacrificing the principles of due processes, free press, right of assembly and societal harmony.
Since the December 17, 2013 corruption probe, Erdogan has made the movement his number one target. As the primary recipient of his attacks, members of the Hizmet movement have emerged in a precarious position. Although it may be tempting to succumb to Erdogan's bouts by either giving in or fighting back, the principles outlined by Mr. Gulen explain that each individual has a basic responsibility to contribute to the betterment of society. Responding to Erdogan by either accepting defeat or committing to rebuttal would violate this responsibility.
Instead, members of the Hizmet movement have stayed true to their promise of living life for the benefit of others and continue to operate in spite of verbal and legal assaults. During the demolition of school buildings and attacks on Bank Asya, Hizmet participants rallied together and kept morale high. Most recently, a government-initiated decision to cancel Kimse Yokmu's permission to create relief campaigns associated with Eid al Ahda (the Muslim festival of sacrifice that initiates an important charitable period when money and food is donated to the poor) challenged the moral compasses of members of the movement. Nevertheless, the organization channeled its strength and stayed true to its cause in the face of threat, collecting twice as much as it had last year during the same period.
However, the strength and resources of the Turkish government must not be underestimated. As the movement continues to serve communities in more than 150 nations across hundreds of cities, towns and municipalities, the global community must come to recognize the legitimate threat posed to its existence. If successful in his pursuit, the wider civil society landscape in Turkey will have lost one of its greatest proponents and the fate of Turkey's democracy will remain in a precarious state. In this scenario, Erdogan will have defeated a group focused on upholding the rights of civil society and democratic values in Turkey and promoting the protection of basic human rights and values around the world.
Civil society building initiatives sponsored by the movement have transformed communities by way of investment in education, intercultural dialogue and community service from Nepal to New Zealand; from Nigeria to New York.
For the sake of Turkey's future and the global need for groups committed to building strong and resilient communities, we must now ask the following question: Is anybody out there?
Support HuffPost
The Stakes Have Never Been Higher
Popular in the Community