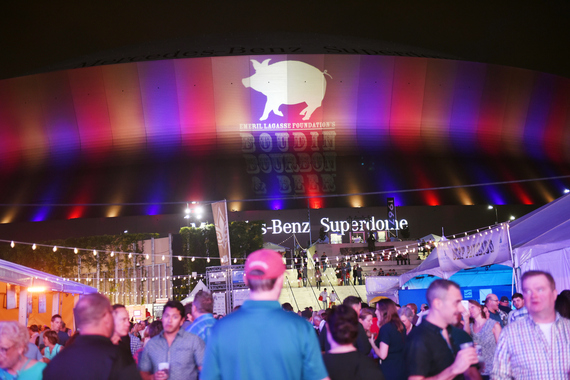 I know that's saying a lot. Hear me out.
The Emeril Legasse Foundation's twin fundraisers, Carnival du Vin and Boudin, Bourbon & Beer, come every year, back to back on a fall weekend in New Orleans. Through the events the foundation raises money for children's charities, like the Youth Empowerment Project and Covenant House, a network of shelters for homeless kids. This year, the events raised a whopping $3 million. And if you're going to party, best to party for a cause, right?
Carnival du Vin, the swankier of the two evenings and arguably the headliner of the weekend, is a sit-down, five-course dinner featuring dishes from heavy-hitting chefs like Danny Bowien, a James Beard Award-winner and co-founder of Mission Chinese Food. The live wine auction is for people who have deeper pockets than I--one bottle went for $20,000 this year--but even if I had the cash, if I have to pick I'm not the sit down dinner type. For my money, Boudin, Bourbon & Beer, which kicks off the weekend the night before, steals the show.
At BBB, you and several thousand of your best friends mill freely around an outdoor party with great live music and more than 60 award-winning chefs churning out small plates of boudin in every form imaginable. Technically, boudin is a pork sausage made with rice, blood and offal, but the've got all kinds. This year, Chef Cory Bahr of Heritage Catering was slinging excellent duck boudin. There was boudin pizza, Chinese boudin balls, and even, improbably, vegetarian boudin, which is pushing it, but still. Nathaniel Zimet of Boucherie was serving up cups of something called Backbone Stew, which he described as "Cajun gumbo on steroids." I lost count of how many times I went back for more.
Also there is a lot of bourbon. And beer. And other booze. And lots of bourbon. And chocolate chip cookies and ice cream. And cigars. And bourbon. There was a lot of bourbon.
Early on in the evening I caught up with Emeril and asked him what this fundraising event was all about.
"It's all about the kids, baby," he said. "All the money goes kids. We're gonna make a big announcement tomorrow that's gonna be unbelievable, but I'm going to tell you because I love you. We're going to donate $1 million to the city of New Orleans and the Gulf Coast." And they did. In 2016 alone the foundation doled out $1 million to children's charities in the region.
For a $99 ticket, the event is a pretty exceptional all-inclusive deal. Carnival du Vin is a good time if that's you're thing but if, like me, you prefer to be out in the open air on a warm New Orleans evening in the fall, shuffling around at your leisure sampling small plates of boudin, sipping bourbon and beer, try out the event with all three things in the title. Because Boudin, Bourbon and Beer might be the best party in the South.
Related