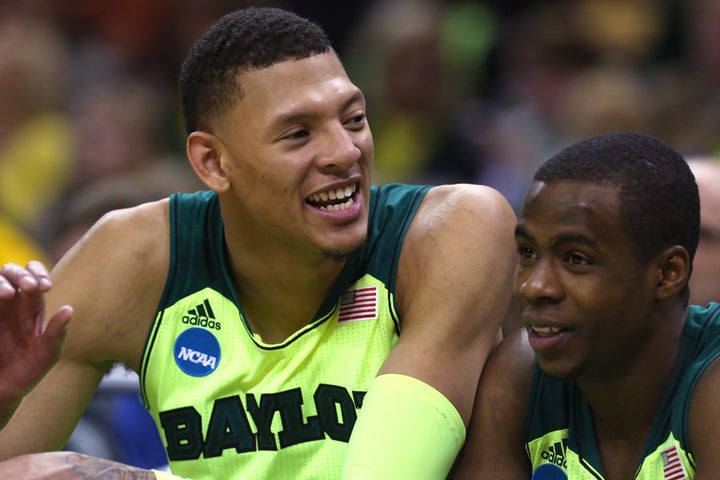 Isaiah Austin had long imagined the night he would be selected in the NBA Draft. He'd thought about it as a McDonald's All-American high school basketball player and while starring for two seasons at Baylor University. A jump-shooting 7-footer who had earned an All-Big 12 Defensive Team selection as a sophomore while averaging over 3 blocks per game, Austin was a highly anticipated draft-night commodity.
He had accomplished all that despite being blind in one eye from a childhood injury. But Austin's professional hoop dreams came to an abrupt end in the summer of 2014, when he was diagnosed with Marfan syndrome, a rare genetic disorder that affects approximately 1 in 5,000 people.
Marfan syndrome hits the connective tissue, causing problems with the heart and blood vessels, bones and joints, eyes and lungs. Some of its symptoms can be life-threatening. Austin was told he'd be risking death if he continued to play basketball, so he stopped.
Austin, now 22 and the national spokesperson for the Haier Achievement Award -- which honors student-athletes all over the country -- caught up with The Huffington Post to discuss his interest in mathematics, the night he was "drafted," and the future of college basketball.
What role has education played throughout your life?
My mom always pushed that. My mom was, "School, school, school." That's one of the reasons I transferred to Grace [Preparatory Academy in Arlington, Texas], because it was a college prep and my mom felt it was going to help me more academically than it was basketball-wise. My whole life my mom has pushed me -- not only me but my little brother and little sister -- to try to excel as much as possible in school.
Which degree are you pursuing at Baylor?
I'm a marketing major, so we do a lot of mathematics and business classes.
Math is not the first thing I think about with 7-foot basketball stars.
Exactly. I'm not a huge fan of school because I think they teach us a lot of things that aren't going to translate to the real world, but at the same time it's important to me. Just being able to walk around with that piece of paper is something that no one can take away from you.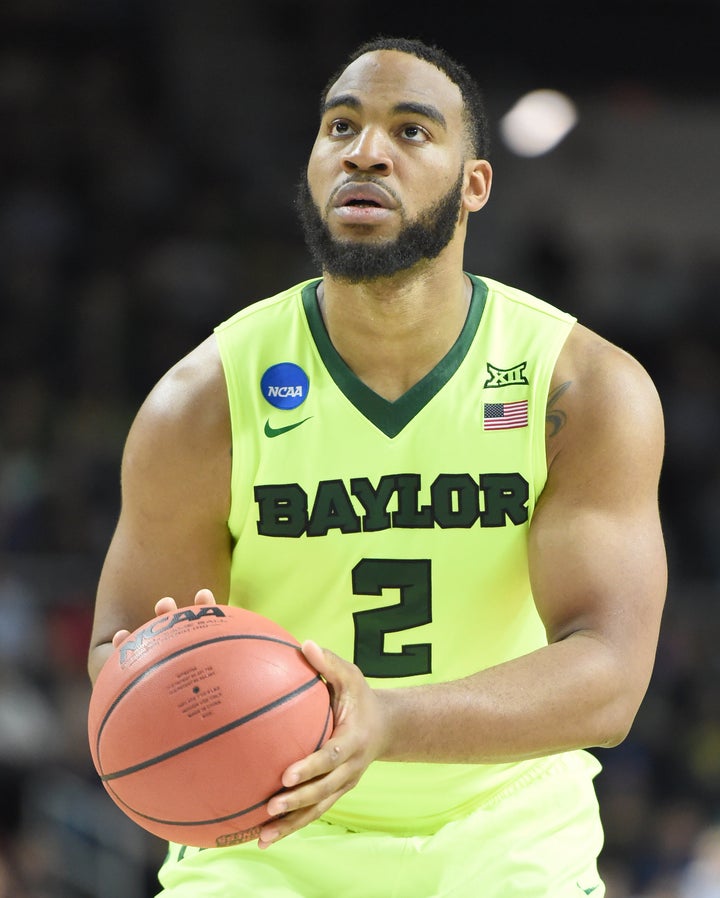 It really doesn't. At the end of the day Rico does have a son, so he has to do what's best for his family, and if the basketball route doesn't work, of course football will be there. So I'm happy for him -- the dude's hands are like mittens.
Was he the strongest, most physical player you ever played against?
Most definitely. He was definitely the strongest that I've ever faced in any type of environment, and I went against him every day in practice. It's kind of hard when a guy like Rico is just beating on your legs all game. Even in practice I'll get frustrated because he's just beating on my legs, and I'm like, "Bro, we have to play a game together." But it's not his fault; he's just built like that. He's really strong, upper body and lower body … they're identical. He's the strongest player I've ever played against. A lot of players are top heavy or bottom heavy, but he's equal.
Which fan base do you recall being the craziest or most ruthless? 
I would say that some of the most ruthless fans were in Iowa State. They will say anything to you.
Nothing racial? Or perhaps sometimes did it take a turn down that road?
Sometimes racial. They don't hold their tongue at all. And when you go play at West Virginia [University], they have things in the newspaper for the team that they're playing, like what to pick on for certain players. Like if somebody made a bad play, the next game they'll have that in their description, and then the fans will just be yelling it out at you on the court. It's crazy.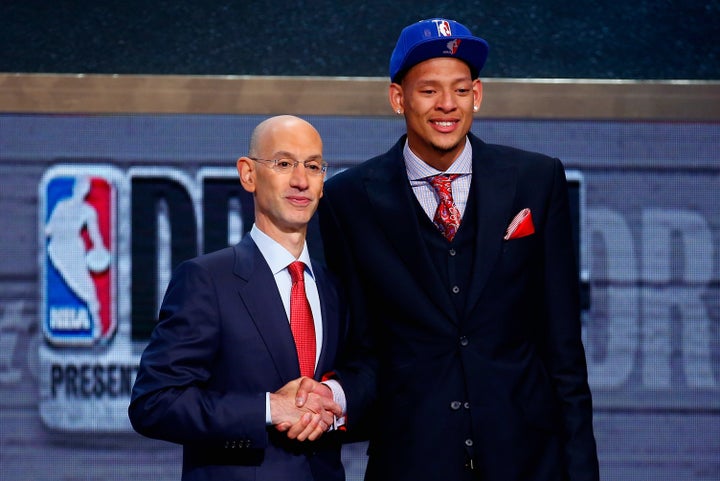 Let's talk about the night you were ceremonially drafted. It was by the NBA and not a specific team, because you could no longer play basketball.
It was just so surreal. When I got the email from [NBA Commissioner] Adam [Silver] himself saying that he wanted me to attend the draft, I had no idea he was actually going to call me to the green room and draft me that night. I thought he just wanted me to be in attendance around the guys to have the whole draft experience, because it was only five days away when I found out about the news. [Austin had learned of his illness just five days before draft night.]
When we got there, it was me, my mom, dad, little brother, agent and high school coach, and he took us in with open arms. And ever since it's like we've been a family. Like he'll call and text my mom even, if he can't get ahold of me. He's really a down-to-earth guy. Really genuine guy. And I can't thank him enough. 
So you didn't have the slightest inkling you were getting selected?
I really didn't. You know, I had my draft suit ready, and he just told me he wanted me to attend the draft. It wasn't until he stopped the draft that I realized what was about to go down.
And were you able to appreciate it as it happened? Or was it all just too crazy?
Oh yeah, man, I enjoyed each and every second of it. Because it was like my dream was coming true. And it did come true -- I got to walk across the stage and shake the commissioner's hand at the end of the day.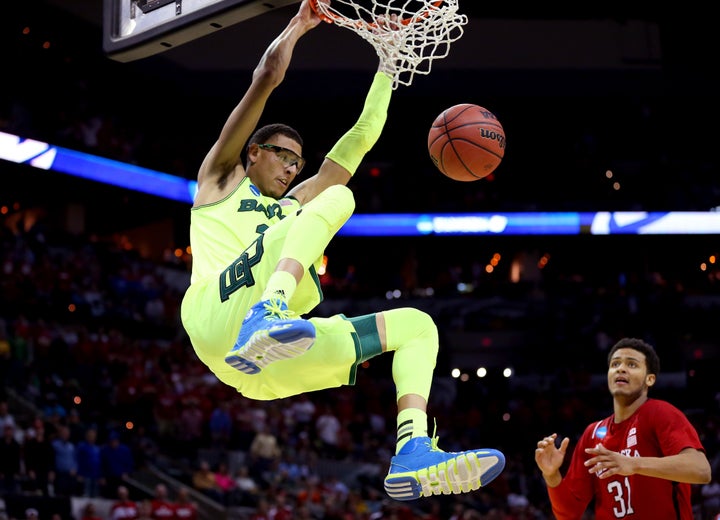 With that in mind, how often do you still think about playing? 
I think about it all the time, man. I see a lot of guys in the league, and I'm like "Man, I used to kill those guys in college or in high school." They're making all that money, and part of me is like that could have been me, but at the same time that's not what my life is about anymore.
I think when I was younger and I was playing, I was so caught up in having all of the riches and the cars, all the nice things that basketball comes with, but I think that now God has given me a greater thing in life, and it's relationships.
I met a kid, Owen Grey from Texas, and he was 13 years old when he found out he was diagnosed with Marfan syndrome, and that was because I was diagnosed with it, so that saved his life. I don't think that if I was playing basketball, I would have gotten anything like that, so I think that me not playing basketball has just brought me so many more opportunities.
What would you like to see altered in the college game, in terms of the rules? 
They just need to make everything like the NBA, because at the end of the day that's where all the college players are trying to go. They already cut the shot clock to 30 seconds -- I think they should probably cut it down a little lower just to speed the game up a little more.
Maybe move the 3-point line back as well?
Definitely has to be moved back. There's sharpshooters everywhere in the country.
This interview has been edited for length and clarity.
Calling all HuffPost superfans!
Sign up for membership to become a founding member and help shape HuffPost's next chapter