Canadian politician Iqra Khalid stood before the House of Commons this week to remind her colleagues of something she knows all too well: "Islamophobia is real."
Khalid, a Liberal member of Parliament who is Pakistani-Canadian, has received a spate of vicious and sometimes threatening hate mail since introducing a motion to "condemn Islamophobia and all forms of systemic racism and religious discrimination" in December. Two months earlier, the House unanimously vowed to "actively fight" and denounce Islamophobia in "all of its forms."
Khalid's measure, M-103, debated by parliamentarians this week, urges the government to study ways to track and eliminate hate crimes perpetrated against Canadian Muslims, which have more than doubled in recent years. Last month, a French Canadian gunman opened fire in a Quebec mosque, killing six Muslims.
Kill her and be done with it ... She needs to be deported.
Conservatives responded to M-103 on Thursday with a new motion they described as "more inclusive." It calls for the condemnation of "all forms of systemic racism, religious intolerance, and discrimination of Muslims, Jews, Christians, Sikhs, Hindus, and other religious communities," but includes no mention of "Islamophobia."
The term's absence is highly problematic, Khalid argued.
"My family, friends, neighbors, fellow MPs and Canadians across the country have faced Islamophobia," Khalid said. "I am sickened that the party opposite have decided to deny comforting all these Canadians who feel vulnerable and attacked by taking the word 'Islamophobia' out of this motion."
Khalid, who did not immediately respond to The Huffington Post's request for comment, then read aloud hateful messages she has received: 
"No need to debate her. Simply remind her that she is merely a woman and she needs to sit the [expletive] down and shut the [expletive] up. She has to comply according to Sharia."
"Kill her and be done with it. I agree she is here to kill us. She is sick and she needs to be deported."
"Real Canadians will rise up and get rid of the nasty [expletive] muzzy stench in Ottawa. They should all go the [expletive] back to your [expletive] hole where you belong."
"We will burn down your mosques, draper head Muslim."
"Why did Canadians let her in? Ship her back."
"Why don't you get out of my country? You're a disgusting piece of trash and you are definitely not wanted here by the majority of actual Canadians."
"[Expletive] off Pakistani Talibani, you [expletive] yourself and go back to your [expletive] hole of a country where you [expletive] come from, ugly."
"If I want to call a Muslim piece of [expletive] terrorist, I will. Go back to your [expletive] hole country where you came from, [expletive] hole."
"So the little N-word [expletive] is whining about 'Go home you Muslim'? You're not home, [expletive] stupid sand [expletive]. You're a cultural Marxist inclusivity of [expletive] trying to ruin Canada. [Expletive] you gently with a chainsaw, you camel-humping terrorist incubator [expletive]."
"Shoot this [expletive]."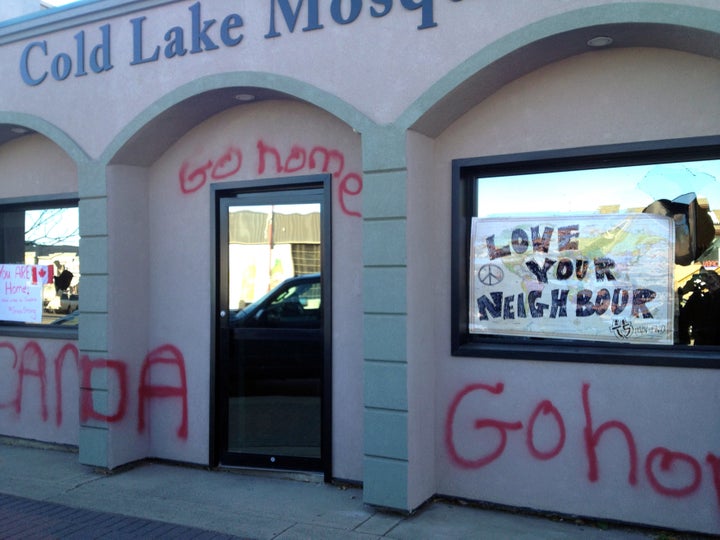 Canadian Heritage Minister Mélanie Joly slammed the "watered-down version" of M-103 as the result of divisive, partisan politics. She recalled hate crimes that specifically targeted Canadian Muslims in recent years:
"A fire at a Peterborough mosque was arson. A Hamilton mosque was firebombed. Two women were threatened with a noose in Edmonton. Two men in Toronto tried to rip off a woman's head scarf. A Muslim woman in London was spat on in a grocery store. There were anti-Muslim posters at the University of Calgary. Mosques were vandalized in Ottawa, Montreal, Quebec, and Sept-Îles."
Political leaders have a moral imperative to address religious discrimination, Joly said. "Things do not cease to exist just because we do not name them."
Calling all HuffPost superfans!
Sign up for membership to become a founding member and help shape HuffPost's next chapter
BEFORE YOU GO