GAZA, Nov 14 (Reuters) - Israel launched a major offensive against Palestinian militants in Gaza on Wednesday, killing the military commander of Hamas in an air strike and threatening an invasion of the enclave that the Islamist group vowed would "open the gates of hell".
The onslaught shattered hopes that a truce mediated on Tuesday by Egypt could pull the two sides back from the brink of war after five days of escalating Palestinian rocket attacks and Israeli strikes at militant targets.
Operation "Pillar of Defense" began with a surgical strike on a car carrying the commander of the military wing of Hamas, the Iranian-armed Islamist movement which controls Gaza and dominates a score of smaller armed groups.
Within minutes of the death of Ahmed Al-Jaabari, big explosions shook Gaza as the Israeli air force struck at selected targets just before sundown, blasting plumes of smoke and debris high above the crowded city.
Panicking civilians ran for cover and the death toll mounted quickly. Ten people including three children were killed, the health ministry said, and about 40 were wounded. Also among the dead were an 11-month-old baby and a woman pregnant with twins.
Army tanks shelled border areas of Gaza in south and the Israeli navy shelled a Hamas security position from the sea.
Hamas stuck back, firing at least four Grad rockets at the southern city of Beersheba in what it called its initial response. Israel reported damage but no casualties. Its 'Iron Dome' interceptor defence knocked out a dozen rockets in flight.
The escalation in Gaza came in a week when Israel fired at Syrian artillery positions it said had fired into the Israeli-annexed Golan Heights amid a civil war in Syria that has brought renewed instability to neighbouring Lebanon.
Egypt, whose new Islamist government pledged to honour the 1979 peace treaty with Israel, condemned the raids as a threat to regional security, recalled its ambassador from Israel and called for an emergency session of the U.N. Security Council.
Egyptian President Mohamed Mursi's predecessor Hosni Mubarak twice withdrew his ambassador, with no lasting effect. But Israel will be watching for signs of a more aggressive approach by the Islamist leader that could imperil their ties.
Mursi has said of the Palestinians that "our blood is their blood" and Egypt may not "accept what was accepted before".
Russia called for an end to the raids. Arab League foreign ministers planned to meet on Saturday to discuss the crisis.

A second Gaza war has loomed on the horizon for months as waves of Palestinian rocket attacks and Israeli strikes grew increasingly more intense and frequent.
Israel's Operation Cast Lead in 2008-2009 began with a week of air attacks and shelling, followed by a land invasion of the blockaded coastal strip, sealed off at sea by the Israeli navy. Some 1,400 Palestinians were killed and 13 Israelis died.
The Israel Defence Forces said it had targeted dozens of Hamas's medium range (up to 40km) underground rocket launch and infrastructure sites in Wednesday's strikes.
"This has significantly damaged the rocket launch capabilities as munitions warehouses owned by Hamas and other terror organizations were targeted. In addition, Israeli Navy soldiers targeted several Hamas terror sites stationed along the shoreline of the Gaza Strip," it said in a statement.
The Hamas internal security headquarters in southern Gaza was destroyed. There were no injuries because it had been evacuated. After dark, Gaza looked like a ghost city, with no traffic and no people in the streets, no shops open, no electric lights on.

Hamas said Jaabari, who ran the organisation's armed wing, Izz el-Deen Al-Qassam, died along with a Hamas photographer when their car was blown apart by an Israeli missile.
The charred wreckage of a car could be seen belching flames, as emergency crews picked up what appeared to be body parts.
Israel confirmed it had carried out the attack and announced there was more to come. Reuters witnesses saw Hamas security compounds and police stations blasted apart.
"Today we relayed a clear message to the Hamas organisation and other terrorist organisations," Prime Minister Benjamin Netanyahu said. "And if there is a need, the IDF (Israel Defence Forces) is prepared to broaden the operation. We will continue to do everything in order to protect our citizens."
Immediate calls for revenge were broadcast over Hamas radio.
"The occupation has opened the gates of hell," Hamas's armed wing said. Smaller groups also vowed to strike back.
"Israel has declared war on Gaza and they will bear the responsibility for the consequences," Islamic Jihad said.
Southern Israeli communities within rocket range of Gaza were on full alert, and schools were ordered closed for Thursday. About one million Israelis live in range of Gaza's relatively primitive but lethal rockets, supplemented in recent months by longer-range, more accurate systems.
"The days we face in the south will, in my estimation, prove protracted," Brigadier-General Yoav Mordechai, Israel's chief military spokesman, told Channel 2 TV.
The Israeli cabinet gave preliminary authorisation for the mobilisation of military reserves if required, Netanyahu's office said.
Asked if Israel might send in ground forces, Mordechai said: "There are preparations, and if we are required to, the option of an entry by ground is available."

Israeli President Shimon Peres briefed U.S. President Barack Obama on the operation, Peres's office said. He told Obama that Jaabari was a "mass-murderer" and his killing was Israel's response to Palestinian rocket attacks from Gaza.
"Israel is not interested in stoking the flames, but for the past five days there has been constant missile fire at Israel and mothers and children cannot sleep quietly at night," said Peres, who visited the border town of Sderot earlier.
In the flare-up that was prelude to Wednesday's offensive, more than 115 missiles were fired into southern Israel from Gaza and Israeli planes launched numerous strikes.
Seven Palestinians, three of them gunmen, were killed. Eight Israeli civilians were hurt by rocket fire and four soldiers wounded by an anti-tank missile.
The leader of Hamas in the Gaza Strip, Ismail Haniyeh, called on Arab states, especially Egypt, to halt the assault. The six-nation Gulf Cooperation Council said the U.N. Security Council should put pressure on Israel to stop its attacks.
Israel holds a general election on Jan. 22 and Netanyahu has pledged to retaliate harshly against Hamas. But Israel is also wary of the reaction from Mursi's Egypt, whose ruling Muslim Brotherhood is the spiritual mentor of Hamas.
Hamas has been emboldened by its rise to power, viewing Mursi as a "safety net" who will not permit a second Israeli thrashing of Gaza, home to 1.7 million Palestinians.
Hamas is also supported by Iran, which Israel regards as a rising threat to its own existence due to its nuclear programme.
Helped by the contraband trade through tunnels from Egypt, Gaza militias have smuggled in longer-range rockets.
But their estimated 35,000 Palestinian fighters are still no match for Israel's F-16 fighter-bombers, Apache helicopter gun ships, Merkava tanks and other modern weapons systems in the hands of a conscript force of 175,000, with 450,000 in reserve.

Before You Go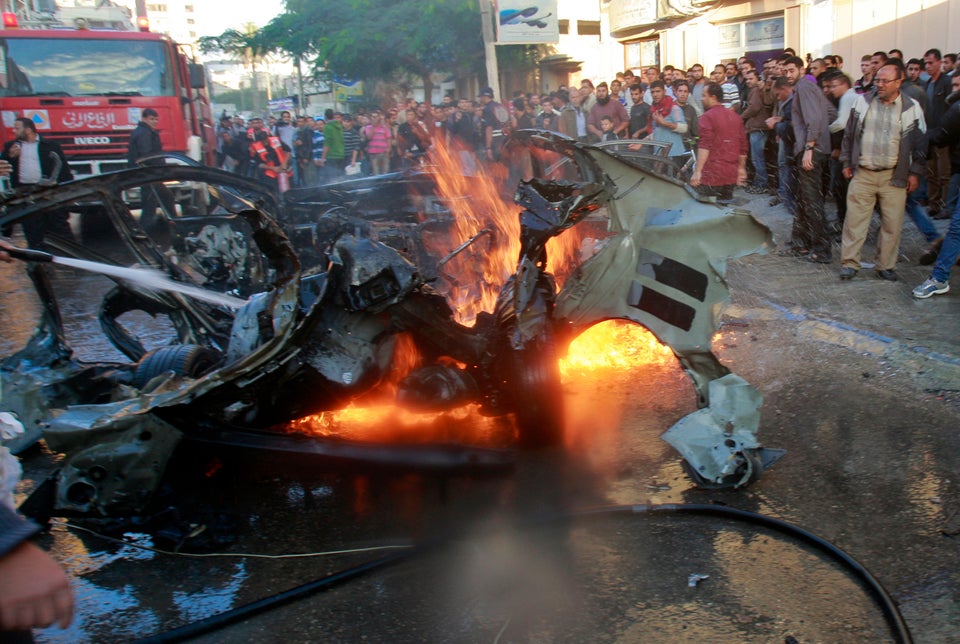 Israeli Strike Hits Gaza
Popular in the Community