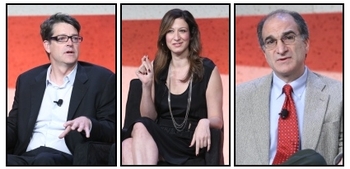 That was the sentence that caught me this morning at the AMC panel entitled "The Web, User-Generated Content and the Future of Journalism." It was spoken by Seventeen EIC Ann Shoket, who said that she used to worry about the website "cannibalizing" the magazine, before appreciating that a website was a living, breathing, functioning arm of the magazine. It sounds crazy, really — to want any part of your organization to flatline? — but fellow panelist Evan Hansen, Wired News EIC, and moderator Michael Skoler, exec director of the Center for Innovation in Journalism at American Public Media, were nodding in understanding. That's how it used to be, and the industry is still shedding the skin of those previously-held prejudices even as everyone acknowledges that, yes, the web is very very important.
This year's AMC has featured a number of web panels — I'm sitting here right now listening to Fortune exec editor Josh Quittner talking to Linkedin prez (and first round Facebook investor, lucky man) Reid Hoffman — and yesterday my boss and company namesake Arianna Huffington electrified the crowd with her talk about "How Your Web Presence Changes Everything" (and she would know from a web presence changing everything — not to mention threesomes, multiple-partner relationships and other variations on online orgies).* Yesterday, NBC Universal's Beth Comstock, president of NBCU Integrated Media, told the crowd that the Internet break had replaced the coffee break and that there had been "an absolute explosion" in the streaming of TV shows online — a whopping 500 percent. Meanwhile, the MPA announced that the number of digital initiatives in the industry had doubled in the last year. So the times, they really are a-changin'.
But as I noted in my pre-conference post,, the presenters are for the most part established — now I'm listening to Eileen Naughton of Google — who are speaking in the broad strokes of explaining a brave new world rather than the nitty-gritty of how to move — and innovate — within it. It's the language of introduction, not of people who are already participating in a developed and devloping conversation. I can remember a certain EIC who was so excited to have posted a YouTube video to the mag website less than a year ago. The industry as a whole is behind the curve, and the nature of these presentations is really indicative of that. (The previous discussion with Hoffman and Quittner focused in large part on what Facebook was and how it was used, explaining how users can write on each others' walls and post applications and tag photos of people — interesting to be sure, but a Time and a Newsweek cover later, not exactly all that esoteric).

This isn't to say that there aren't mags out there doing great stuff — Shoket's partnership with MySpace to harness user-generated content, Wired News' use of user suggestions and tips for gadgets (leading sometimes, said Hansen, to scoops), Adam Moss with an online presence so evolved it's launching a print spinoff, plus ReadyMade's Shoshana Berger's assertion yesterday that using young people who can bring a "nimble" touch to operations is invaluable — all are examples of how the industry is getting it right. But overall, as an industry, there still seems to be a sense of playing catch-up. And speaking of Maga-Branding, I'm trying to think of a magazine website that, well, is that good — that is to say, a magazine website that has broken out and established itself as a presence in such a way that the magazine could very well be a quaint offline print adjunct. Ironically, the only one that comes to mind is a magazine that wasn't represented at the AMC: Radar (though one of its founding web-driving team members, Jeff Bercovici, was there, and is an example of how .Portfolio.com is a destination for readers who couldn't give a damn about the magazine (like, say Romenesko). To my mind, that is the highest compliment to pay to a magazine website.
"It's a whole new reality, folks, and it's fully digital...there's a whole new lingo and a whole new way of how we engage in this digital universe." That was Eileen Naughton, who followed Quittner and Hoffman with a presentation that was preceded by a YouTube video with quick cuts from users around the world and bit with literally moveable type, being edited and hyperlinked on the screen in a visual depiction oft his new online nimbleness. I just sent an email to the MPA asking for the URL and/or embed code — how many people in the mag industry would know what I was looking for there? Probably a lot, and a lot more than last year or the year before. But it's a whole new reality, folks, and if you need to be told about it, then you ain't part of it. Not yet, anyway.
*Um, that's a reference to her speech, not a suggestion that you look for her advertisement in the back pages of the Village Voice. Hi, boss!
More fine print: Pic courtesy of the MPA