Thanks to a series of fortunate coincidences, Giovanna Martelli, a member of Parliament for the Italian Left, has taken in three refugees from Nigeria who arrived in Italy by boat last year after long and arduous trips. "We politicians must lead by example," Martelli told HuffPost Italy.
The politician and her sister are offering housing for Mercy, 32, Favour, 34, and Augustina, 35, until they hear back about their asylum applications. Their last names are being withheld for their safety.
Martelli, who has been hosting the women since last September, said she wanted to help female refugees "because women are the most vulnerable, and can easily wind up in criminal trafficking networks that promote prostitution," she said.
There has been a sharp and worrisome increase in the number of Nigerian women and girls who are fleeing Libya for Italy, the UN children's agency, UNICEF, reported earlier this month. The International Organization for Migration has estimated that 80 percent of them are victims of trafficking.
Mercy, Favour and Augustina decided to leave Nigeria and head for Europe, crossing the Sahara before coming across nightmarish scenes in Libya -- where there are currently about 235,000 refugees and migrants. Then they took the risky journey across the Mediterranean on a refugee boat.
They didn't know what to expect --  but they certainly didn't predict that would end up in Martelli's home in Mantua, in the northern Italian region of Lombardy.
"They didn't know one another, but now they happily live together in complete harmony in the apartment above my house," the Italian politician said.
They've been affected by the trauma of the refugee trail, but they still maintain a serenity and a strength that are valuable lessons for anyone.

Giovanna Martelli
The women are currently spending their days learning Italian and attending professional training courses to improve their job prospects, Martelli says. Olinda, a charity organization, provides food, clothes, and other items for their basic needs.
Despite the uncertainty that plagues their lives, Martelli says the women have demonstrated inspiring resilience. "They've been affected by the trauma of the refugee trail, but they still maintain a serenity and a strength that are valuable lessons for anyone, even for me," she said.
"They left behind a situation that was so difficult, it drove them to always look forward with hope. Now we'll see if they can stay in Mantua or if they have to move," she added.
Martelli often travels to Rome for work and can't spend as much time as she would like with the three women, but the time have spent together has been enough to show her that "they're very determined to make a fresh start."
"They're smart women. I hope they can find a stable path to the future," Martelli said.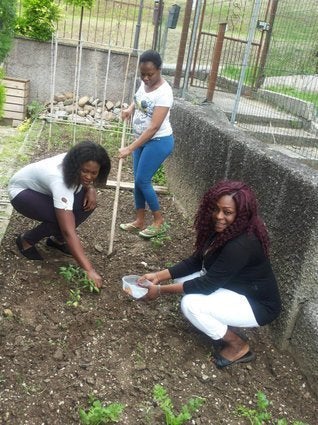 Martelli says that not everyone in the community has supported her decision to host the three refugees. "People's favorite argument is that we should concentrate first and foremost on helping Italians who are struggling, and not foreigners," she said.
"I tell them that Italians live in a mature democracy, and in a nation state with solid social infrastructure. Those are resources that these refugees can't rely on [in their home countries]," she added.
While Martelli is trying to help refugees personally, she is also concerned about the controversial EU-Turkey deal to address the migrant crisis.
"The European Union is forging an unacceptable accord with Turkey. We're hearing about refugees being shot dead, murdered, by Turkish border police," she said.
"We can't stay silent in the face of this decision by Italy and the other countries, she added. "We have to make clear to everyone that instability and lack of safety isn't the result of foreigners entering our country, but of lawlessness and corruption."
A version of this story was originally published on HuffPost Italy. It has been translated into English and adapted for a U.S. audience.
Calling all HuffPost superfans!
Sign up for membership to become a founding member and help shape HuffPost's next chapter