I returned Monday afternoon from a three day TED-meets-Burning-Man summer camp for grownups in the mountains of Lake Tahoe: Summit Basecamp. To call Summit Series events "conferences" would be to do them a tremendous injustice. They bring together mostly under-35-year-old movers and shakers -- from artists like filmmaker Jonathan Segal; to entrepreneurs like Yes To founder Ido Leffler; to changemakers like Lulan Artisans visionary Eve Blossom.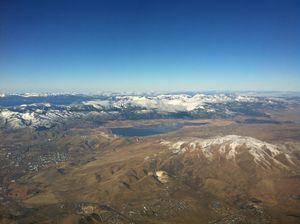 It all goes down in an environment designed to stimulate creative thinking and lifelong friendships, with literally dozens of activities to choose from each day. Summit Basecamp included traditional talks and panels, as well as snowball fights, yoga classes, falconry demonstrations, musical performances, dance parties, and a film premier.
Last year, I leapt at the chance to attend the 1000-person "conference on a cruise ship" Summit at Sea. As I wrote in this blog post, the experience helped me to rediscover myself. Due to a simultaneous divorce and crisis in my family of origin, I had spent the better part of the prior five years clawing my way out of a dark hole of self-loathing. My journey back into the light was one of intense personal growth. And yet, I didn't fully embrace my purpose in life -- to inspire others to live their authentic truth and follow their passion -- until I was on that boat. I made friends with dozens of people who exemplified my personal mantra: FEAR LESS, LOVE MORE.
This January, I looked forward to reconnecting with friends I made last year on the boat, forming new relationships, and getting a fresh dose of inspiration. Before I'd even disembarked the shuttle from Reno airport to Squaw Valley Resort on Friday morning, I'd met a half-dozen people who rocked my world with their can-do attitude and grand visions for affecting positive change, like Dr. Krupali Tejura, a cancer specialist who uses social media to create a support network for her patients.
A discovery that surprised me this year was a new spiritual side to the event: less partying, and more journeying inward. I suspect that Burning Man had something to do with the change -- the founders of Summit Series went for the first time this past August. They constructed a geodesic dome in the resort complex where films, talks (including a conversation with Burning Man founder Larry Harvey), and shamanistic journeys led by Rafael Bejarano were held.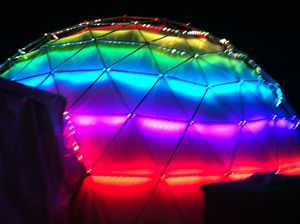 On Saturday afternoon, I listened to Sean "Three-foot Giant" Stephenson speak to a packed room. He shared his life purpose, which is to rid people of their insecurities. When I took an honest look at myself, I realized that I still allow my own insecurities to limit my goals. "Get off your 'but'," Sean advised the crowd. I shall, I silently replied.
It seemed only fitting that Summit Basecamp should close on Sunday with motivational storyteller Sekou Andrew's rousing tale of our individual and collective abilities to change the world. "You are AWESOME," he repeated several times, holding his left arm in the air and gazing at his outspread fingers (a move we copied all night long). His performance reminded me of a well-known quote from spiritual leader Marianne Williamson:
Our deepest fear is not that we are inadequate. Our deepest fear is that we are powerful beyond measure. It is our light, not our darkness, that most frightens us. We ask ourselves, who am I to be brilliant, gorgeous, talented, fabulous? Actually, who are you not to be?

I feel incredibly blessed to have been invited to participate in the Summit community. Being at such an event is like receiving a shot of pure joy and motivation directly in the heart. My hope is that the founders -- Jeff Rosenthal, Elliott Bisnow, Brett Leve, and Jeremy Schwartz -- will opt to share their amazing content with the world, à la TED. However, regardless of whether you went or didn't, are interested or not, eventually watch the videos of the talks or don't... every one of us deserves to have the Summit Series message (metaphorically) tattooed on our wrists:
You are awesome. Now act like it.
Related
Popular in the Community