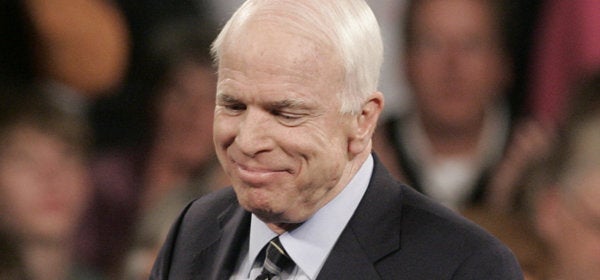 It's an exciting day for some people, namely those of us with Hofstra Pride. Why? Because I will be on campus for tonight's historic presidential debate! I won't be one of the exclusive 150 who will be in the room for the debate, but I will be at the alumni party. And honestly, who wouldn't rather be at a debate party? I need to emote during these things.
I graduated from Hofstra in 2006 with a degree in political science. But I first attended Hofstra in 1998 as a spunky, idealistic teenage film student with stars in her eyes. "I won't even have to graduate -- I'll have my first Oscar by 20! Whatevs!" Indeed, that girl would be appalled by the woman she'd become, and to read a sentence that includes "Hofstra," "Pride," and "exciting" must certainly be sarcastic.
Well, Younger Jamie, it's not. You grew up to be a political junkie. (And in 10 years, you will have nary an Oscar, nor will you be married. Actually, you'll drop out of college twice and have five majors before finally -- finally -- graduating at 26.) And waking up the day of the debate will feel even more awesome than the day "The Truman Show" opened. Oh, it's true.
As it happens, I work down the street from Hofstra (talk about coming full circle), so while I haven't been privy to campus goings-on, I can tell you that Long Island, let alone Hempstead, is just tickled that we're going to be the center of attention for something other than the Montauk Monster, Billy Joel and sub-par American Idol contestants. Plus it's fun seeing all the out-of-towners referring to "New York's Long Island," or saying "in Long Island" instead of "on." (It's a good thing the debate is in Hempstead and not Hauppauge, Massapequa, Copiague or Quogue.) For one night (well, really, a few news cycles), all eyes are on us as we host our two presidential candidates and watch them duke it out face-to-face for the last time. This is it! The last face-off before Election Day! This is the one that's going to get really nasty, and it's going to get nasty at my alma mater. While everyone else is worried about the traffic advisories and security, I'm feeling like having Chris Matthews on my old stomping grounds is like knowing Santa is in the vicinity and my presents are coming soon. This is our moment.
I'm so nerdily excited that I'm wearing red, black and blue. Though the red is pretty dark, probably has a lot of blue in it, making the boots in question more purplish or burgundy than red. And I'm from New York, so I generally veer towards wearing black than white. Besides, it would have been totally dorky to wear red, white and blue! Am I right?... No?... Okay. The damage is done. Probably by the Chris Matthews/Santa thing.
The campus atmosphere, from what I can gather from secondary sources, is crazy. I will get to witness the craziness firsthand tonight and will post a follow-up tomorrow. If I don't explode with unfettered joy.
Popular in the Community