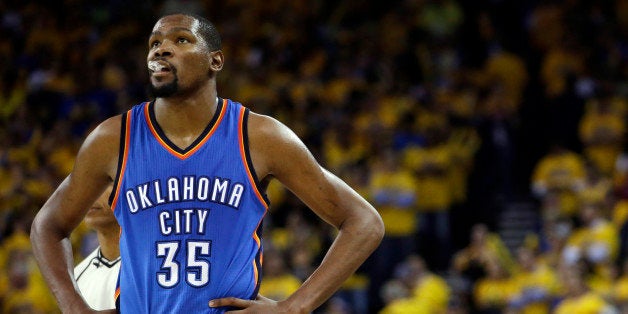 By now, you've heard the news. Perhaps the most dominant team (on paper) in NBA history has been formed as former league MVP Kevin Durant has joined the dynamic trio of Steph Curry, Klay Thompson and Draymond Green in Golden State. While there were certainly going to be disappointed parties on both sides regardless of where Durant decided to sign, the internet (and all other forms of media) exploded when the news broke.
Some pundits, like ESPN's Stephen A. Smith, chastised the league's four-time scoring champion for joining the squad that denied him of a Finals trip three consecutive times in this past playoff run. How dare he jump ship and get on board with the team that outmatched and outclassed him? How dare he abandon Oklahoma City, who was a perennial contender? How dare he leave behind Russell Westbrook, who was rumored to be as close as a brother to him on and off the court?
In other words, how dare he stray off the beaten path and make a personal decision?
The reason why I think it's absolutely preposterous for anyone (other than Thunder fans) to be upset about Durant leaving is because at the end of a player's career, their greatness is now predicated not only upon individual accomplishments, but also upon the number of championship rings they can accumulate.
Using Michael Jordan's six rings as the gold standard, the likes of Kobe Bryant and Tim Duncan have come extremely close with five each, and LeBron James' three titles as of right now are a major factor of why many believe he will go down as one of the best players of all time. Despite his gaudy numbers, Durant's name is never mentioned in that conversation. Neither is Karl Malone, Charles Barkley, John Stockton, Allen Iverson, Patrick Ewing, Steve Nash, Dominique Wilkins, Reggie Miller, Pete Maravich or Elgin Baylor. None of them won a single championship and despite their Hall of Fame status, their overall legacies have been tarnished.
Would adding a title or two to Karl Malone's career put him into the conversation of being the clear best power forward ever? Possibly. It would at least create some sort of heated debate between him, Duncan and Kevin Garnett.
Free agent decisions are now made with not only money or loyalty in mind, but the potential for a championship. We saw it with LeBron's original decision to take his talents to South Beach. We're seeing it now with Durant's choice to sign with the Warriors, who broke the NBA regular season record by going 73-9 last year. (We also saw it when Pau Gasol recently signed with the Spurs.) While there are a number of guys who have clearly chased the money during this offseason, and rightfully so, veterans who have earned the right to be an unrestricted free agent with a max deal on the way should be able to pick their place of employment without their character being attacked.
Why is Durant getting knocked for choosing the best place to work? He was respectful by listening to other teams' offers, gave multiple hours to each club and allowed them to pitch him in various ways, and even called the Thunder first to inform them of his decision. There was no television special. There was no behind-the-scenes garbage. It was an informed decision that was clearly well thought out and calculated.
By forming this super roster, the Warriors (barring injury) could be in contention for an NBA title for the next six or seven years. As for the Thunder? Who knows. At best, Oklahoma City would have been competing with the Warriors for years to come, and that's not exactly the recipe for success. If the Thunder couldn't beat the Warriors when they were up 3-1 with a less than 100 percent of Steph Curry on the court, it's hard to imagine a scenario in which they could have in the future.
The "if you can't beat 'em, join 'em" mentality makes sense in today's NBA and in this situation. But that's only a negative for the Thunder organization, who will have to do some major re-shuffling of their roster as a result. It's a huge win for Durant.
Durant simply felt obligated to chase the elusive championship title that has eluded him throughout his nine-year NBA career. Despite the fact that his career points per game mark of 27.4 ranks behind just Michael Jordan and Wilt Chamberlain (both 30.1) for third all-time, Durant's legacy would take a hit without some bling.
While some may view the move as selling out, think about it. What would be worse? Durant winning three rings with the Warriors or going his whole career without one in Oklahoma City? You're lying to yourself if you think the latter is the best option. Just ask Charles Barkley.
It's not fair, but it's the narrative that the media has created. Loyalty has to be thrown out the window and selfishness is brought to the forefront. It has to be. As a result, the NBA has the least parity among all major sports leagues, and it's not even close. But for those of you blaming KD, take a chill pill. He did what was best for him as a player and a man, and that's not something to hate on.
REAL LIFE. REAL NEWS. REAL VOICES.
Help us tell more of the stories that matter from voices that too often remain unheard.