Making a case for afternoon tea in Vegas - even when it's hot, hot, hot outside.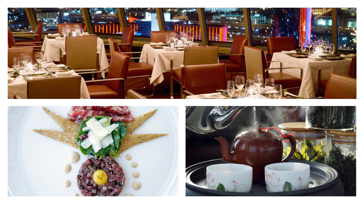 Do you just love a hot cup of tea on frigid winter mornings? Me too. But I also enjoy a calming break during the hottest part of a summer afternoon. Nowhere is this more appreciated than in my adopted hometown of Las Vegas, where it is blazing hot outside more than six months a year.
Surprising to some, "Sin City" has a few really great (air-conditioned!) options for sitting down to a sophisticated afternoon respite before heading back out into the hustle and bustle of the Strip. So why not treat yourself to a unique afternoon tea experience? Here are some of the Strip's most breathtaking venues and views featuring the age-old art of tea service.
Tea Lounge at Mandarin Oriental
Visiting Vegas and want to splurge on Asian-style hospitality? Look no further than Mandarin Oriental. The luxe non-gaming hotel, located in CityCenter near Aria, is known for its five-star experience--and the tea lounge is no exception. 
Tea time at Mandarin means a serene break from Vegas's sensory overload while sipping on some of the most exotically flavored teas you've ever tried. The 23 rd floor Strip views provide a glittering backdrop to its daily Classic English Afternoon Tea service ($38), which also includes a lavish display of tea sandwiches, English scones, cupcakes and macarons. The teas are infused with fine ingredients from around the world, so make sure to try a few to really get in the zen zone. Tea is also available by the cup, and the lengthy menu will make deciding between the lychee green and artisan blend of jasmine pearl a difficult choice. As day drinking is quite welcome in Vegas, tea service even includes an optional glass of champagne. With the upscale Spa at Mandarin Oriental just a few floors below, and my favorite lounge in Vegas just across the hall, there's no better way to bliss out on a lazy afternoon. Reservations are suggested.
Veranda at Four Seasons
The Four Seasons Las Vegas is a charming, airy respite on the South end of the Strip. Its crown jewel, Veranda Restaurant and Lounge, is one of the city's preeminent brunch spots and a posh poolside "special occasion" favorite. Served Monday to Friday from 3-4 p.m, Veranda's afternoon tea is an over-the-top epicurean experience that requires a 24-hour advanced reservation.
In between sips of Golden Jasmine Blossoms and Russian Early Gray, nosh on house-smoked salmon and scallion cream cheese tea sandwiches and scones with preserves. The beautiful strawberry and pistachio tarts, no bake vanilla bean cheesecake and milk chocolate and candied mandarin velvet cake bites provide a sweet finish, but the most delectably impressive thing on the menu is the Champagne Tea, a glass of Louis Roederer Brut Premier Champagne with tea. And though there are plenty of other bubbly offerings, non-champagne drinkers can imbibe with the appropriately themed Zen Martini tea cocktail, made of Absolute White Tea Vodka, Sweet Tea Vodka, lemon juice, agave nectar and green tea.
  
Petrossian Bar at Bellagio
If you can only visit one of these places, make it Bellagio. Not only is it one of the must-stop places in Las Vegas, there are several shops and attractions you can visit before or after, such as its famous blooming Conservatory. After hitting Bellagio's shops (think Chanel, Tiffany & Co. and Harry Winston), rest up at the charming, old-school Petrossian Bar, located where the casino floor meets the lobby.
Petrossian boasts an elegant high tea experience ($35) served daily from 1-4 p.m. in a quieter back part of the bar decorated in elegant European décor. Choose from loose or bagged teas ranging from Tanzania-grown organic breakfast tea to vanilla roobios. Naturally, tea comes with an assortment of adorable finger sandwiches (smoked salmon topped with Oscietra Caviar!), posh scones and French desserts. The Instagram-worthy tiered display alone will make you feel like royalty. Who says you
can't have a slice of sophistication in Sin City?
And a special shout-out this spectacular one-night- only tea pairing dinner.
See you there?
Alizé at Palms Casino Resort
The Palms may be known as a hip party hotel, but Alizé is actually its best-kept secret. The upscale French restaurant is located on one of the top floors and features stunning floor-to- ceiling window views of the Strip. On June 16, Alizé will present the city's very first tea pairing dinner hosted by Bon Appétit's former editor-in- chief Barbara Fairchild. Mark Purdy, the restaurant's executive chef, and his team have partnered with top tea purveyor Seven Cups Fine Teas to create this one-night- only epicurean experience. Expect a multi-course menu showcasing fine French cuisine with an exotic, worldly selection of flavored teas. Bai Long Xu "White Dragon Whisker" Sheng Puer Tea pairs with Foie gras terrine with smoked duck and artichoke crepe in the second course while Ming Qian Anji Bai Cha Green Tea joins 'Nduja crusted scallop, butternut squash and roasted parsnip hash in the third. (There are seven courses total, including a designated "cheese course" with flower scented tea that I can't stop thinking about.)
The event, which is the premier of that week's 2016 WorldTea Expo, will also feature an award ceremony honoring top tea industry dignitaries. Tickets range from $175-$300, with an optional VIP reception before the 7 p.m. dinner. Reservations must be made in advance here.
REAL LIFE. REAL NEWS. REAL VOICES.
Help us tell more of the stories that matter from voices that too often remain unheard.