Last weekend in Los Angeles, when all the teens and the people who still think they are teens were at Coachella, the legendary Troubadour nightclub in West Hollywood was, nonetheless sold out for an amazing show and a great cause. Jakob Dylan, Jade and Cat Power performed at "Rock The Night," the 5th annual charity benefit for Connecting to Cure Crohn's and Colitis, a non-profit that funds research to find new treatments and a cure for these terrible gastrointestinal diseases.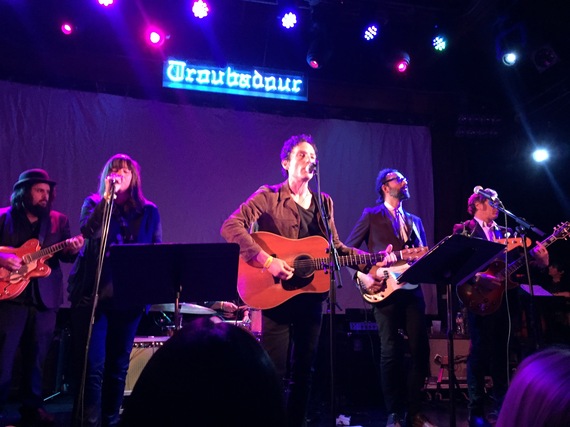 The Troubadour is the legendary rock club that birthed the Laurel Canyon sound. It's where The Byrds first performed, Buffalo Springfield and Joni Mitchell made their debuts. Neil Young and Elton John made their U.S. debuts there. Where James Taylor performed with Carole King and learned how to play her song "You've got a friend." Where Glenn Frey and Don Henley were the backup band for Linda Rondstadt. It is a small club and to see Jakob Dylan and Cat Power there was a real treat - one well worth attending next year (tickets sell out fast).
Connecting to Cure was founded by Stacy Dylan and Dana Zatulove who both have children who suffer from these diseases - Stacy spoke of the good humor, bravery of her son and how he would just "like to do the things normal kids do: like going to school and not being so tired." At the event, Joshua Greer and Courntey Steiner, adults involved with the organization, spoke of their trials, travails and how they have managed to live with the potentially debilitating symptoms and disease.Dr. Marla Dubinsky of New York's Mt. Sinai Medical Center spoke of the advances that are occurring and that she hopes will be occurring in developing more individualized treatments for children suffering from these diseases.
Another good reason to attend is the silent auction which always features some great rock and roll memorabilia, including some choice Bob Dylan items such as a signed lyric sheet to "Knocking on Heaven's Door" and a signed copy of "Chronicles Volume One) (which, personally, would be my dream item - but it was beyond my budget).
Jakob Dylan has been recently mining 60s and early 70s California songs for an upcoming album. Performing with Jade Castrinos (of Edward Sharpe and the Magnetic Zeros). They performed songs such as "Go Where You Want to Go" by the Mamas and Papas, The Association's "Never My Love," Trace Adkins' "I'm Going to Love You Anyway," as well as songs by Buffalo Springfield, and the Monkees. One forgets that when Jakob Dylan was starting out and performed regularly at Canter's Kibbitz room, he played lots of covers and plays them well.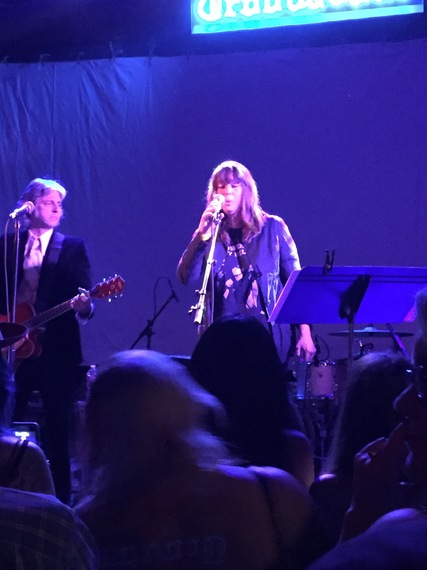 Cat Power performed a short set which included "The Greatest." I had seen Cat Power perform two years ago at the Hollywood Bowl (opening for the Pixies) and it was not a great performance - too many people, too distracted. Here, at the Troubadour, in a room of fans, she reminded me of Patti Smith, in terms of her emotional honesty and ability to make the room part of her world. It was a great performance.
Jakob Dylan returned to perform The Turtles' "You Showed Me" which has been playing on select radio stations such as KCSN 88.5 (which was also a media sponsor of the event). Jakob Dylan then performed some of his own original songs such as "One Headlight," "Love is a Country," and "Nothing but The Whole Wide World."
One of the annual running jokes, now a tradition, is that as Stacy is a devoted Springsteen fan, Jakob offers up a different Springsteen cover each year. This year, he did too, "I'm on Fire" and "Fire" and acquitted himself excellently.
Frankly, this was a performance well worth paying for. The fact that it helps fund a great organization to fight a terrible diseases, makes it all the more worth doing.
Calling all HuffPost superfans!
Sign up for membership to become a founding member and help shape HuffPost's next chapter