Looks like famed polymath James Franco has found the one thing he can't do: get Stephen Colbert to break character.
While Stephen Colbert the comedian is moving on in 2015 to take over "The Late Show" from David Letterman, Stephen Colbert the host of "The Colbert Report" is doing no such thing because he's already won television.
Watch the interview from Thursday's "Report" and stick around until the end for Franco's valiant effort to take a peek at the man behind the conservative-pundit curtain.
"The Colbert Report" airs Monday through Thursday at 11:30 p.m. ET on Comedy Central.
Related
Before You Go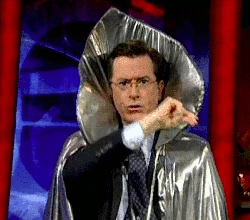 Stephen Colbert GIFs
Popular in the Community