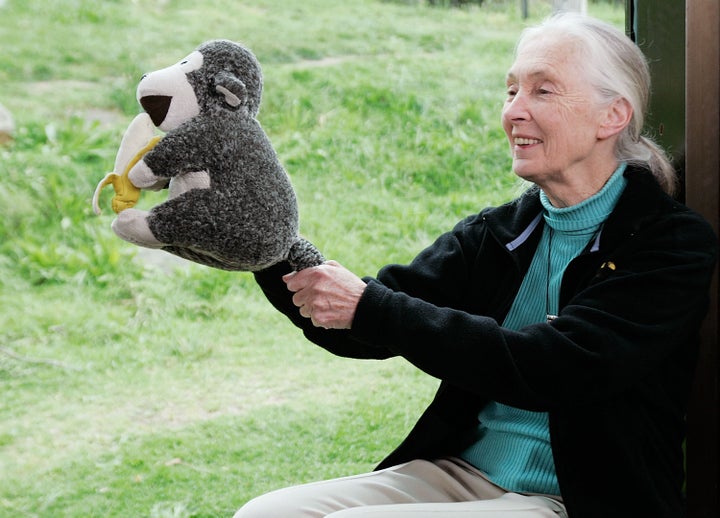 Half a century has passed since research pioneer Jane Goodall journeyed to Africa and changed the way humans think about their relationship to the animal kingdom.
In commemoration, a national in-theater event, "Jane Goodall Live," will be broadcast from Los Angeles on Tuesday, Sept. 27, where Goodall will share her life journey alongside celebrity guests, including Dave Matthews and Academy Award winner Charlize Theron. The national premiere of Goodall's cinematic biography "Jane's Journey," which features Angelina Jolie and Pierce Brosnan, will be screened at the event.
Goodall told The Huffington Post that the biography shows why she chose to leave the wild chimpanzee community and travel the world to spread messages of conservation and animal welfare.
"When I go back to visit Gombe, even if I don't see the chimps, I feel a kind of renewal -- that is what is encapsulated in the film," she said.
Goodall is best known for her landmark study of chimpanzees in Tanzania under mentorship of anthropologist and paleontologist Dr. Louis Leakey. Her research at Gombe Stream National Park, which included being accepted as part of the chimp community, became a foundation for future primatological research as she discovered chimps were closer to humans than was once thought.
Goodall discovered that chimps feel emotions and have personalities. In a move criticized by other scientists, Goodall gave the chimps names instead of numbers, which some thought removed objectivity from the study, Goodall told HuffPost.
"I gave them names automatically. You don't number your dog or horse," she said. "When I went to begin my Ph.D and I was told I had done everything wrong, that should have been shattering. But I thought back to this wonderful teacher I had that taught me animals do have personalities, they do have emotions." Goodall said her "teacher" was a dog, Rusty, who would visit her family when she was growing up.
Goodall said she realized gradually how similar chimps were to humans. "When I saw them using tools, I knew it was exciting, but I wasn't surprised," she said.
Even at 77 years old, Goodall still travels the world 300 days a year asking people to think about their animal counterparts and how each person can contribute to improving the world's environmental crisis.
"Chimps taught us we're not separated from the animal kingdom, we're a part of it. So I ask them to think about that." She added: "The world is in a horrible mess ... We need to starting changing the way we live, from the clothes we buy to the food we eat. We need to change our greed and materialism. We need a critical mass to realize that we need money to live, rather than to live for money."
In 1977, Goodall established the Jane Goodall Institute, which continues research in Gombe and pioneers protection of chimpanzees and their habitats. It is now recognized for conservation and development programs in Africa, including her Roots and Shoots program -- a global environmental and humanitarian youth network, which Goodall said now exists in 128 countries and has just celebrated its 20th anniversary.
"These programs can have two people to a whole school of people. From pre-school to university students. These children are going to grow up to be our politicians, teachers, scientists," she said.
"Jane Goodall Live" will appear in theaters around the U.S. at 8 p.m. ET on Sept. 27. Tickets are available at participating theater box offices and online. Prices are $15 and may vary by theater. Locations and prices visit the NCM Fathom website.

Calling all HuffPost superfans!
Sign up for membership to become a founding member and help shape HuffPost's next chapter