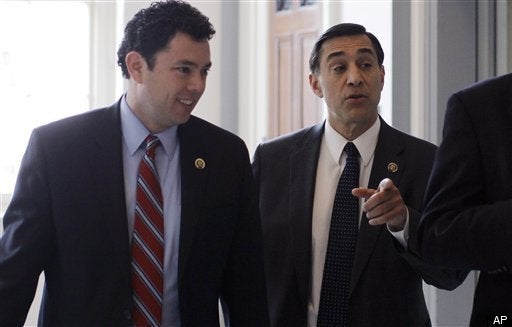 WASHINGTON -- Rep. Jason Chaffetz (R-Utah) was feeling a tad unpopular on his plane ride from Utah to Washington on Monday. With just a day until Obama's State of the Union address, he still hadn't found a Democrat to sit with as part of a symbolic bipartisan seating gesture for the event.
"So I don't have a date to SOTU. Oh, how it is to be the ugly conservative. I see Rep. Issa is 'going with' Rep. Towns. Towns was choice 1," Chaffetz wrote on Twitter. His office told HuffPost that he writes all of his own tweets. "He's on a plane right now and he's just tweeting away," an aide said.
Chaffetz shot down an idea from The Salt Lake Tribune's Thomas Burr, who suggested via Twitter that Chaffetz flank Towns' other side. "I am not sitting to the left of him. No way," Chaffetz tweeted.
In a flurry of 14 tweets in about 45 minutes, he also made a few jokes about whether he'd be required to bring flowers ("the whole flowers thing has me worried," he tweeted) and speculated on whom he could sit with. "If I sit with a RINO, does that count? Better not get stuck with Rep Weiner! Perhaps the First Lady needs a date?"
Unfortunately for Chaffetz, Michelle Obama will be sitting with Daniel Hernandez, an intern who helped save the life of Rep. Gabrielle Giffords (D-Ariz.) after she was shot in Tucson earlier this month, and the family of Christina Taylor Green, the 9-year-old who was killed in the same shooting.
Weiner, meanwhile, will be attending the address with fellow New York Rep. Peter King (R). When a Twitter user informed Chaffetz that Weiner was already sitting with King, he replied, "that would be the odd couple of the night," assuming the user meant Weiner would sit with the other GOP Rep. King, Steve King of Iowa.
In the end, though, Chaffetz found his match: Rep. Jared Polis, a Democrat from Colorado, said Chaffetz is welcome to join his neighbors from Colorado for the address. "I'll be sitting with the R & D CO delegation, but u can join us, UT is a neighboring state!" Polis tweeted.
"Thanks, neighbor," Chaffetz replied.
Popular in the Community