Michael Tilson Thomas and the San Francisco Symphony will present Leonard Bernstein's On the Town in a semi-staged concert version this week at Davies Hall. There will be four performances, 5/25-26 and 5/28-29. The cast includes members from the 2014/15 Broadway Production - Clyde Alves (Ozzie), Jay Armstrong Johnson (Chip), Tony Yazbeck (Gabey), Megan Fairchild (Ivy), and Alysha Umphress (Hildy). The cast also includes opera star Isabel Leonard (Claire), Shuler Hensley (Pitkin), Sheri Greenawald (Madame Dilly), and Peabody Southwell (Diana Dream/Dolores). I spoke to Jay Armstrong Johnson shortly after his acclaimed appearance in New York at Feinstein's/54 Below. It was a sell-out.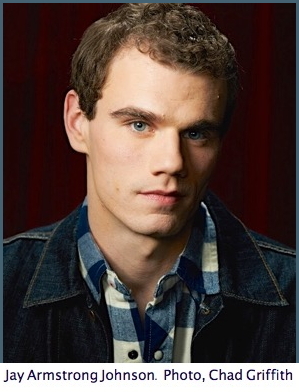 "The show was recorded for a live album. Right now we're working on getting it mastered and produced. Hopefully, it will be available in the fall. It was a completely eclectic set. My inspiration is a monologue that Whoopi Goldberg delivers in Sister Act 2. She teaches her music class the word 'eclectic' and how it relates to music. As a 6-year-old, growing up in Fort Worth, Texas, I thought that was the coolest thing ever. So, I sang everything from 'Johanna' (Sweeney Todd) to a Rascal Flatts country/pop tune, an indie music Local Natives rock song, 'Rosanna' by Toto, to a four-part a cappella rendition of 'His Eye is on the Sparrow'. I also included a tune from a musical I've been workshopping for the past six years that I hope will someday get a world class production. It's by a very good friend of mine, composer Ryan Scott Oliver. I try to run the gamut of musical forms and styles."

At Davies Hall, Jay will be recreating his role as Chip - one of the three sailors on a 24-hour leave in New York City. In harmony with Clyde Alves and Tony Yazbeck, the all too familiar trio 'New York, New York' is likely to stop the show. I asked Jay about his experience with the recent Broadway revival of On the Town - a production that began in Pittsfield, Massachusetts at the Barrington Stage Company. I also admitted that this Golden Age musical was one I had shrugged off some years ago. A recent screening of the 1949 film on TCM clarified my resistance - 60% of its song list was written by another composer. What were they thinking over at MGM?!
"I was doing a new musical on Broadway, Hands on a Hardbody. It wasn't doing well at the Box Office and the show was in jeopardy of closing. My agent and I started talking about auditions. On the Town at Barrington Stage Company was the first to come up. I had worked there before, so I knew the executive producer. To be honest, I was pretty sad. But, within less than a year, this tiny production wound up going to Broadway."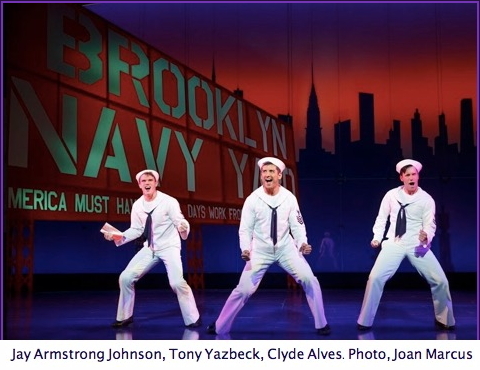 "When we started rehearsals at Barrington, we cut twenty minutes of music because we didn't have enough rehearsal time to do the full-length show. So, it was a little pared-down. But there was no talk of Broadway. I knew that Barrington Stage Company had transferred 25th Annual Putnam County Spelling Bee to Broadway. They are a regional theatre that has been known to transfer a musical or two every decade, but it's not something that just happens. When I walked into the room I saw Tony winner John Rando [Best Direction, Urinetown the Musical] and Emmy winner Josh Bergasse [Outstanding Choreography, Smash]. During a break I said to Alysha Umphress that I thought this could go to New York. 'You must be joking.' And a year later, there we were - taking our first bow on Broadway."
In 2014, part of the PBS Live from Lincoln Center broadcasts included 'Sweeney Todd: The Demon Barber of Fleet Street - In Concert with the New York Philharmonic'. Directed by Lonny Price, the staged concert featured Bryn Terfel in the title role, Emma Thompson as Mrs. Lovett, Audra McDonald as the Beggar Woman, Jay Armstrong Johnson as Anthony and Erin Mackey as Johanna. The production was spectacular and the cast was superb. Jay's major solo, 'Johanna', was hiked-up to the key of F Major - one whole step above Sondheim's original score. The adjustment completely flattered his tenor range and complemented his portrayal of the heroic sailor. How did he wind up winning the role?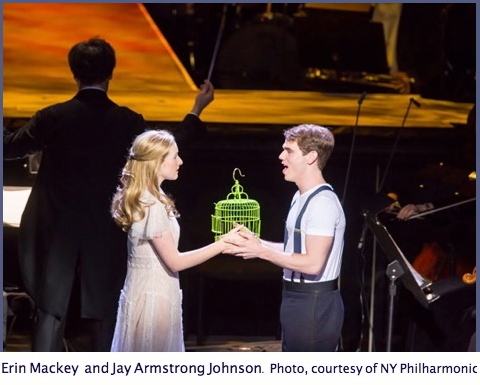 "The audition came through my agency. The director, Lonny Price, had seen me in an Off-Broadway production of Working which won a Drama Desk Award for Best Ensemble. I was making three hundred dollars a week and living pretty much destitute. What I didn't know was that the director of Sweeney Todd was in the audience. You never can tell when the little gig is going to lead you to the big gig. The callback process was pretty extensive and I only sang 'Johanna'. My last audition was taped so they could send it to Stephen Sondheim as he had final approval over all casting. It was after I got the part that I realized I'd be singing with legends."
"Do you consider yourself a tenor?"
"I have a pretty wide range, but my voice teacher would absolutely call me a tenor. It hasn't always been easy for me to get there. In the musical theatre world, what composers are writing these days is crazy. Sometimes a role can sit above the staff the entire time. For Broadway pop/rock tenors who have to sustain eight-shows-a-week, it's like being a vocal Olympian if you get into one of these musicals that have such ridiculously high songs."
"I went to a performing arts high school back home in Texas. I was a dance major. Growing up, I had always sung but never had a voice lesson. I had never studied music. It was always something that came naturally to me - I have a good ear. When I decided to make musicals and acting my career, I knew I should develop my vocal technique. One of my dance teachers recommended the Steinhardt School of Music at NYU. That's where I learned how to truly focus on the technical side of my voice. I loved it there. Most kids are excited to sing all the new stuff, the pop/rock musicals. But at NYU, for the first two years - they wouldn't let us sing anything after the 1950s. I was trained in the classics - Cole Porter, Rodgers and Hammerstein, Harold Arlen. All the composers that us millennials would consider old-timey. But going to Steinhardt gave me a solid love and affinity for the golden age and the jazz age of musicals."
As a vocal performance major, Jay became very acquainted with the advantages of staged concerts. He performed the role of Fabrizio Naccarelli in Adam Guettel's Light in the Piazza and the title role in the composer's Floyd Collins. Jay's dream is a world class production of this unusual and off-beat work that recounts the true story of an underground explorer who became trapped in a Kentucky cave in 1925.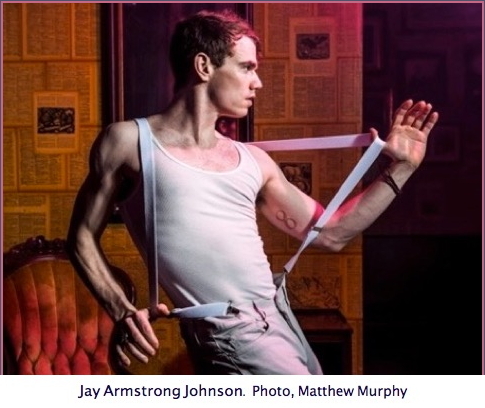 "It's a musical that never made it to Broadway. It was Off-Broadway for a while starring Jason Danieley. I did a production of it at NYU during my junior year. The role is huge, the music is brilliant and epic. It's the kind of theatre I want to be doing. Floyd Collins is what got me my first agent. I was still in college and had agencies already knocking on my door. People have a strong interest in the show because it is such a weird concept to pull-off onstage. I think it's a producer's nightmare. So, we had a lot of people in the industry come to see this production. When I'm in a Broadway show, I still have people come to the stage door and say they saw me as Floyd Collins. It's weird that a college production can have so much buzz. The older I get, the more right I become for the role."
Calling all HuffPost superfans!
Sign up for membership to become a founding member and help shape HuffPost's next chapter