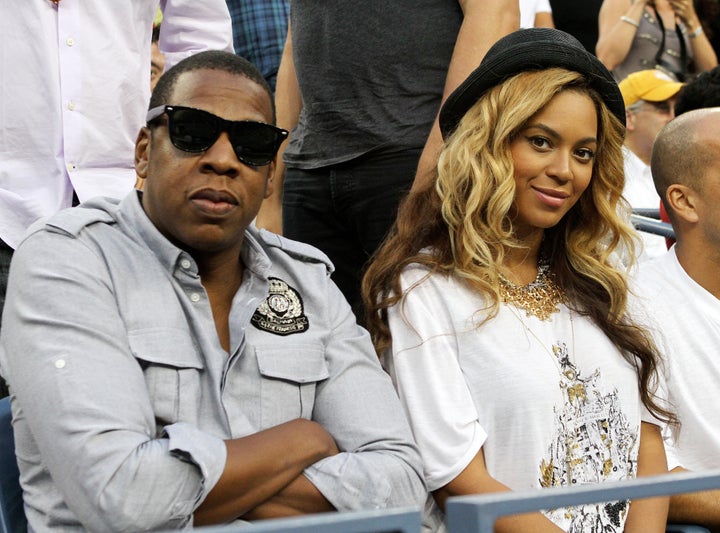 NOTE: There is talk on the internet that this poem, which has been widely quoted all day, may not actually have been written by Jay-Z. He and his representatives have not said that he didn't write it, but they won't confirm that he did, either. Slate has a good summary of the confusion, here. If Jay-Z didn't make this vow, and folks have spent all day buzzing about how he should, that creates a mighty awkward situation for him now, no? I'll update when I learn more. Lisa Belkin

Ladies, do you feel more respected this morning?
In case you missed the breaking news, the rapper Jay-Z, father to the most anticipated baby of the decade (at least until Kate and William get around to things) made a poetic announcement yesterday. (Really, he announced it in a poem.)
He will no longer use the word "bitch" to describe women.
I'll let him describe his epiphany:
Before I got in the game, made a change, and got rich/ I didn't think hard about using the word bitch/I rapped, I flipped it, I sold it, I lived it/Now with my daughter in this world I curse those that give it.
No man will degrade her, or call her name/I'm so focused on your future, the degradation has passed/ I wish you wealth, health and insight/Forever young you may pass/Blue Ivy Carter, my angel.
In a hypocritical and late to the party kind of a way.
Jay-Z is not the first man to realize he has been a misogynistic jerk only after he has a daughter.
Why? Researchers theorize that "a switch flips" in the CEO daddy's head, "making him more sensitive to gender issues."
That same switch might flip some of a father's political views, too. A study of the voting records of US Congressmen found that those with daughters voted more liberally on issues of reproductive rights, flexible work policies and funding for education. And data on British families found that fathers with three sons and no daughters were far more likely to vote for conservative candidates than were fathers of three daughters and no sons.
"Daughters make people more left-wing, while having sons, by contrast, makes them more right-wing" the author of that last study, Andrew Oswald of the University of Warwick said when it was released in 2009.
I'm not sure whether calling women names is a left-wing or right-wing thing, and I am glad that, for whatever reason, Jay-Z has decided to stop. It would have been better though, if he'd never started in the first place; never written lyrics like "I don't love 'em I fuck 'em, I don't chase 'em I duck 'em, I replace 'em with another one"; or if he had been so moved years ago out of respect for, say, his mother, or his wife, or 50 percent of the population.
Since no apology was offered anywhere in this latest poem, then I feel no need to accept one. But I do congratulate the Carters on the birth of their little girl. And I wish them a little boy someday, too, so that Jay-Z has the chance to raise him into a man who respects women from the start.
Related